Published in: Bikes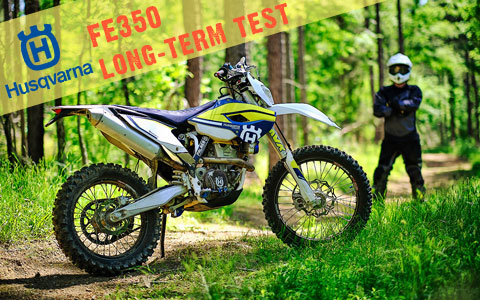 Malcolm Gladwell says it takes 10,000 hours to produce true expertise. While I'm nowhere near close to expert on anything unless procrastination is a thing, I can say that after 200-plus hours on Husqvarna's 2016 FE350 I'm a significantly improved dirt bike rider, and a whole lot more comfortable riding off road.
Riding with my friend Tom, I moved into his low-hour Husqvarna FE350 when he purchased the FE's big brother, the fire-breathing Husqvarna FX350, which is altogether too much motorcycle for me. The FE had been purchased for around $10K new. With similar levels of riding skill—well, similar lack of skill—Tom and I have regularly ridden together over the last two years and put in the aforementioned 200 hours of riding, which included six days in the mountains of Colorado with a group of very competent dirt riders.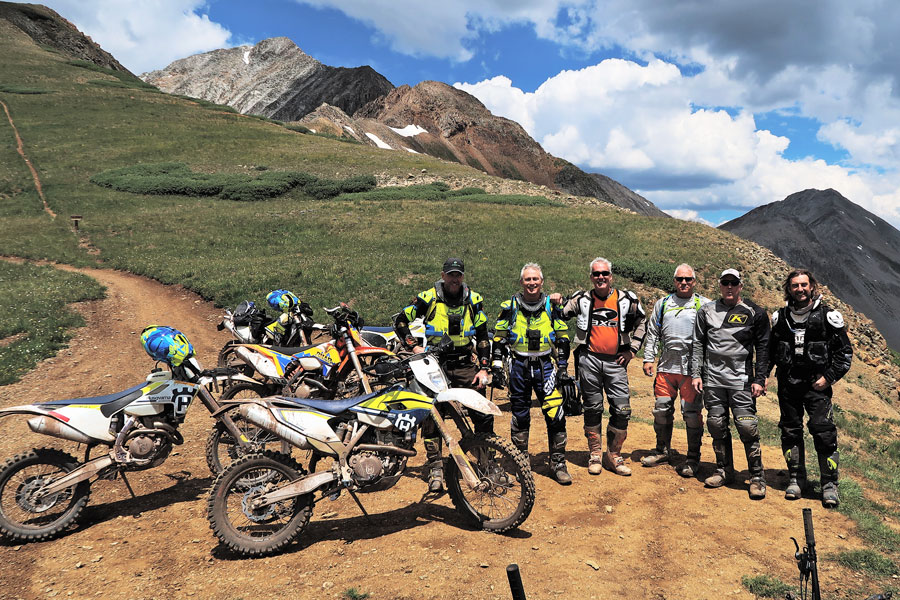 Over this time, my respect and admiration for the FE grew, as it's without a doubt one of the best and most stylish motorcycles I've ever ridden. If you are a motocross racer, or expert off-road rider, I'm sure the 240-pound Husky, with 46 hp coming from its 349.7cc engine, is not going to totally set your hair on fire. For me it's as close to perfect as it gets.
Discussing all the positive attributes of the FE350 will take some time, so let's start with the fueling. The system is close to perfect, and that means the slightest touch of the starter button instantly brings the engine to life—hot, cold, wet or dry. Start the bike on a cold winter's day after it has sat for a few weeks in the garage, or at 13,500 ft. in the Rocky Mountains when it's hot enough to fry an egg on the casings and you'll get the same result. While that's exactly what we expect from a modern motorcycle, it's the precise way the FE fuels throughout the rev range, up and down, that's so magical to me. And it's what makes the bike so easy and predictable to ride. I've tested literally hundreds of different motorcycles of all denominations over the last two decades and it's no secret that fuel injection was a black art when it first arrived. Not now.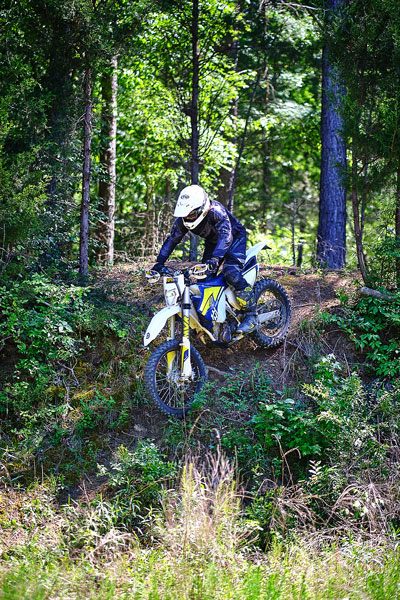 While it might seem like raging on about the fueling is redundant, it's the key to the entire riding experience because it allows totally predictable throttle input, whatever the riding conditions. You can tractor through mud, streams, and rock fields on the most minimal throttle giving solid traction with the engine barely off idle. This means with little wheel spin, unless you want it, and when things open up, there are stacks of useable horsepower to run hard and fast. I often watch my two-stroke riding brethren on slippery climbs and the like, engines screaming, wheels spinning, and I'm right behind chugging up the hill like the Little Engine That Could with no drama. I like to think of it being an extremely polite motorcycle.
Where the strong low-end delivery also makes itself very welcome is the FE's ability to run tall gears at lower RPMs. This keeps the suspension settled, the ride smoother and less stressful, and adds miles to the amount of riding I can handle in a day before wearing out. Part of this was gaining enough confidence to go a little faster, but being able to be a gear higher doesn't have the bike feeling tight on and off the throttle, and more brain power goes to navigating and choosing lines. Making progress is also helped by the DDS clutch system and Brembo hydraulic master cylinder. We replaced the lever with a Midwest Engineering unit, but it's so light and easy to use the stock version I'm not sure this did any more than improve the looks. The original clutch plates are untouched at this point. One item I'm glad we replaced was the Tusk rear brake pedal, which has seemed remarkably adept at being bent back into shape. Say no more!
Out on the trail the stock exhaust system keeps the Husky fairly quiet. I like that, especially in the tight woods and on longer rides, as it doesn't interfere with your senses the way an aftermarket pipe can. The tank holds 2.5 gallons of gas and it will go at least 50 miles without adding fuel. We've changed the oil and filter every ten hours, and cleaned the air filter more regularly than that. The oil always comes out looking brand new, and there is rarely anything on the screen when it comes out for a clean.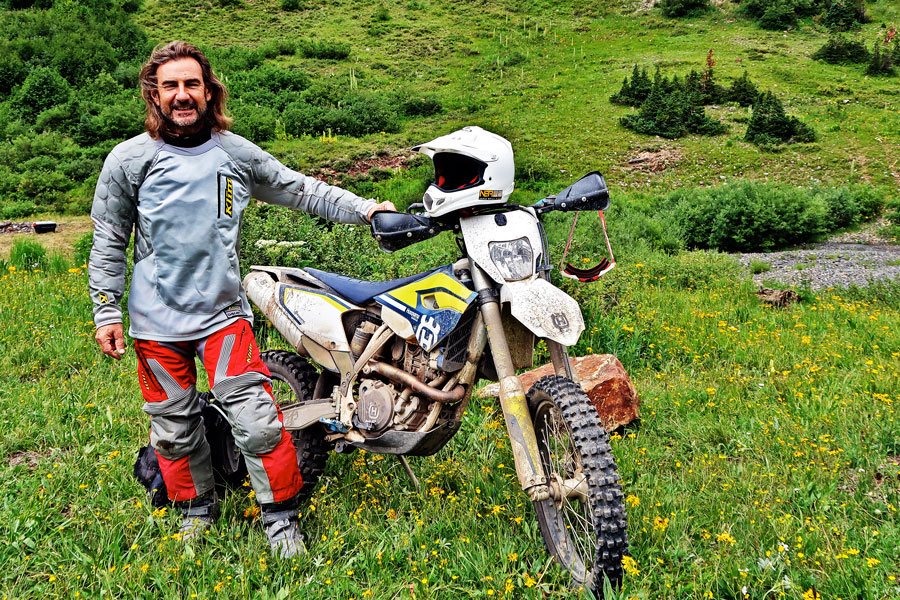 Husky apparently recommends a rebuild at 100 hours, and we replaced the piston and rings at 150 hours. There were few signs of wear inside the engine. The bike didn't feel in any way down on power, but we went for the "better safe than sorry" route and changed it anyway. We used all stock Husqvarna parts, but there are some aftermarket options available if you trust them and want to save some spending coupons. I feel fairly sure my pedestrian riding habits have taxed the engine way less than a more expert rider or racer, and the consensus of opinion from my mate, Stones, who does all the mechanicals, is that I could easily have ridden it another 50 hours without problem.
We upgraded the foot pegs for some wider aftermarket items by Evolution Air, added radiator guards from Bullet Proof designs, a Boysen water pump, and converted to the excellent Tubliss system for the tires. The stock suspension was overhauled and re-valved by Motivations Racing. Owner Mark Hilton is a multi-time national champion and knows suspension, so it came home dialed and perfect. I've barely touched any of the adjusters, only adding a little pre-load in the rear when I started picking up the pace recently. The way it soaks up bumps, jumps and ruts is quite amazing to me and all adds to my riding confidence knowing it can take more than my limited skills can throw at it. Just don't forget to take it in for servicing every 50 hours, unless you want to ride a bike with subpar suspension.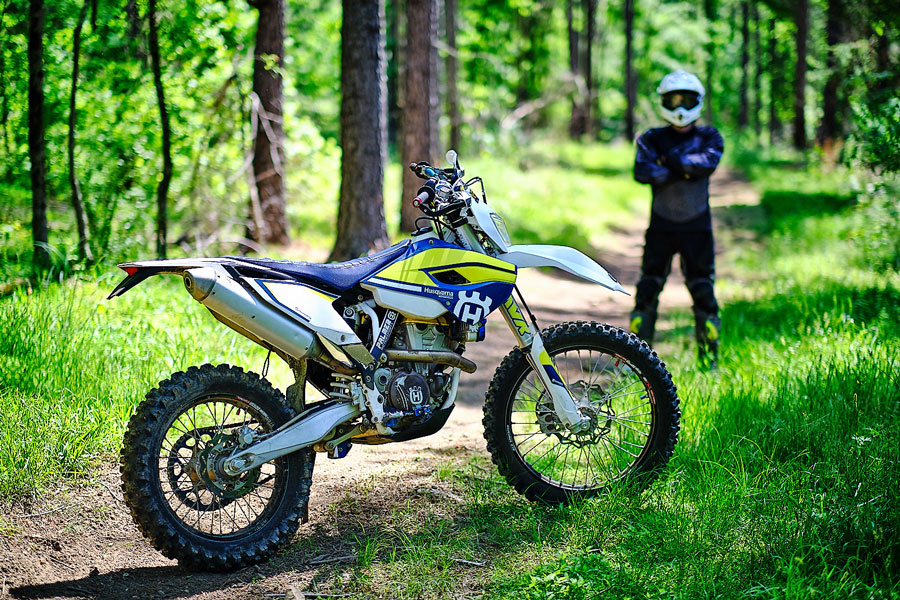 Over the 200 hours we've ridden together, the FE has blown one starter solenoid fuse, which took a bit of work to get at under the panels, and we had to turn the idle down recently, but these are the only issues to detract from the bike's phenomenal reliability. I did replace the stock side stand, which gave out around 100 hours, with a Fast Way Pro Moto Billet version that is much superior to the stocker.
The FE is also still on the original battery and has gone through only two chain and sprocket sets so far. We did re-cover the stock seat, which had taken on some wear and will sit you 38 inches from the ground. All the body panels, bar one that a friend managed to rip off one day, are still original if not a bit scuffed. I did upgrade the brake pads to SBS units and have to say I love the predictability and feel they give over the stock items, much more progressive than the originals and an excellent upgrade if you're in the market.
As I mentioned earlier, we went out to Colorado riding last year, and between the 13,500-ft. mountains, the crazy sand dune area of Montrose, and the rock, rivers and mud around Telluride, it felt like we rode every type of terrain available. As you can imagine, the FE350 handled it with aplomb and made everything we tackled manageable for this novice dirt rider. There is a fairly high price of admission, but the overall quality and reliability more than make up for it as heading toward the 215-hour mark my Husqvarna FE350 is riding as well as it did when I first rode it. And, with its striking blue, yellow and white color scheme it certainly doesn't look half bad either. Of course, I've got some ideas for freshening up the looks and performance a little, so stay tuned.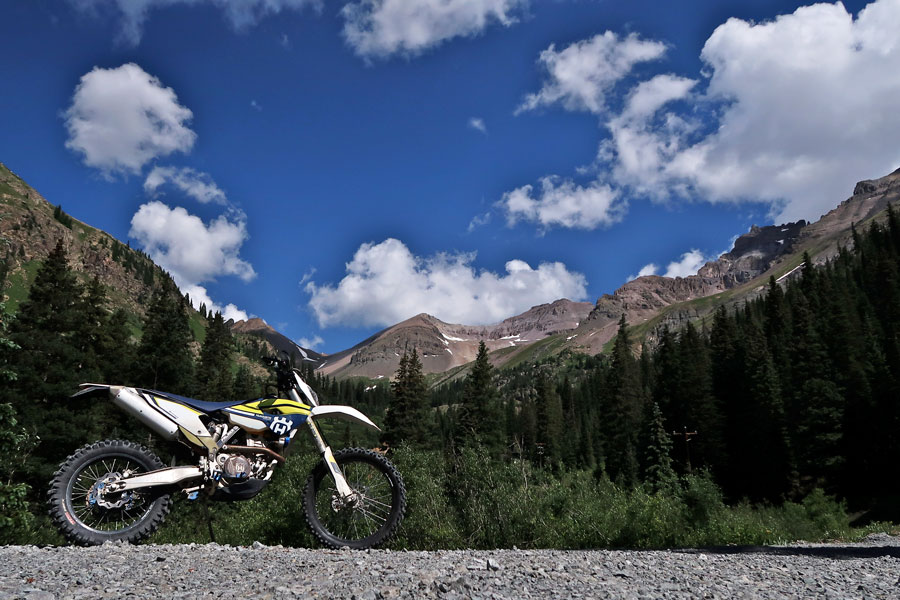 ---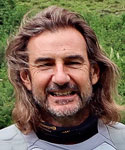 Neale Bayly has been a moto-journalist photographer for more than twenty years now. During that  time he's contributed to more than 100 publications around the world. He's had two National television shows on Speed TV riding motorcycles around the world, and is currently working on a documentary about his 1978 Laverda 1200 Mirage he's owned for more than 35 years. He's ridden in more than fifty countries, and also leads adventure motorcycle tours in South Africa and Peru. Check him out on YouTube: YouTube.com/user/Neale786