While many riders and racers are faced with deciding between a 250F and 450 motocross bike, a middle ground between the two can be had from Husqvarna and KTM, the only two brands to offer 350cc four-stroke models. Dubbed as a machine that benefits from having the lightweight handling feel of a 250F while possessing a 450-rivaling power-to-weight ratio, the Husqvarna FC 350 is designed for riders who desire more overall power than a 250F, but don't want or need the unmitigated horsepower and torque of a 450. Husqvarna and KTM's 350cc four-strokes have become some of our favorite bikes in recent years, so we couldn't wait to swing our leg over the 2021 version of Husqvarna's middleweight MXer at Glen Helen Raceway in San Bernardino, California, for our first ride on the bike.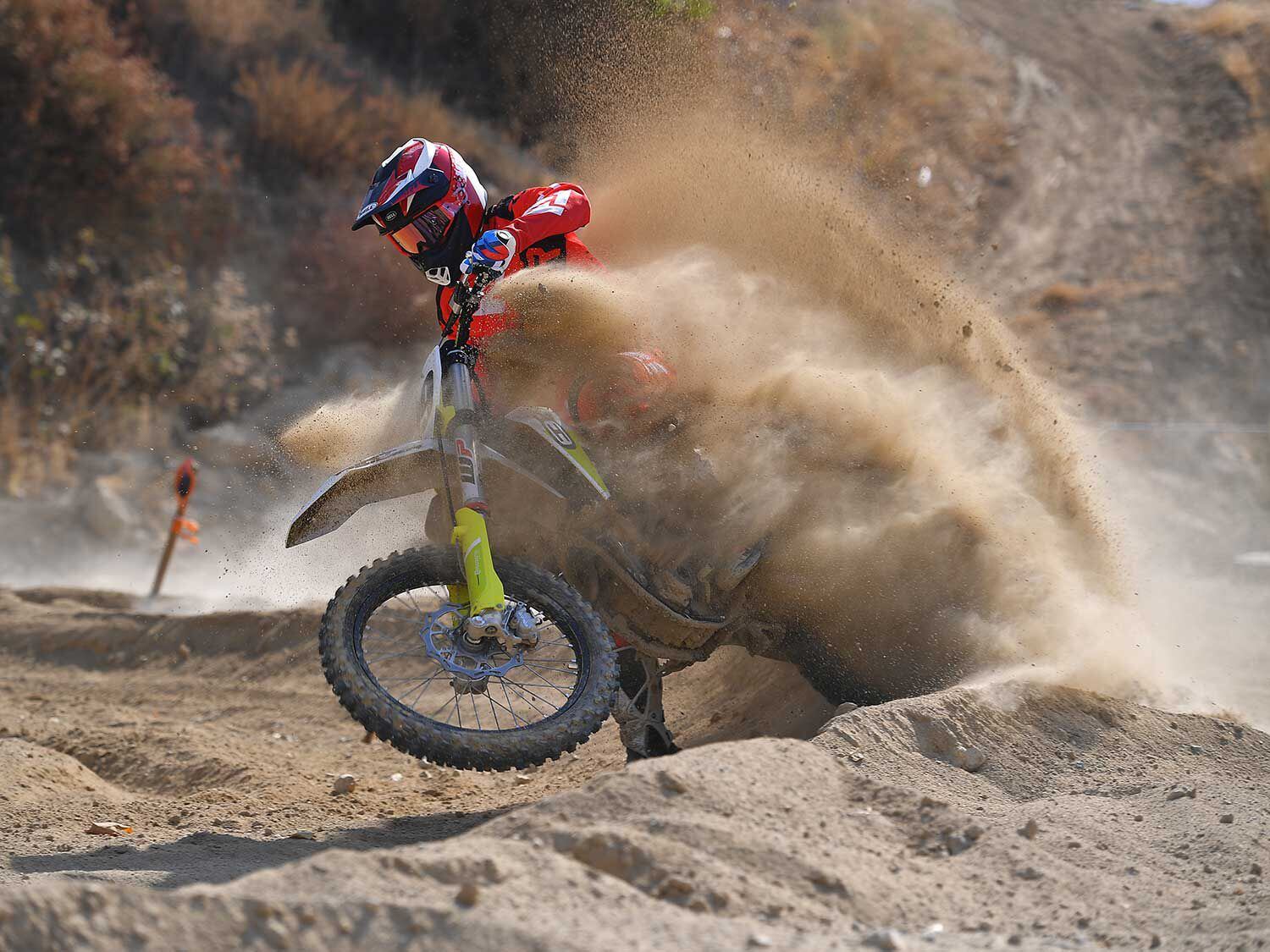 Riding the 2021 Husqvarna FC 350 at Glen Helen Raceway in San Bernardino, California. (Mark Kariya/)
Related: 2021 Husqvarna Motocross And Cross-Country Models First Look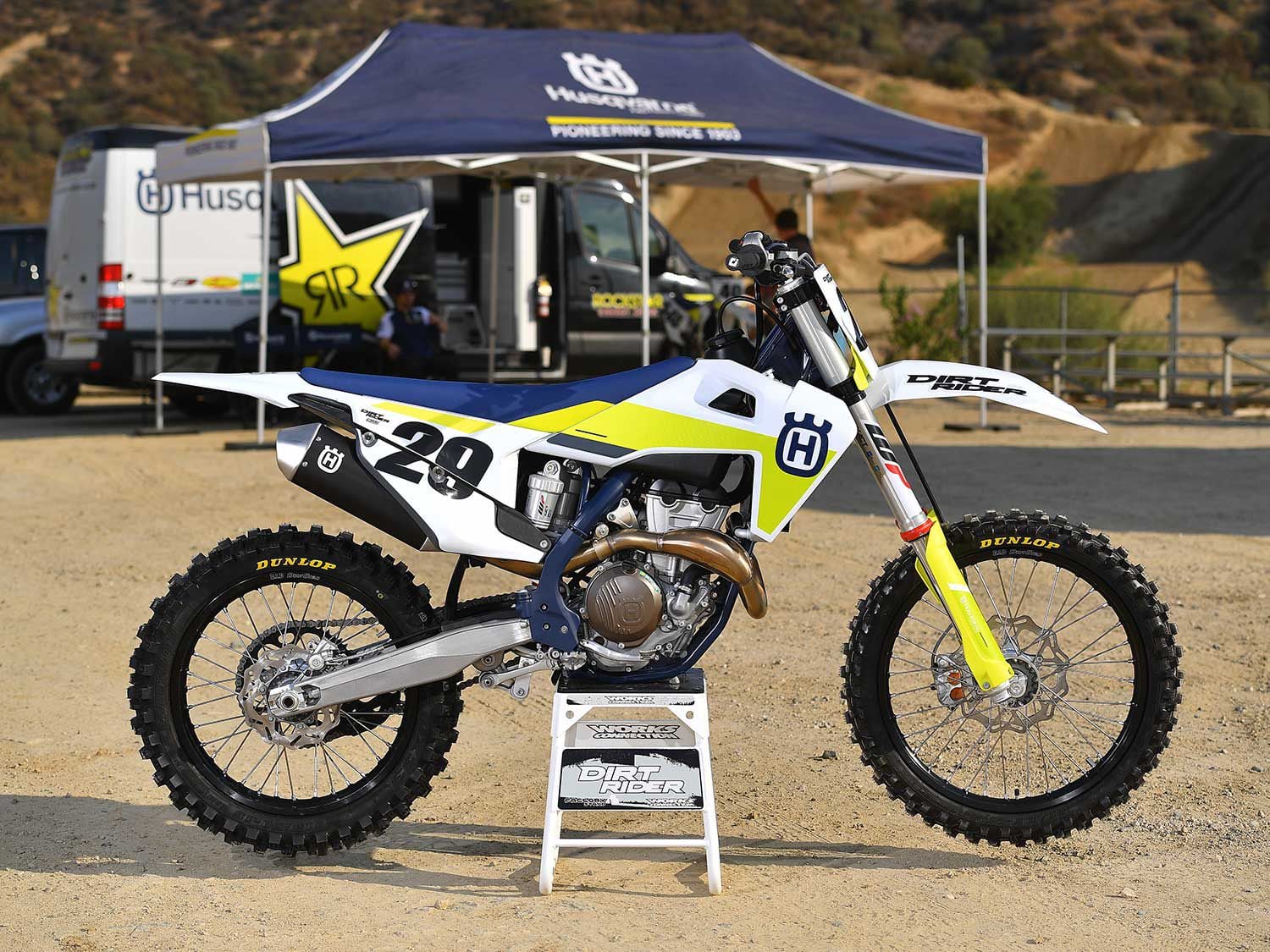 The FC 350 is Husqvarna's middleweight four-stroke motocross bike. (Mark Kariya/)
2021 Husqvarna FC 350 Engine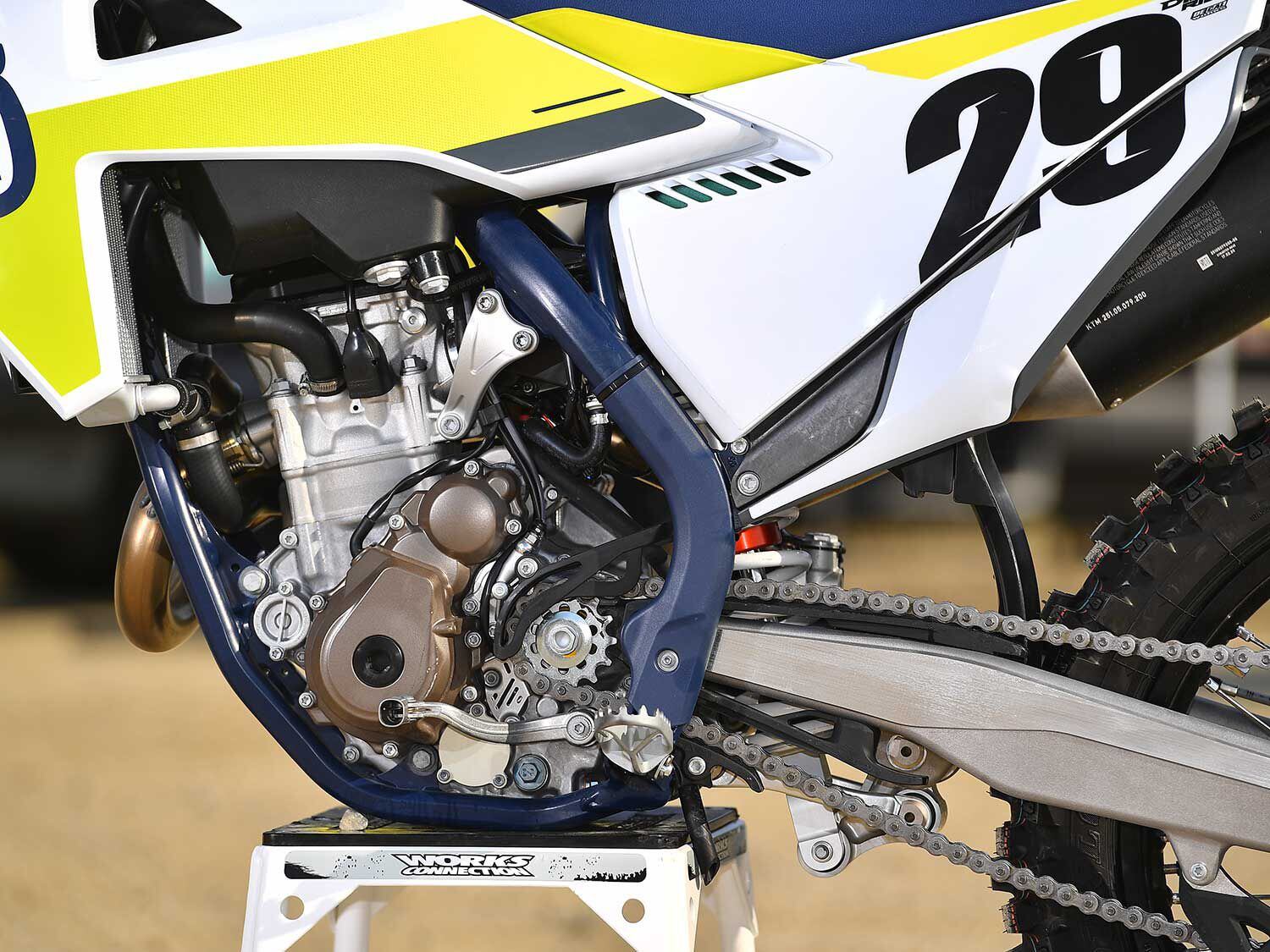 The FC 350 comes with an optional ventilated airbox cover that has six slit-shaped perforations. Running it helps with overall throttle response and power. (Mark Kariya/)
The FC 350 engine works well. It's a fair compromise between Husqvarna's 250cc four-stroke and 450cc engines. I would say it's closer to a fast 250F than a slow 450. Even though it makes good torque, the engine likes to be revved like a 250F.
Sign up here to receive our newsletters. Get the latest in motorcycle reviews, tests, and industry news, subscribe here for our YouTube channel.
I ran the engine in map 2. It has improved torque over map 1, which helped it recover in softer areas when I let the rpm fall and allowed me to carry third gear in some of the tighter corners. I didn't notice any significant gaps in the gears and found the shifting to be easy. Second and third gears were usable in most of the flowing corners. The Magura clutch is smooth and consistent. I think a slightly firmer or more responsive feel at the lever might improve the performance of the clutch.
2021 Husqvarna FC 350 Suspension & Chassis/Handling
With shorter fork cartridges and outer tubes along with a revised shock linkage, the 2021 FC 350 is 10mm lower than the prior year model. The claimed seat height is 37 inches. (Mark Kariya/)
Overall, I was really impressed with the changes to the chassis. The suspension is still quite soft for me, but earlier in the day, with a smooth track or the presence of some small bumps on the faster track conditions, the FC 350 handled well. The relatively smaller-displacement engine and the bike being lower to the ground made it feel significantly smaller than the FC 450. However, the rider triangle remained very comfortable because the chassis is lower—not the seat.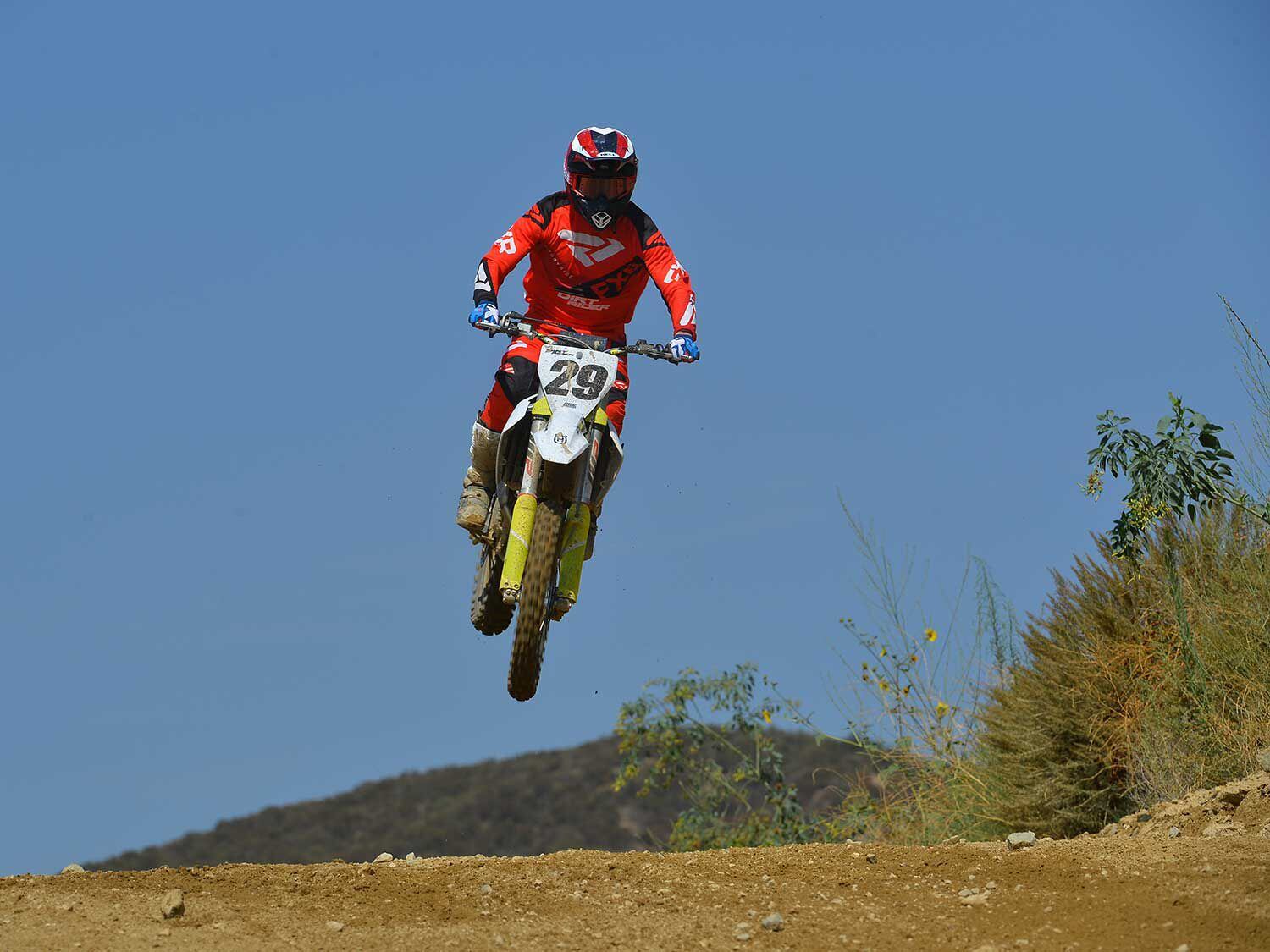 The FC 350's suspension setup might be too soft for faster-level riders in race trim, but there is plenty of room for adjustment with the clickers and fork air pressure. (Mark Kariya/)
My suspension changes were mainly to make the bike stiffer. For the fork, I increased the air pressure to 10.9 bar (10.6 bar stock), set the compression clicker at 6 (12 stock), and left the rebound at 12 (stock). For the shock, I went with the low-speed compression at 8 (12 stock), the high-speed compression at 1-3/4 (2 turns stock), and left the rebound at 12 (stock).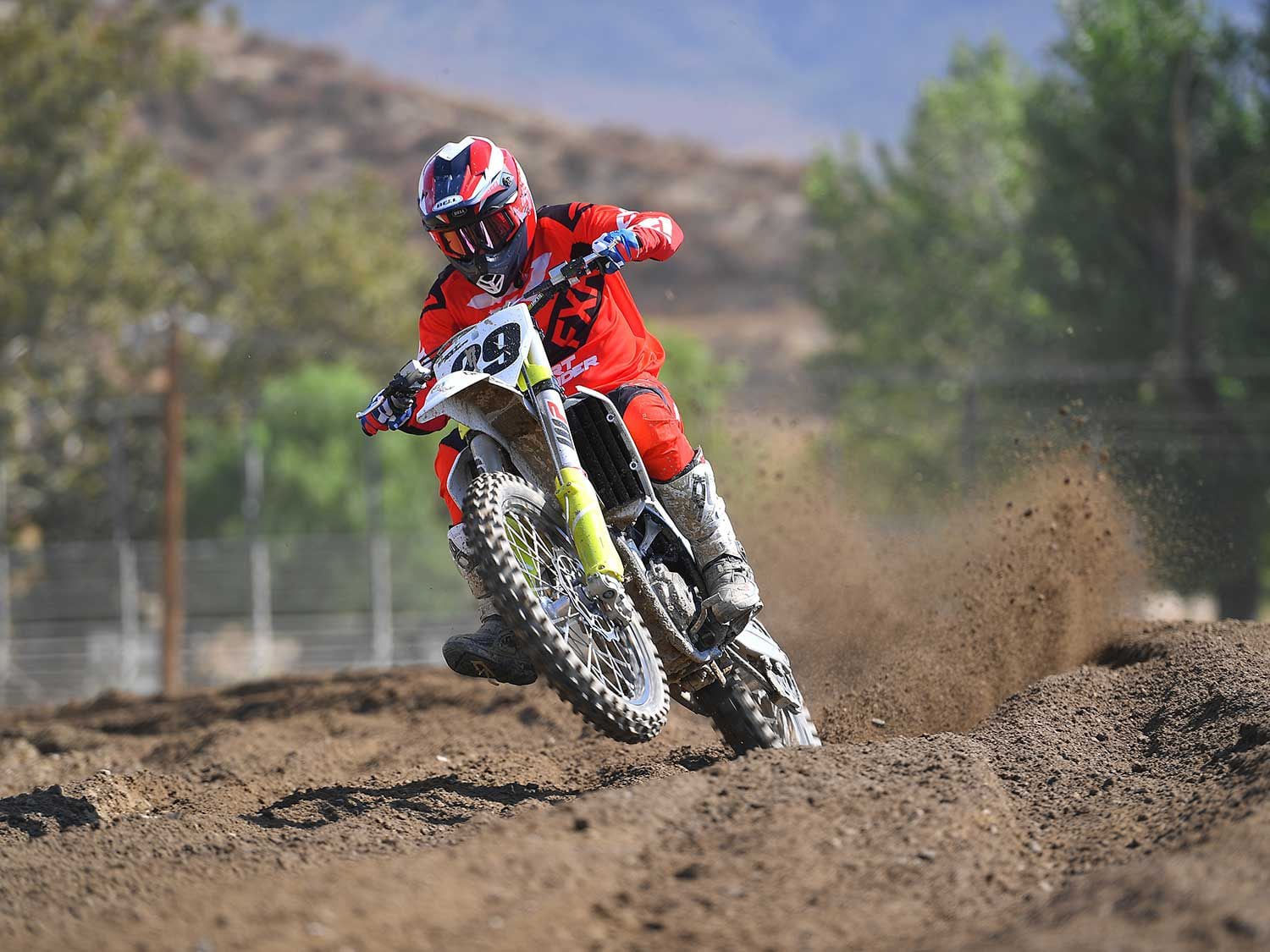 Compared to the prior year model, the 2021 Husqvarna's lower chassis and revised suspension settings work more cohesively. (Mark Kariya/)
The new chassis settings are a major improvement on this bike. The combination of the 10mm-lower chassis and softer suspension make it much easier to corner. The brakes were as expected—firm but still progressive. The 220mm rear rotor is smaller in comparison to the Japanese bikes, which makes it easier to modulate.
2021 Husqvarna FC 350 Overall Impression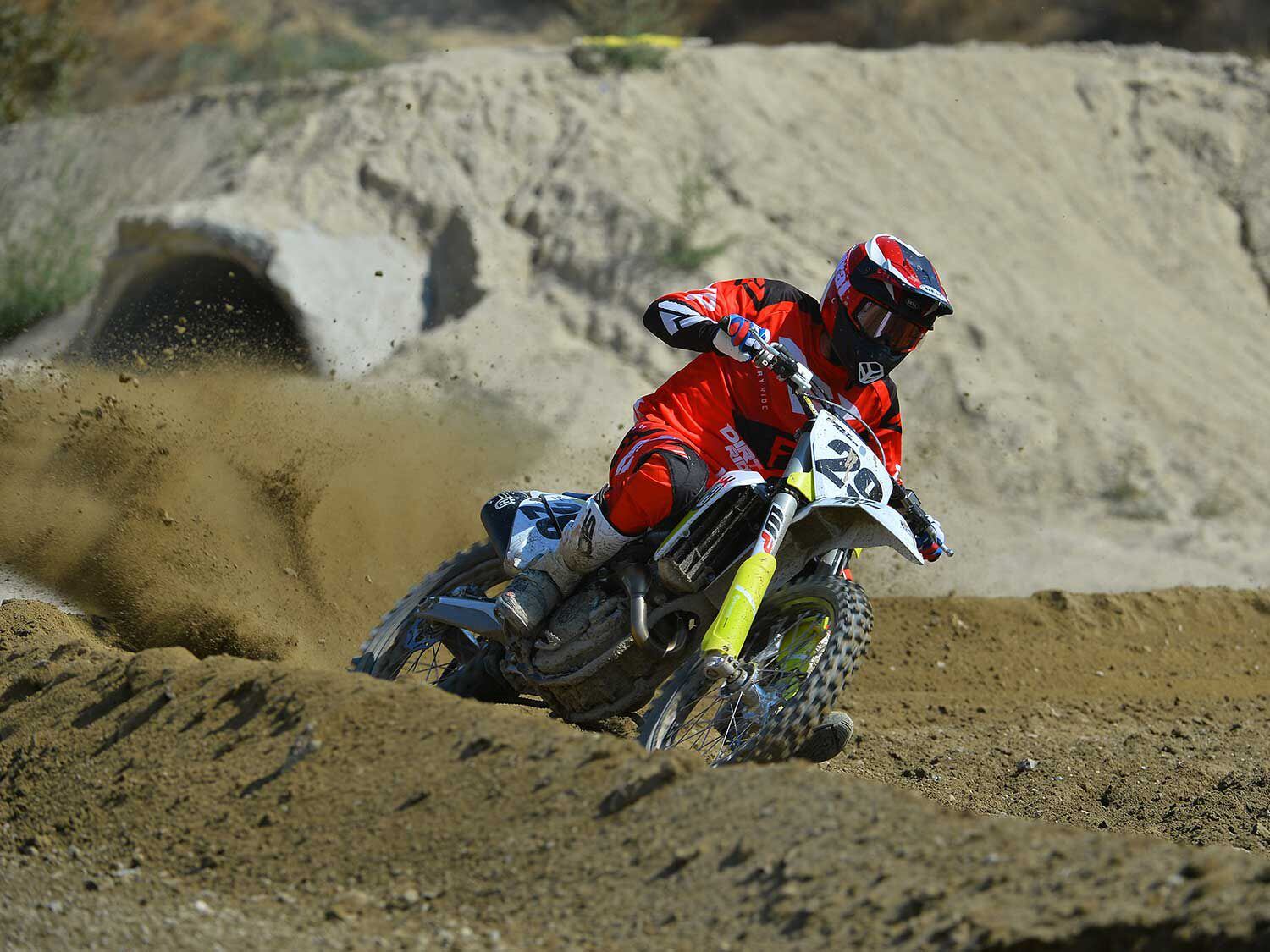 A super-fun, confidence-inspiring powerband is one of the many aspects we like about the FC 350. One of our minor gripes about the bike is that it has a long throttle pull, even with the optional black throttle cam installed. (Mark Kariya/)
The FC 350 was a lot of fun to ride—quite possibly the most fun Husqvarna I have ridden to date. Husky did a great job with the updates to this bike for 2021 and I can't wait to spend more time on it and other Husqvarna models in the near future.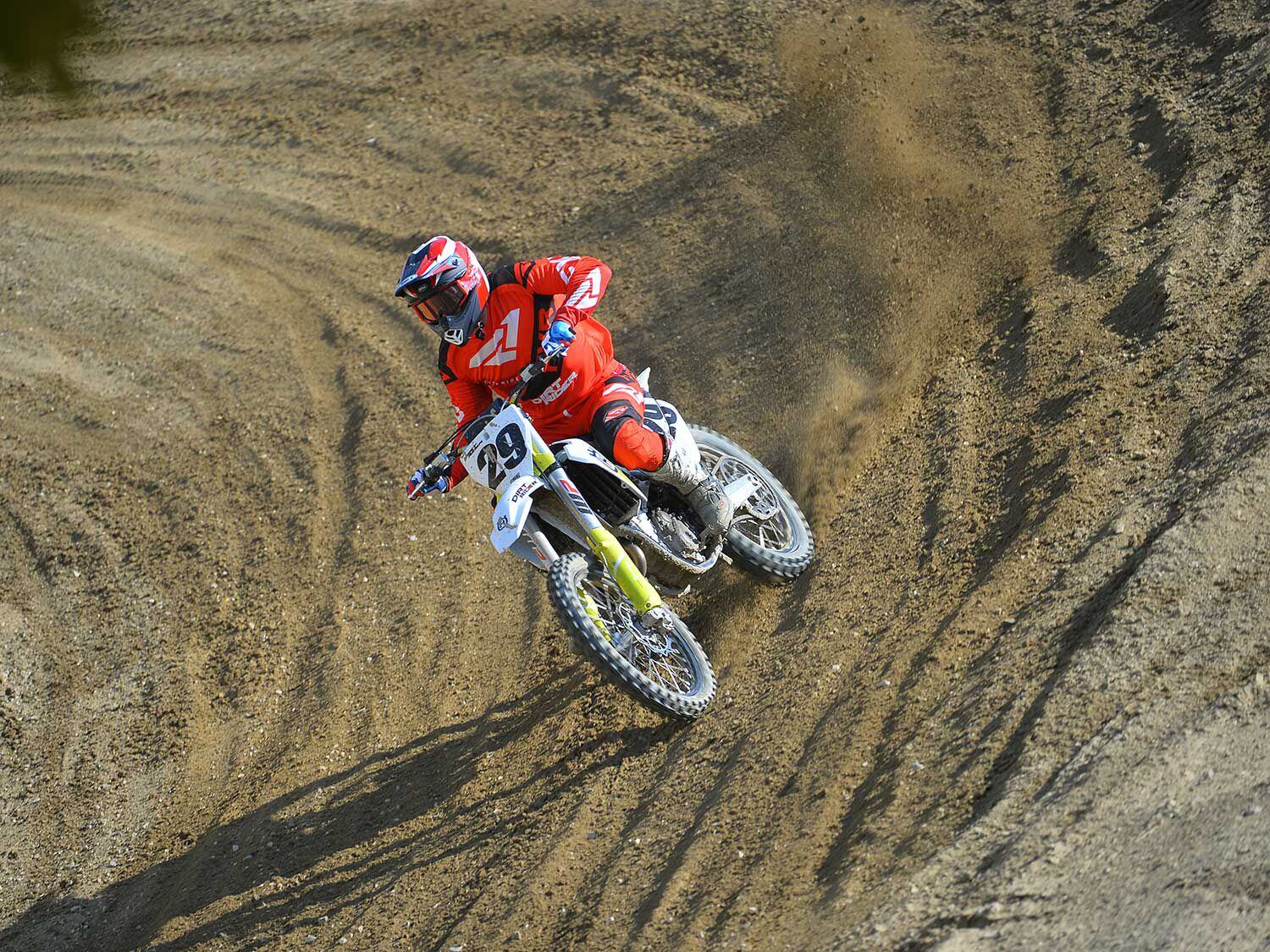 The 2021 FC 350 is quite possibly the most fun Husqvarna we have ridden to date. (Mark Kariya/)
Gearbox
Helmet: Bell Moto-9 Flex
Goggle: Viral Brand Factory Series
Jersey: FXR Racing Podium MX
Gloves: FXR Racing Slip-On Lite
Pants: FXR Racing Podium MX
Boots: Sidi Crossfire 3 SRS
2021 Husqvarna FC 350 Tech Spec
| | |
| --- | --- |
| PRICE | $10,099 |
| ENGINE | 350cc, DOHC, liquid-cooled, single-cylinder four-stroke |
| TRANSMISSION/FINAL DRIVE | 5-speed/chain |
| FRAME | Steel central double-cradle |
| FRONT SUSPENSION | WP Xact 48mm fork adjustable for air pressure, compression damping, and rebound damping; 11.8-in. travel |
| REAR SUSPENSION | WP Xact shock adjustable for spring preload, high-/low-speed compression damping, and rebound damping; 11.8-in. travel |
| FRONT BRAKE | Brembo 2-piston caliper, 260mm disc |
| REAR BRAKE | Brembo 1-piston caliper, 220mm disc |
| WHEELBASE | 58.5 in. |
| SEAT HEIGHT | 37.0 in. |
| FUEL CAPACITY | 1.9 gal. |
| CLAIMED WEIGHT | 221 lb. (w/ all fluids except fuel) |
| AVAILABLE | Now |
| CONTACT | husqvarna-motorcycles.com |
The Husqvarna FC 350 is one of our favorite bikes and the 2021 model is even more fun to ride with its 10mm-lower chassis providing improved handling.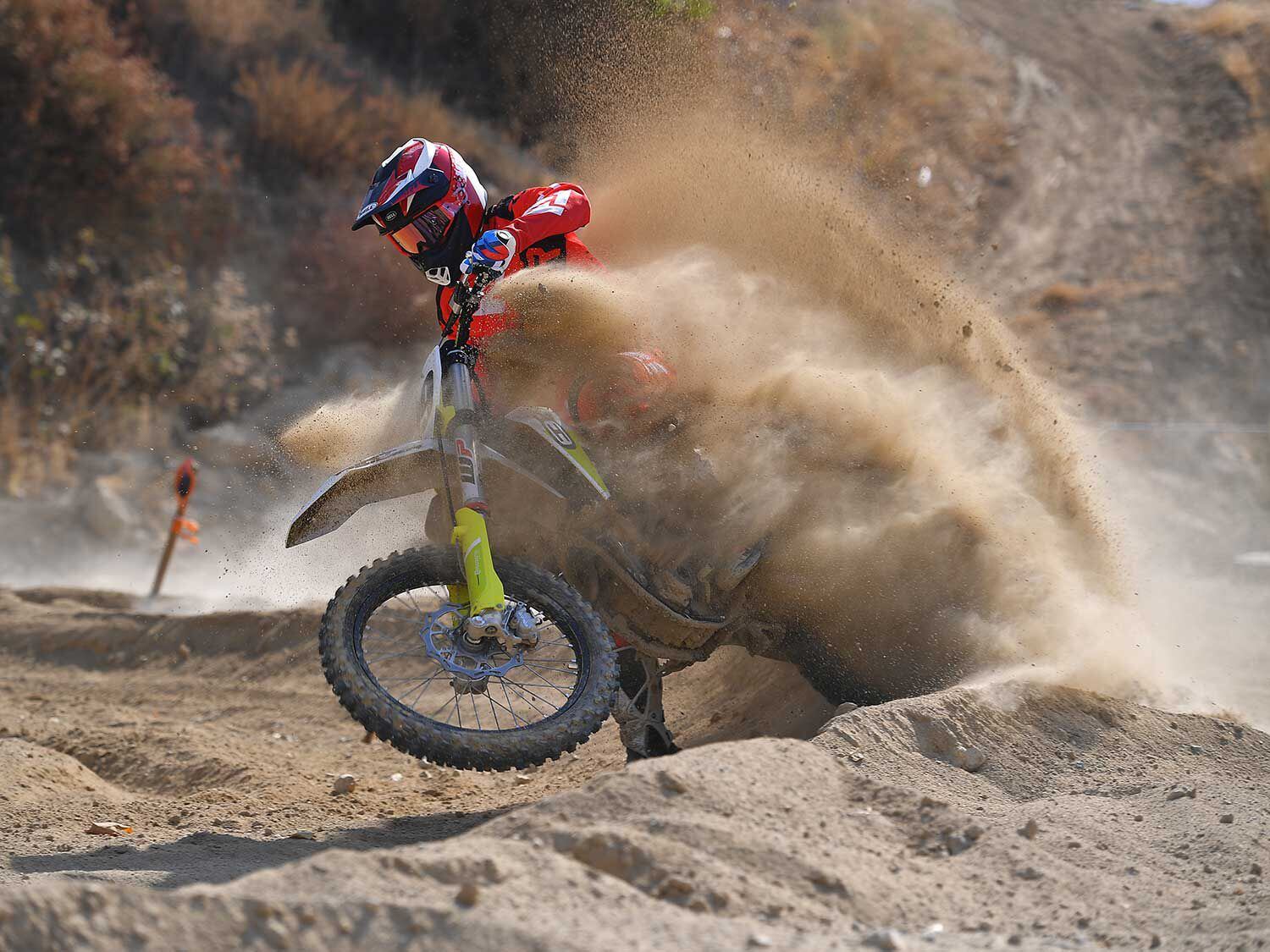 Read More