Published in: Riders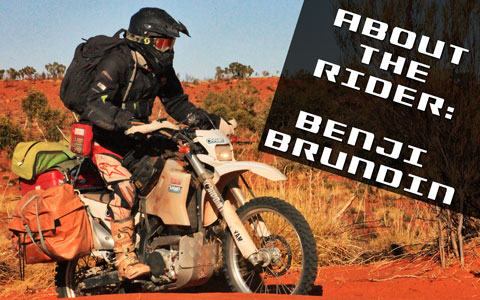 My name is Benji Brundin and I've been riding motorbikes for just a couple of years.
Motorcycling came into my life at a time when I felt completely broken. At 33, I'd lost my job and the promise of a career, my wife had left, my father passed away, and everything that I'd worked so hard to build seemed to be crumbling to pieces.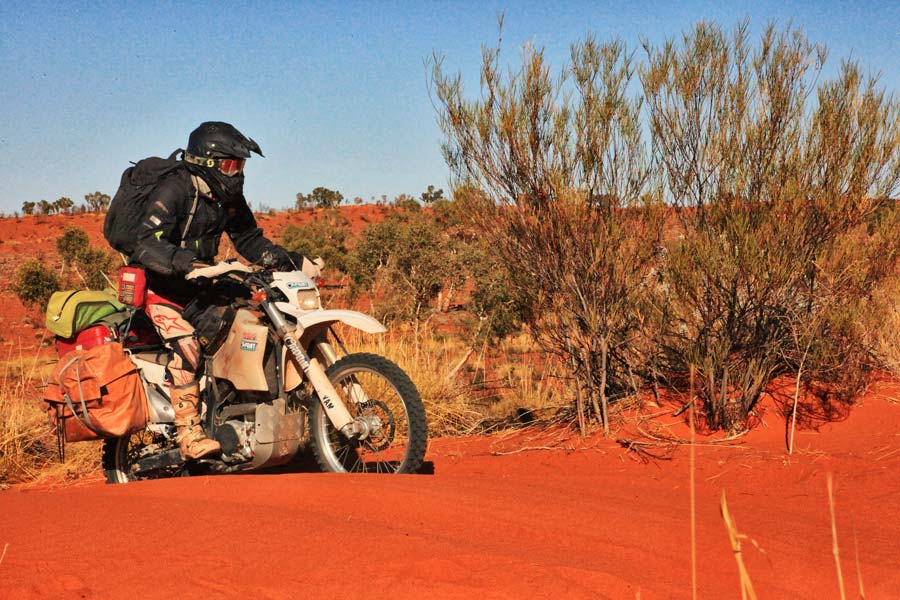 Wanting the escape, I bought the first bike I looked at—a 2008 WR250R that came with a bag of gear that all just happened to fit me like a glove. I'd always been an adventurous kind of guy, looking for adventurous jobs, and doing adventurous things. But I'd always found it difficult to meet others who shared the same enthusiasm and passions.
I'd spent a lifetime conforming to society's norms and living inside the box of suburban life. But now that I was free of that world, it was finally time to live the life I'd always wanted, even though I still felt totally lost, reckless and uncertain of what the future would bring.
As a result, I spent a year traveling around Australia in a beat-up old campervan with the WRR strapped to the back. In the Outback, I hit the ground running and learned to ride it in some of the wildest and gnarliest parts of the country—Robe, the Kimberley, Kakadu, Cape York, and Fraser Island. Planning solo expeditions into the great unknown and exploring those wild locations became the thing that kept me excited and up at night as well as supplying plenty of motivation to wake up early and go for it.
By the time I got back to my hometown of Melbourne, I was well and truly hooked.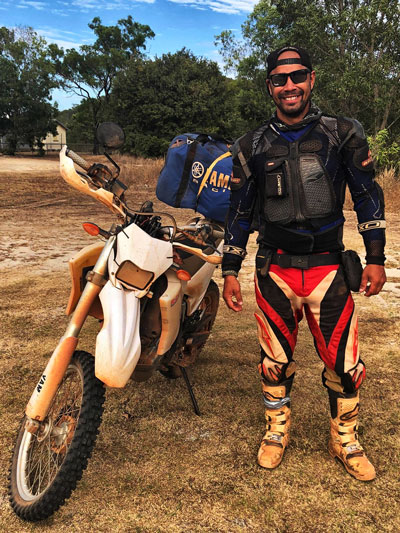 Back in the "real world" I reset up my small roofing business that had been shut down a few years prior. I worked, went to barbeques, and listened to my friends talk about real estate, football, their babies and bitcoin… and I felt like an alien among them. The thing I learned about pushing myself into the unknown was that there comes a moment in every expedition, sport, or even a business venture when things get really difficult—call them mental forks in the road. At those times, one can choose to go back to the so-called comfort of their old life, or push ahead into the unknown and expand their horizons. My horizons had been getting longer and larger over the previous year. And I was realizing that I just couldn't un-see what I'd seen, and I just couldn't unlearn what I'd experienced.
Those who know me best would probably describe me as being a full-on, all-or-nothing kind of guy. There's no middle ground. This attitude has gotten me into trouble in life. A few beers with a mate can easily turn into a trip to Sydney to meet an old friend. When I work, I work until my hands are bleeding raw. When I exercise, I run with the top of the pack. When I love, I put it all on the line. The downside is that I also get the full spectrum of emotions on the flipside.
Feeling down about the prospect of normality, I started to plan an expedition into the deserts of Australia. To facilitate the plan, I rented a small room and covered the walls with maps, drawings, stage notes, fuel depots, postal outposts, and the names of local police in the Outback. Then, in September 2019, I set off on my 250 in the Red Centre. 30 days later I rode into a small mining camp deep in the heart of the Tanami Desert. My bike had a blown rear tyre and my saddle bags had over 100 cable ties holding them together. I hadn't changed my tattered clothes since I left, and my boots were strapped together with electrical tape. I'd lost close to 10 kg and I looked like I'd ridden straight out of a Mad Max movie. And I'd just set a new Guinness World Record for the "Fastest man to cross all ten Australian deserts solo on a motorbike." But that's another story….