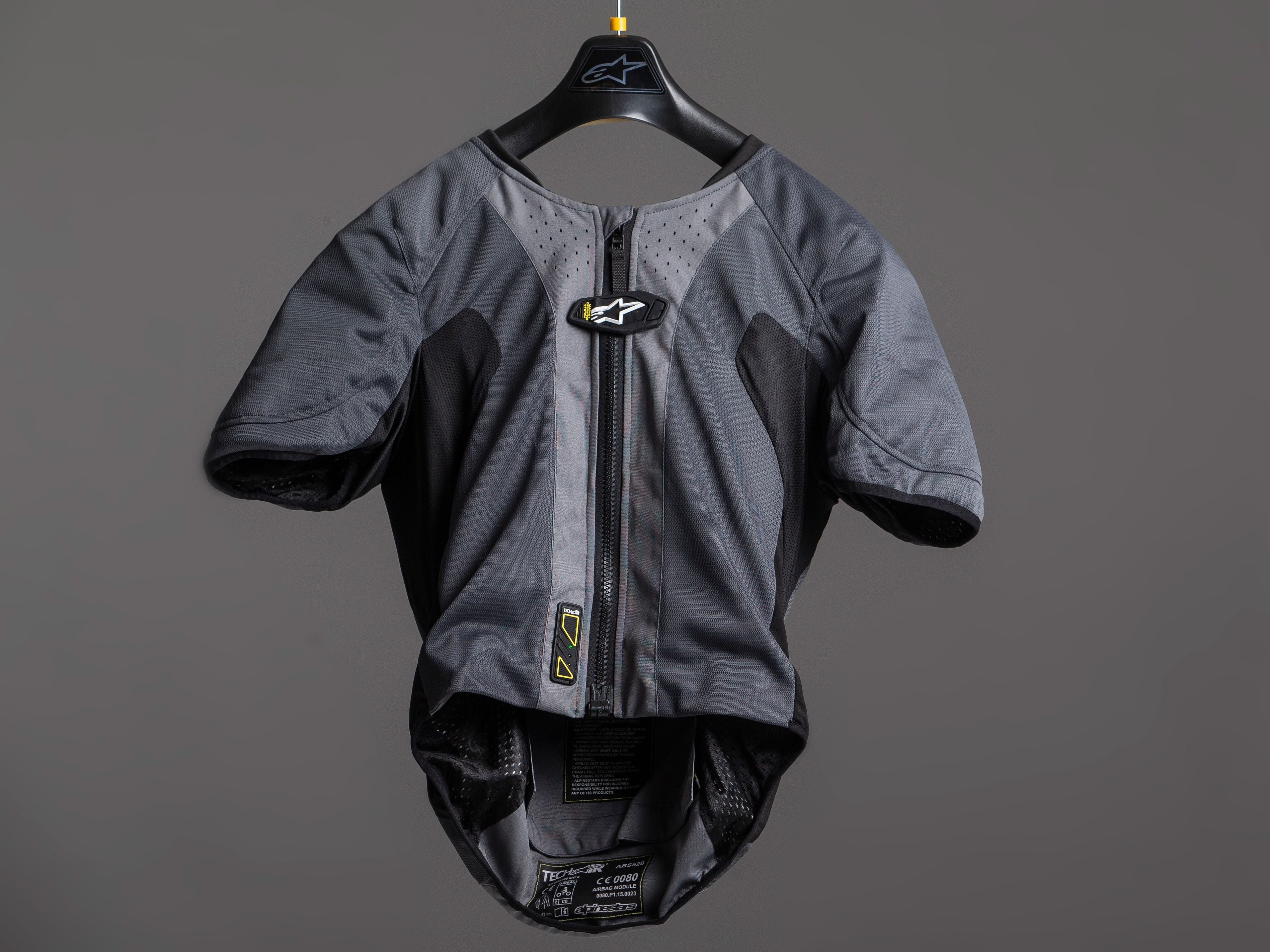 Alpinestars' Tech-Air 5 airbag vest is one of the latest protective gear options and is now more versatile than ever. (Jeff Allen /)
"Riding can be dangerous." We are told that from riding instructors, friends, and family from the first time you set out on the street. You have to be mentally and physically prepared for anything that could go wrong. Taking extra precautions with protective motorcycle gear is always a high priority in my book, which makes an airbag system, like the Tech-Air 5, a highly appealing addition to a riding kit.
A little background for you. When I started riding, my dad was okay with me riding at the company trackdays (no cars there, you see), but I even rode the streets quite often, admittedly without his knowledge. Then came the day when my dad found out I bought my own motorcycle and he was, quite frankly, angry and understandably scared.
I bargained with him. What if I wear an airbag-compatible jacket? He conceded. I bought Alpinestars' Tech-Air Street Airbag System and compatible Stella Yaguara Drystar jacket and his anger and (most) anxiety were abated, so much so that even he couldn't stop bragging to his friends about this technology. While this jacket/suit compatible system was publicly available in the US market in 2015, now for 2020, Alpinestars has the Tech-Air 5 vest, a stand-alone airbag vest that offers similar chest, back, and shoulder protection, but with a significant amount of versatility not available in the previous system, allowing for use under any motorcycle jacket.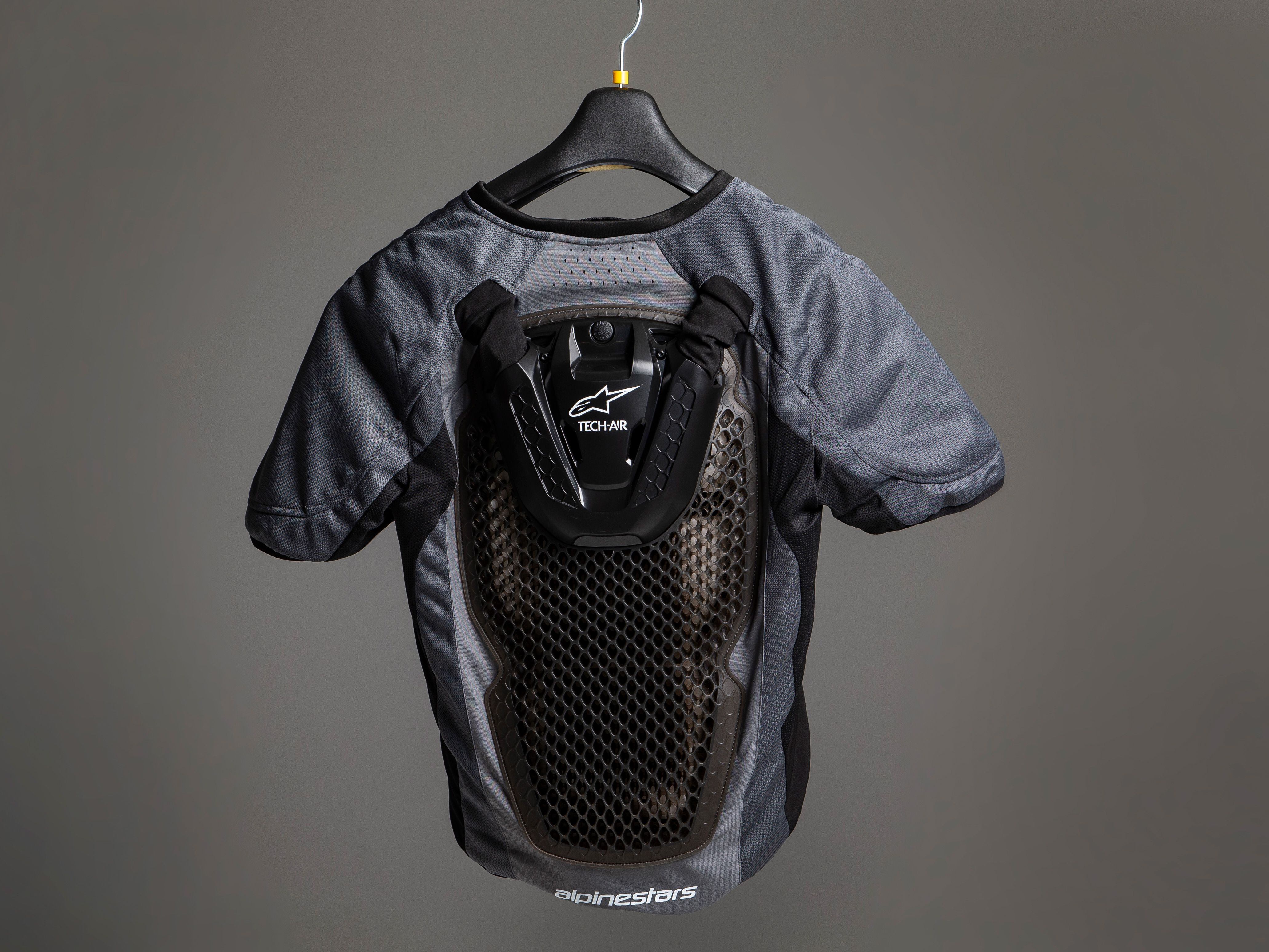 Unlike the previous generation of airbag tech, the Tech-Air 5 does not require cables to connect it to a compatible suit. The only cable you need is the Micro-USB when the battery is running low. The charging port is located toward the top of the back-protector-like rigging. (Jeff Allen /)
Gone are the days when you have to plug the system's cables into the compatible jacket, or the time when you have to plug it into your computer for firmware updates. (Note: You have to do both of these with the previous gen Tech-Air Street Airbag system). Aside from plugging it in to charge with a Micro-USB, now with the Tech-Air 5 you don't have to plug it into a compatible jacket and in order to register it and update the firmware—you simply do so via the Tech-Air app. And it is all super easy.
The main page of the app (left) displays pertinent information such as battery life and status. By clicking "Start My Ride" you can record your route. Your ride is available for review in the MyRide tab (right) where you can find the date, distance traveled, and time traveled below the route map. (Robert Martin /)
Unlike the Tech-Air Street system, which has an on/off switch in the back, there is no power switch on the Tech-Air 5. To activate the system secure the magnetic/Velcro flap. Deactivation can be done via the app or by disconnecting the magnetic/Velcro flap. When the flap is secured the solid green light at the base beside the zipper will indicate that you are good for launch for a claimed 30 hours of ride time with its lithium-ion battery, then onto the Micro-USB charger it goes.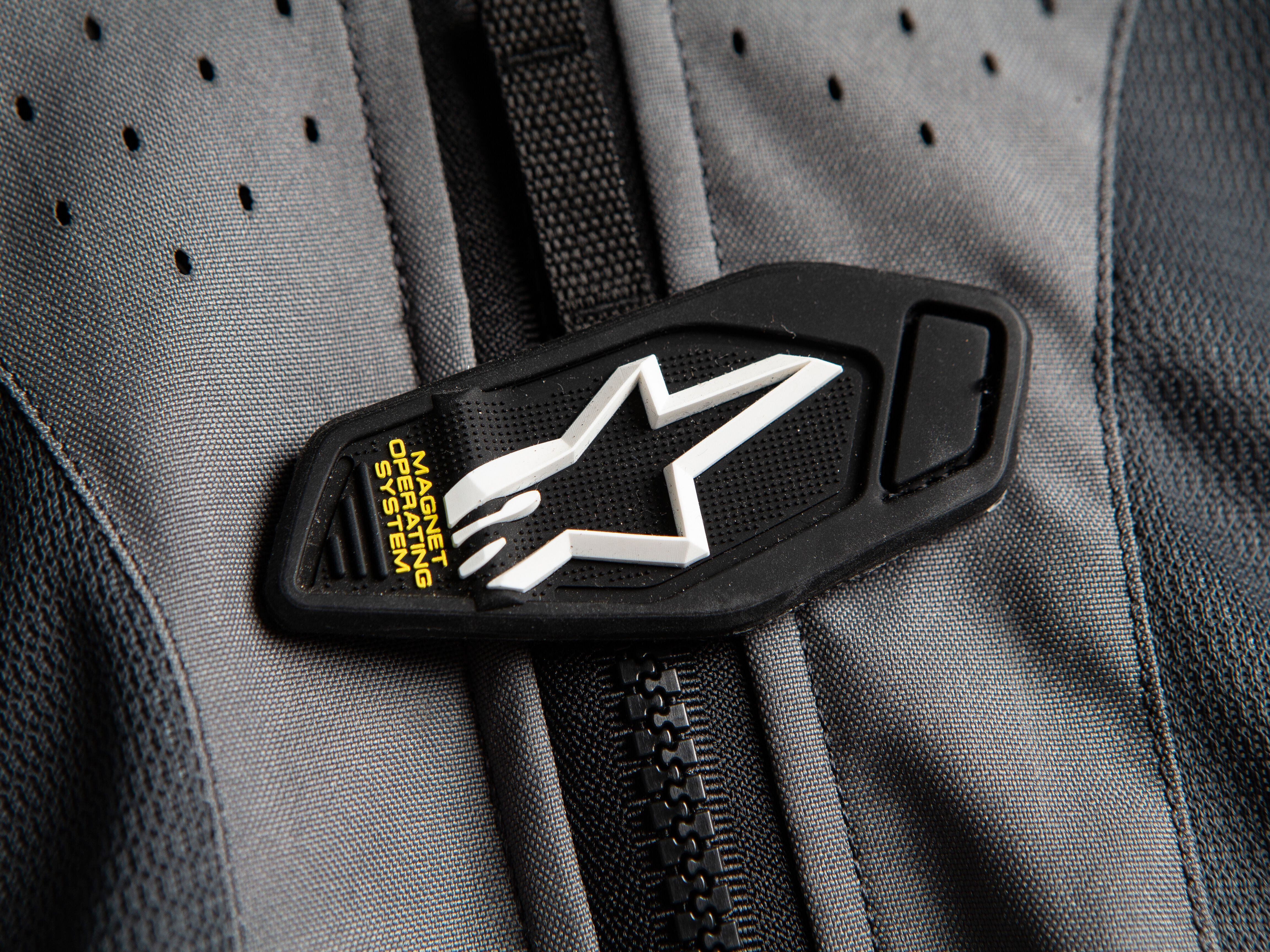 In order to ensure the system is ready when you are, zip the vest all the way up and make sure the magnet strip with the hook-and-loop closure is secured. (Jeff Allen /)
By utilizing a set of tri-axial sensors, including three gyroscopes, three accelerometers, and a crash algorithm that leverages AI, the suit activates when it senses the first microseconds of a crash. There is no vehicle speed required for activation we were told by Alpinestars. When the solid green light is lit you are protected. For example, if the light is solid green and you are rear-ended by a car, the system will deploy.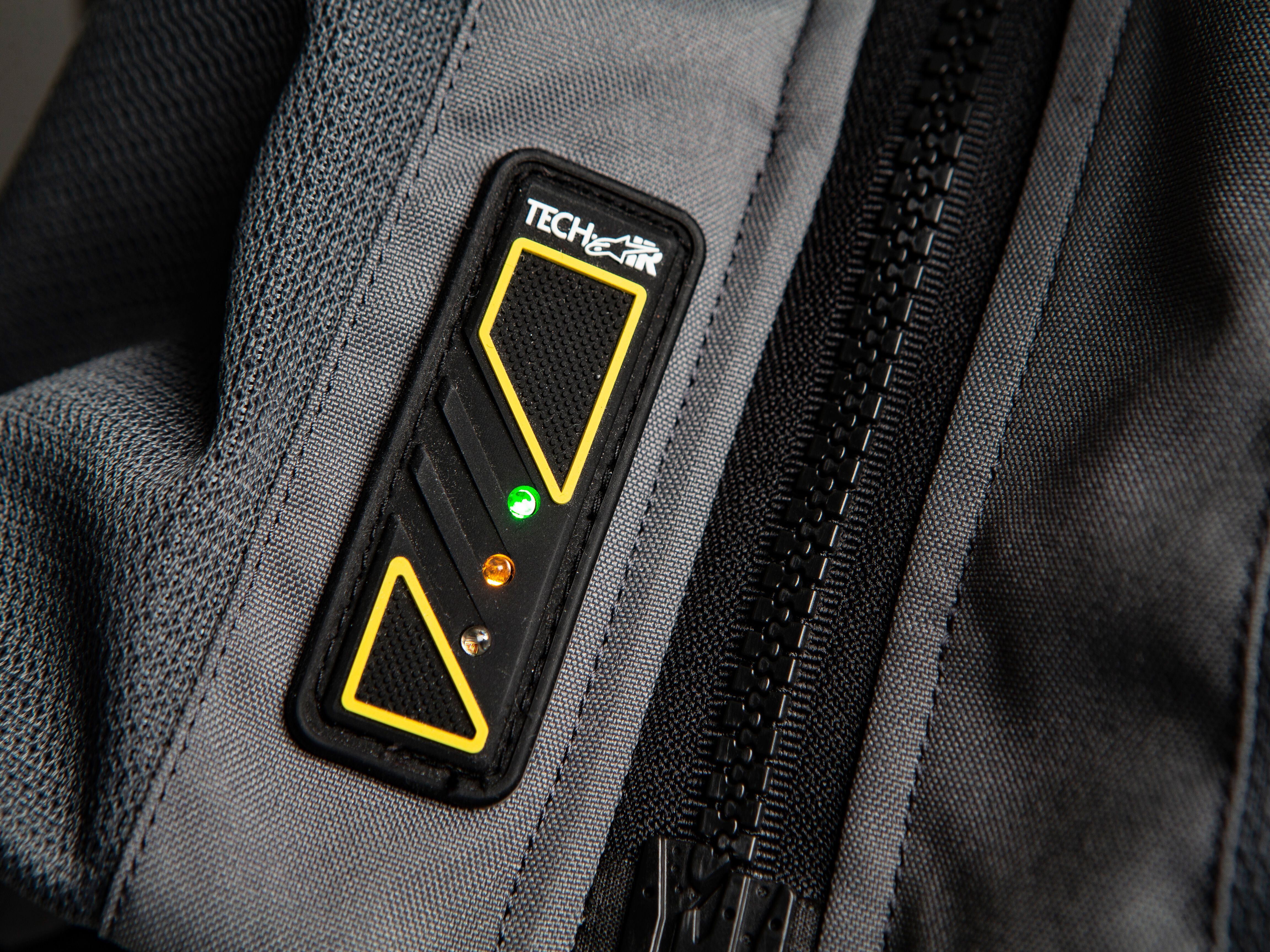 Remember: Green means go. The LED light shows when the system is armed and ready for takeoff. (Jeff Allen /)
Wearing this system underneath my Vika V2 jacket is impressively comfortable and barely noticeable. The Tech-Air 5′s stand-alone design also allows it to fit not only under like-branded jackets, but any other manufacturer's jacket as well. Alpinestars does recommend that those jackets have an additional 4 centimeters of space around the circumference of the body to accommodate proper inflation.
Overall, it's incredible that technology like this is at our grasp. Between the two systems, Alpinestars has improved the Tech-Air system to be independent of the jacket or suit, which opens up the usage to a variety of riders who own multiple jackets. Now that would impress even the most protective dads (and their friends) out there.
This Tech-Air 5 vest is priced at $699.95 in sizes XS to 4XL and is available at local Tech-Air dealers or online at RevZilla.
Alpinestars' airbag system utilizes the latest tech to protect motorcycle riders. Now, the Tech-Air 5 offers versatility to work under various riding jackets.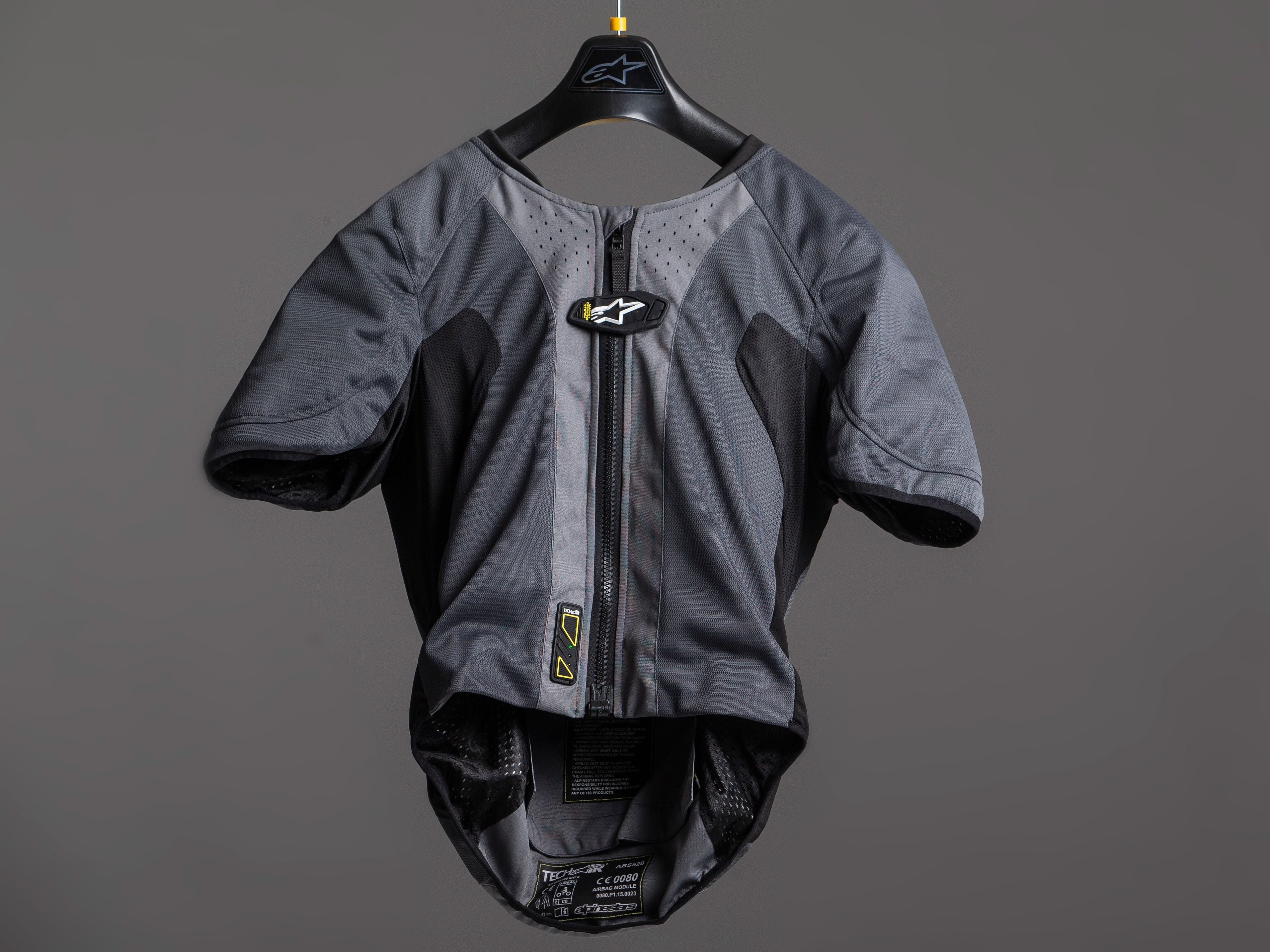 Read More