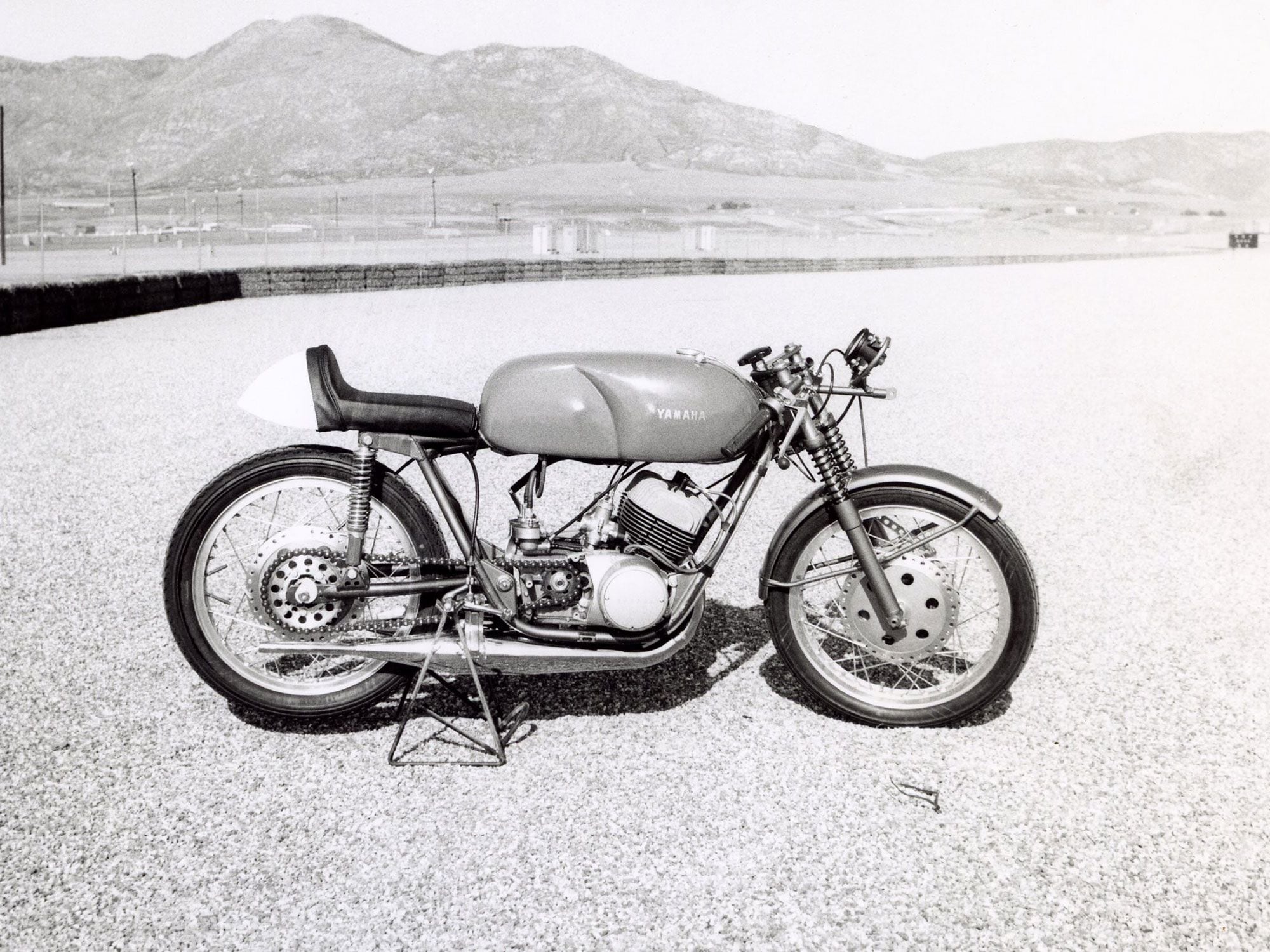 As the US motorcycle market in the late '60s exploded, Japanese motorcycles rose to the top. Yamaha's TD-1 was one of the first to be competitive with the English and American racers. (Cycle World Archives/)
When I was a rank novice in the sign-up line at the club roadraces, the sound coming from the track beyond was the drone and brumm-bah of Triumphs, BSAs, Nortons, and Harleys. Most were warmed-over amateur-built stockers of limited reliability. My first time at Daytona (1969), I overheard two mechanics talking as they strode past: "We brought down seb'm motors for 'im and he's already gone through five of 'em." That had been my experience—trying to race warmed-over Honda Hawk twins had taught me it was best to begin with a made-for-the-job production racer.
The background for all this racing—both national and at club level—was that motorcycling was exploding in popularity in the US, with sales doubling from 1965 to 1970, then doubling again by 1974. Racing had been an important part of that marketing success.
Little of today's sophistication then existed. The Japanese industry had introduced electric starting on a large scale, but aside from small Hondas there was nothing in the US bike market with a single overhead camshaft (SOHC), let alone two (DOHC). Chassis were steel pipe. Gearboxes had only lately taken up residence in the engine cases (in 1963, Triumph called it "unit construction"—a big advance over separate engine and gearbox that had been bolted between steel plates). Electrical systems remained the butt of jokes (renaming British electrical parts supplier Joseph Lucas, Ltd. "The Prince of Darkness"), and parts falling off from vibration were normal and expected. Today it is normal to expect a 450-watt alternator on late-model bikes, but as the 1960s began in Britain, 35W remained standard.
Norton had continued to sell its Manx 350 and 500 single-cylinder production racers until 1962-63, but along with BSA's all-purpose Gold Star singles and the AJS/Matchless 7R and G50 they were discontinued. Privateers in GP racing kept existing racing singles in service for another 10 years (two Matchlesses scored GP points in 1974—the last bow for those long-serving singles).
Norton continued selling the Manx single-cylinder production racer until 1963. (Bonhams/)
Yamaha took up that slack by offering over-the-counter two-stroke 250 twin production roadracers—first the TD1, then TD1-A, and in 1965, the bike I am now assembling, the TD1-B. Retail was $1,149 plus destination and setup. Today that money won't cover the damage resulting from a late-model bike falling over when its stand sinks into soft asphalt. TD1s were created by adding tuning parts to the YDS-2 production engine, and were not yet 100-percent reliable (that would come in 1967′s TD1-C), but 200 or more were sold by Yamaha dealers. Suddenly Ducati singles (like the one Gordon Jennings fettled to 25 hp in 1965-66) were over-faced by bikes with 5 to 10 extra horsepower. The Aermacchi pushrod singles fielded as Harley-Davidson Sprint lightweights made more power (and they were _loud_), but needed factory support to be really fast. Even they were soon worn down by the new Yamahas.
Suzuki brought out its X-6 Hustler with a six-speed gearbox in 1966, and followed it with tuning information. Despite the X-6′s high performance, Suzuki did not offer a production racer based on it. Lightweight racing in the US became nearly 100-percent Yamaha-based—because they and their special parts were cheaply available at any dealer. You didn't need factory connections or "know somebody." These production racers, because they made it unnecessary for racers to re-engineer production models, expanded the sport.
Sign up here to receive our newsletters. Get the latest in motorcycle reviews, tests, and industry news, subscribe here for our YouTube channel.
Until 1970 the US AMA big bike class was for 500cc overhead-valve models or 750cc side-valves (Harley and Indian). Triumph made available a range of racing parts and from time to time even offered complete race engines or bikes, but the policy varied. A great many riders used Triumph's available racing parts or the aftermarket to build dirt-trackers, roadracers, and dragbikes. There was a huge aftermarket for the BSA Gold Star, but after 1950 that factory's main sales push turned to twins. Norton, after winning four Daytona 200s 1949-1952, mostly left US racing to the aftermarket.
Triumph fought its way even with Harley's KR750 flathead, winning the Daytona 200 in 1966 and '67, but an accidental discovery made in the 1967-68 off-season at the California shop of dyno and tuning specialist C.R. Axtell became the core of a KR revival, boosting its engine to 58 hp. In '68 and '69, this made Triumph's intensive development pointless (its 500 twin, straining itself at 9,000 revs, was stuck at just under 50 hp).
Two-Strokes Threaten In 1968 Daytona 200
Meanwhile, something terrifying to the US big-bike establishment occurred. Yamaha entered its 350 two-stroke twins with riders Yvon DuHamel and Art Baumann. As so often happens in racing, those in charge had recently decided racing was too dangerous and should be slowed down. Their plan? To cut back the 500/750 formula to a straight 350cc OHV class. Harley was quickly ready with 350 top ends for the Sprint Aermacchi, and Triumph began trying to coax racing performance from its 3T, the 350 version of its parallel twin (designed prewar).
Never mind that Calvin Rayborn brilliantly won the 200 in '68 on the powered-up flathead KR, making Triumph 500 OHVs obsolete. Little two-stroke Yamaha twins finished second and third! AMA had handicapped them (it seemed to us back then that AMA's first rule was "Oppose all change"), locking out first gear to leave them with just four transmission speeds. Those 350s were "little"—but in ways that worked to their advantage. They were light, so they accelerated strongly. They were narrow, greatly reducing drag at high speed. And they were easy to handle, tiring their riders less.
Cal Rayborn took the 1968 Daytona 200 on a flathead Harley-Davidson KR. (Don Emde Collection/)
A Big-Bike Future Is Chosen
Poof. Away went any possible consideration of a 350 class, now revealed as a path to an all-two-stroke future. A big struggle was anticipated at the AMA's December '68 Competition Congress, but changes in the market would make that meeting almost convivial. That fit well with the US market's direction toward ever-bigger and more powerful bikes.
Honda would introduce its SOHC four-cylinder CB750 in 1969. Honda fours had become famous worldwide in GP racing, and now at last we mere mortals could own one—and more than 400,000 did. Triumph and BSA would answer, after years of corporate dithering, with their 750 pushrod triples that were basically their 500 twin with an extra cylinder. Suddenly 500s were an irrelevant sideshow in both racing and sales. The real action now moved to big, muscular bikes.
After consideration of opening proposals, the AMA's Competition Congress decided that beginning in 1970, the big class would meet the coming sales trend: 750cc machines of all types—OHV, OHC, side-valve, two-stroke—run what ya brung.
The English Bike Industry Fades
Standing in the Daytona paddock in 1970, with factory bikes and mechanics everywhere, it appeared to be a battle of titans. What we didn't know was that England's industry was empty at its core. Triumph, BSA, and Norton had been played by professional asset managers until they were weak in sales, weak in competition, and weak in replying to Japanese leadership. Edward Turner, designer of Triumph's Speed Twin 500 back in 1937, had reported after a 1960 trip to Japan that Japanese production systems were the most modern in the industry, able to build more sophisticated products at competitive prices. His perceptive warning was ignored; England's two-wheeled leadership had always existed, and it always would. Don't worry about Japanese automation—England could stay price-competitive by paying its manual workers less.
Japan Takes The Lead
Dick Mann won the 1970 Daytona 200 on a Honda CB750 four, but barely. One by one, the other factory Hondas had stopped. Only Mann was able to keep his together to the finish. Yet this was a revolution—a Japanese bike beating all comers in the big class.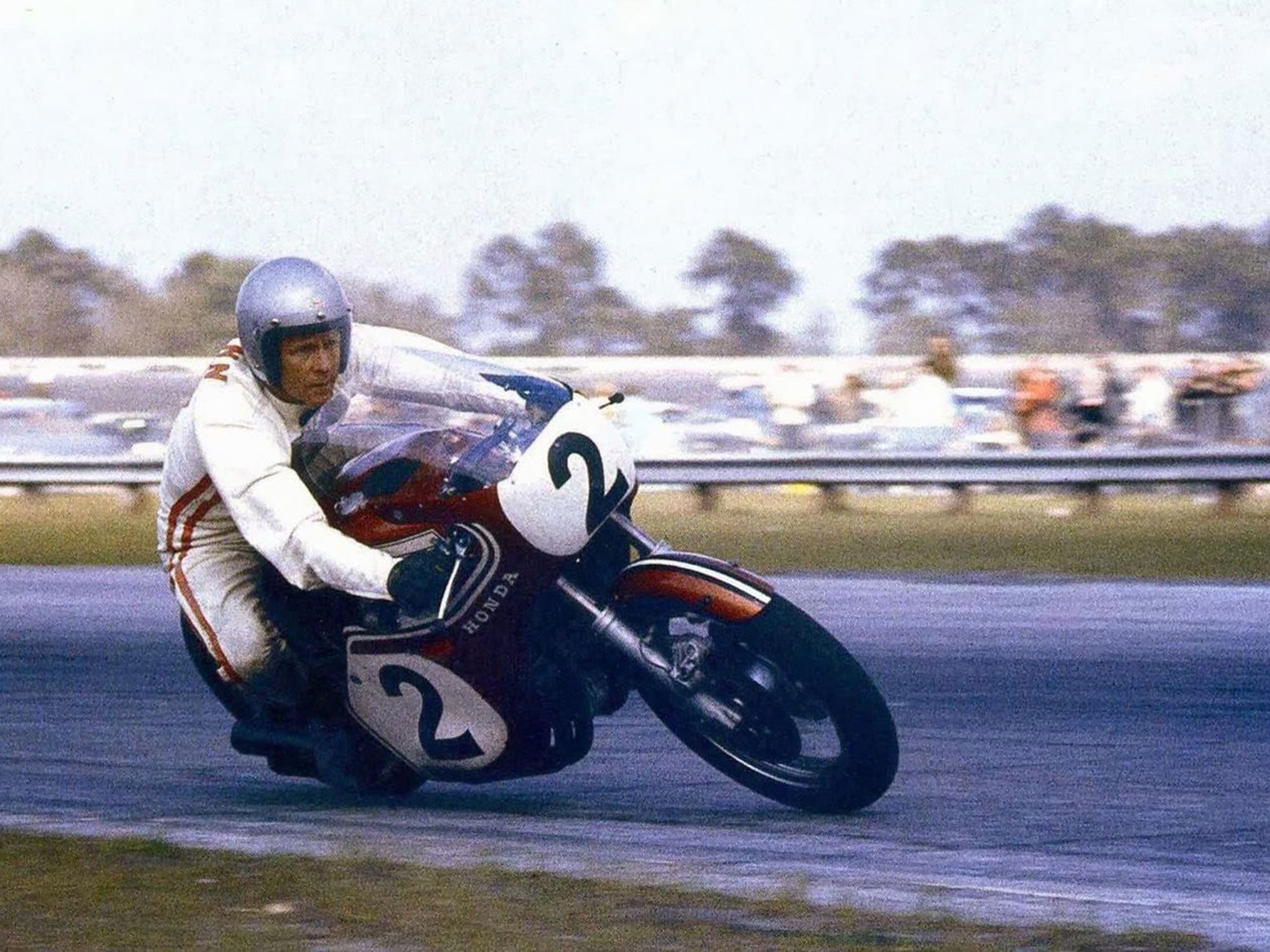 Dick Mann smartly rode his Honda CB750 inline-four to the 1970 Daytona 200 win. (Cycle World Archives/)
The following year Mann won again with the same basic strategy—but on a BSA Triple. BSA engineers assured him this was an 8,200-rpm engine, but he privately decided it might actually finish at 7,800 rpm. It was a great day but in the long run it didn't matter. Very shortly England was finished as a major manufacturer of motorcycles.