Last year's BMW's Vision DC Roadster concept may be closer to production than we originally thought. (BMW Motorrad/)
A spate of new trademark registrations from BMW suggests the firm is planning two distinct ranges of electric bikes for the near future. The company has registered a host of trademarks with the German Patent and Trade Mark Office (DPMA) all pointing to electric bikes. The first, and perhaps the more significant, set of trademarks all revolve around the letters "DC"—hinting that the Vision DC Roadster concept the firm showed last year might be closer to a production model than it first appeared.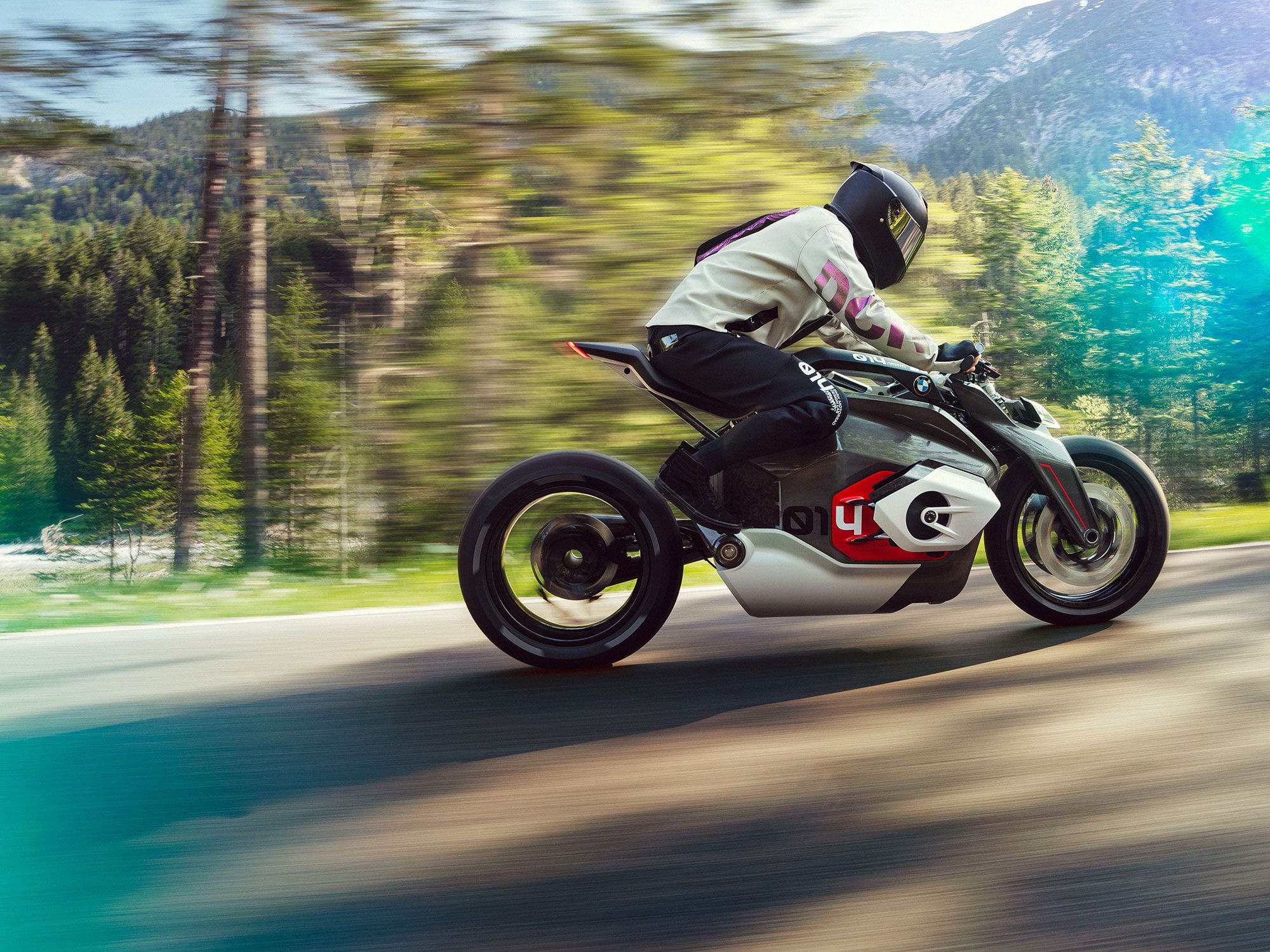 BMW's submitted no fewer than nine trademarks having to do with the DC branding, all of them for use on motorcycles. (BMW Motorrad/)
Nine DC Trademarks
BMW has registered no fewer than nine trademarks around the DC branding. They start with DC 01 and run to DC 09, with each one specifically intended for use on motorcycles. That doesn't necessarily mean BMW is set to immediately launch a nine-model range based on the Vision DC's design, but it suggests the firm has plans for multiple machines and wants to make sure it owns the rights to all the names it might use on them.
RELATED: BMW Patents Radical New Electric Motorcycle
While the Vision DC was overtly futuristic, BMW also revealed its E-Power Roadster prototype last December—a running electric bike that used parts from existing gas-powered machines including the front of an S 1000 R and the shaft-drive rear of an R-series boxer. The chances are that the production DC models will use elements from the Vision DC's styling wrapped around the fully functional electric drivetrain of the E-Power Roadster.
This working E-Power Roadster uses bits from existing ICE models but is powered by an electric drivetrain. (BMW Motorrad/)
As to what the "01" to "09" numbers could stand for, they may be different styles of bike—street, touring, and adventure models, for instance—or they might be references to battery size or performance. Equally, BMW could simply be planning to use the DC branding for a long time, and wants to make sure it can create multiple generations without hitting trademark problems.
RELATED: Not A United Front On Electrics
While the Vision DC Roadster's styling seems too futuristic for a production model, BMW has previously used the term "Vision" on near-production concepts, particularly when it comes to electric or hybrid vehicles. The 2009 Vision EfficientDynamics turned into the i8 production car, for instance.
All signs point to the likelihood that BMW's current electric scooters are due for a revamp as well as an expansion of the series. (BMW Motorrad/)
More Electric Scooters Coming
The DC models are certain to be full-sized electric motorcycles, with the Vision DC as their template, but we've already seen plenty of evidence that BMW is also working on more electric scooters to succeed the current C Evolution.
At the same time it filed the DC trademark applications, BMW also put paperwork in for rights to the names CE 02 and CE 04. Whereas the DC trademarks are specifically for motorcycles, the CE marks are intended for "motorcycles/scooters," and it doesn't take a huge leap of imagination to see how the existing C Evolution name could mutate into CE branding once there's more than one model in the range.
Sign up here to receive our newsletters. Get the latest in motorcycle reviews, tests, and industry news, subscribe here for our YouTube channel.
As with the DC trademarks, there's no firm indication as to how a CE 02 might differ from a CE 04, but the numbers are likely to relate to the bikes' size, range, or power.