There's not a lot of detail in the patent, but BMW may be working on winglets for its future superbikes. (BMW Motorrad/)
The latest-generation BMW S 1000 RR superbike hit the market shortly before it became clear that wings weren't exclusively reserved for MotoGP machines—and now the firm is playing catch-up by developing movable winglet technology.
With Ducati and Honda both opting to add downforce-generation winglets to their mainstream superbikes this year, it's clear that this is a technology that all race-replica bikes will be rushing to adopt in their next-generation forms. With WSBK rules that only allow wings if they're fitted as standard on the streetbike used for homologation, it's inevitable that we'll enter an era of technical one-upmanship as firms scramble for every last racetrack advantage. And there's a marketing benefit for road-going models as well; how much downforce your bike makes at highway speed could soon be a specification that's mentioned alongside power and weight.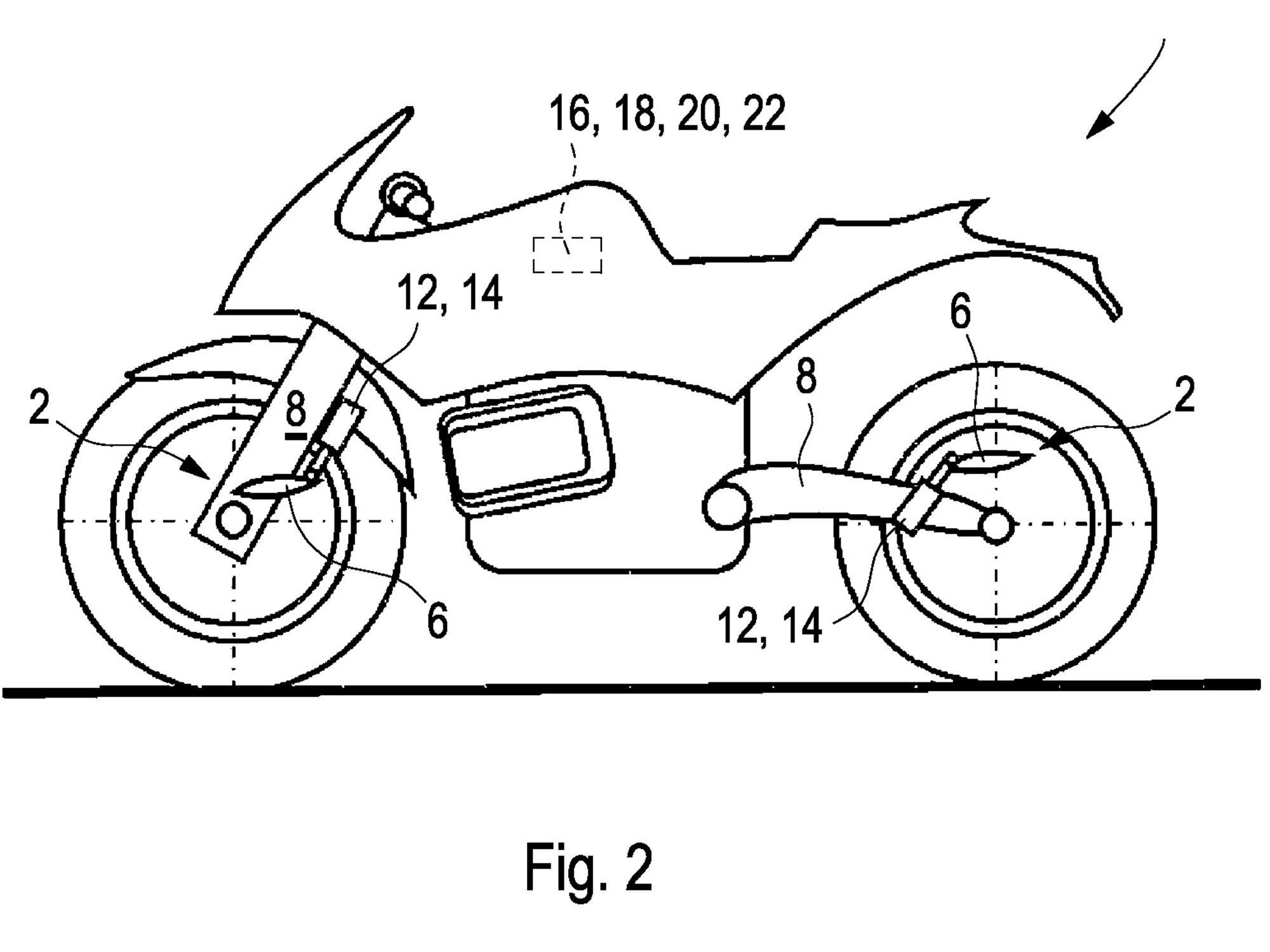 BMW's ideas look to mount the wings on unsprung parts for a more direct downforce result. (BMW Motorrad/)
So far, the wings appearing on streetbikes have followed the patterns seen in MotoGP. That makes sense from a marketing perspective and saves money as R&D has already been done into those wing designs. However, MotoGP rules put strict limits on wing sizes and positions, as well as banning movable aerodynamic surfaces. On the street there are no such restrictions, and current WSBK race regulations are similarly open to the use of more extreme wing designs, including moving winglets, on the proviso that they must also be used on production bikes.
RELATED VIDEO: 2020 BMW S1000RR First Ride
That brings us to BMW's latest idea: front and rear winglets, mounted on the suspension rather than the bodywork, that can move in multiple directions to adjust their downforce and drag characteristics.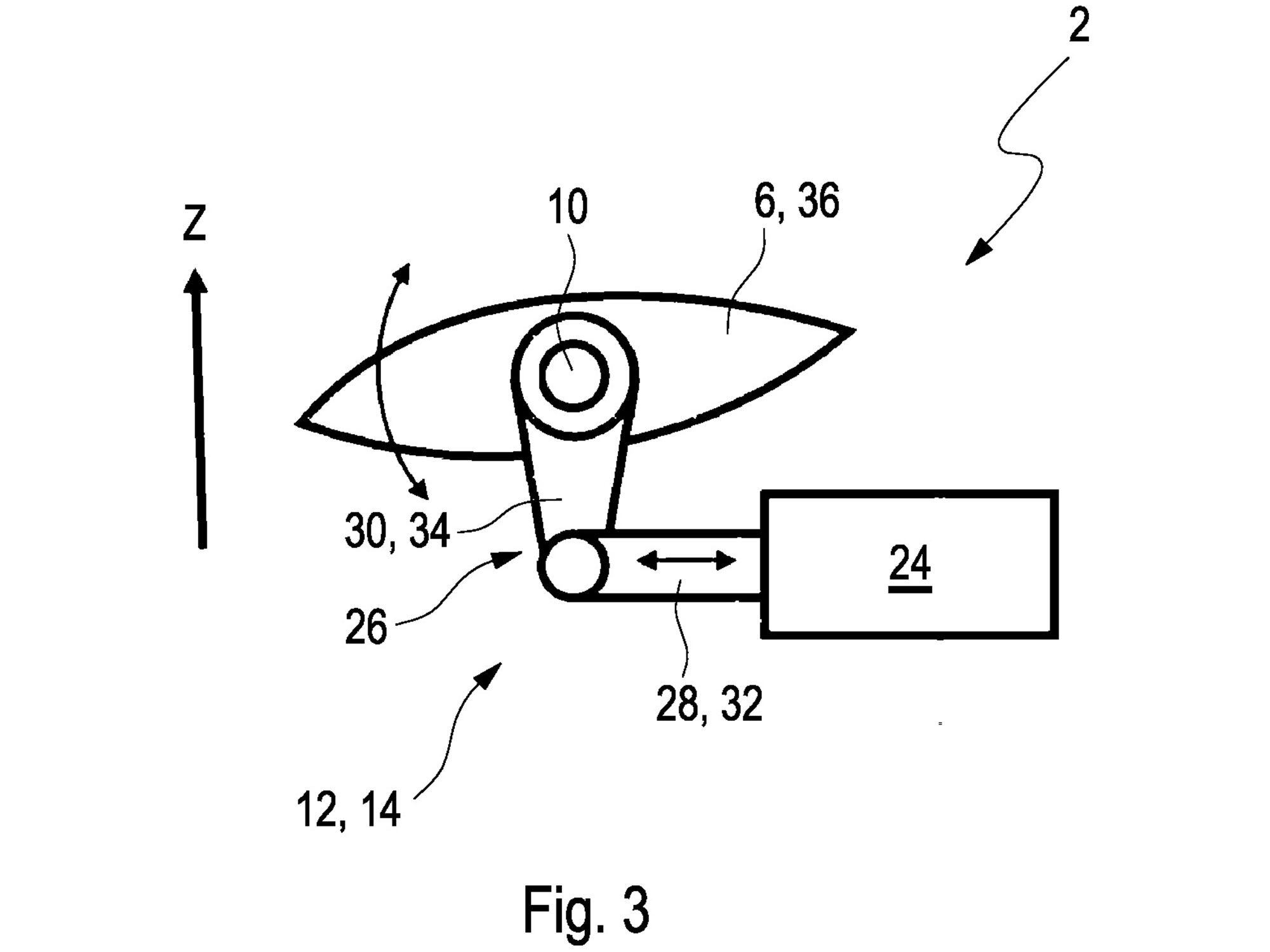 One of the patents shows a simple single actuator working on the winglet to change its angle. (BMW Motorrad/)
While such designs wouldn't be legal in MotoGP, that's not a class BMW races in. The firm isn't bound by MotoGP regulations or any marketing-driven need to replicate MotoGP-style winglets on streetbikes, so the intention appears to be to push the boundaries of what's possible.
The images from the patent that shows the firm's development ideas are typically simplistic, illustrating the concept without giving away too much detail in terms of final appearance. However, as well as illustrating normal, body-mounted airfoils they show an alternative layout with winglets mounted on the fork and swingarm.
It makes sense to put the wings straight into the unsprung parts of the bike rather than the bodywork, as it means their downforce acts directly on the wheels. Early attempts at putting wings on F1 cars followed a similar route, with airfoils attached to the suspension uprights rather than the bodywork—until that idea was banned.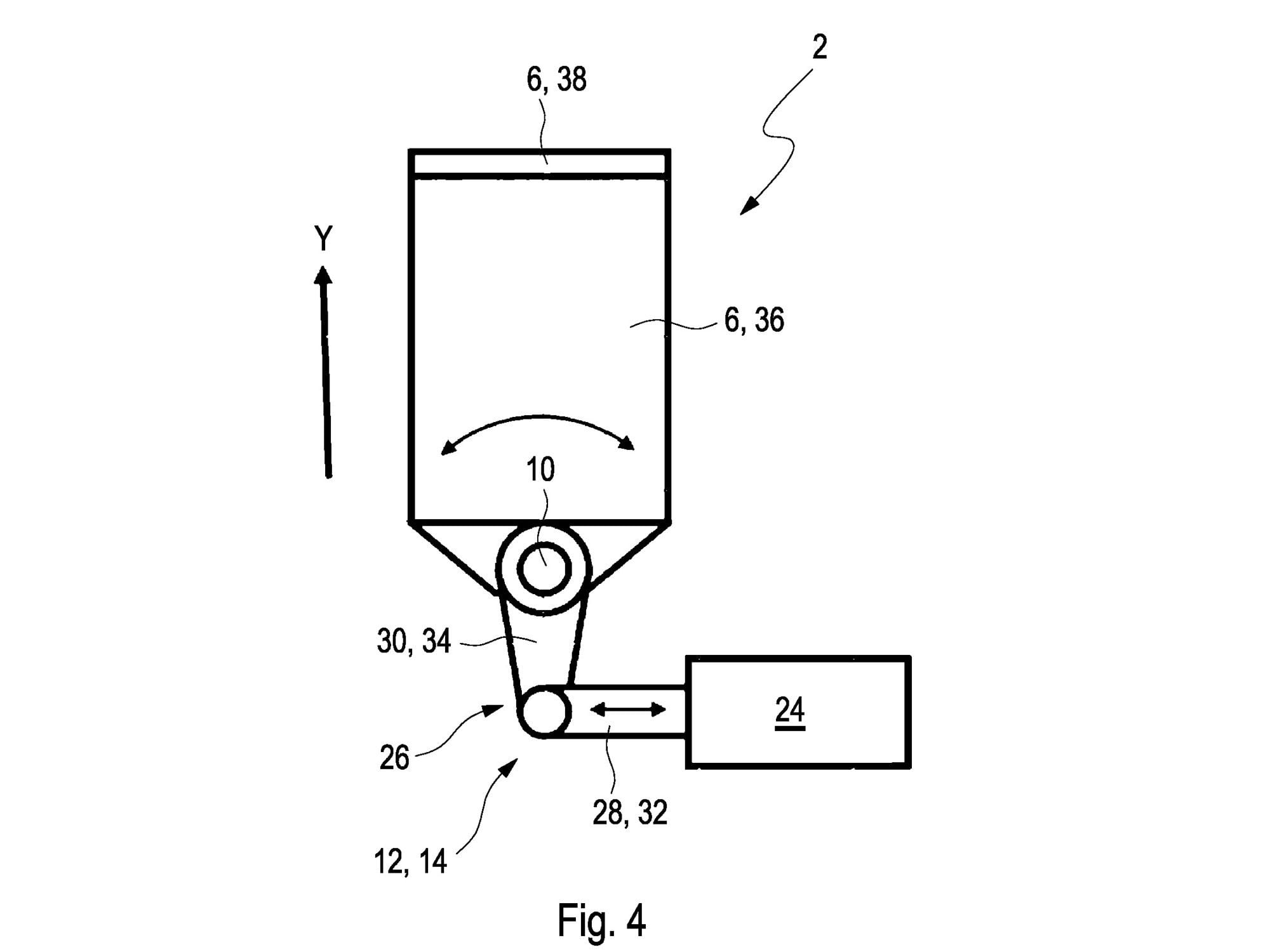 Another idea is to utilize multiple actuators for additional movements in different planes. (BMW Motorrad/)
BMW's wing design also allows the aerodynamic surfaces to move under the control of a central computer and actuators attached to each winglet. We've seen other patents exploring this idea—particularly from Honda—but BMW takes the thinking a step further. Honda's idea, yet to be seen on a production bike but featuring in several patents, is to use retractable winglets that pull out of the airflow when they're not needed, reducing drag. BMW, in contrast, aims to change the angle of its wings depending on speed, acceleration, cornering attitude, and throttle and brake positions. In its simplest form, the patent shows a single actuator attached to each winglet, changing its angle like the elevators and ailerons of an airplane. The same idea has also appeared on the firm's patents for a new, roofed electric bike.
Sign up here to receive our newsletters. Get the latest in motorcycle reviews, tests, and industry news, subscribe here for our YouTube channel.
However, the latest patent takes that thinking even further. BMW's engineers suggest that additional actuators could be used to alter the winglets' angle in the forward-rearward plane—making the winglets move like the swing-wings on an F-14 Tomcat. Another idea shows that a further actuator could be used to extend flap sections on the ends of the winglets, though the patent doesn't describe what aerodynamic advantage would be gained from that.
The angle of the wings could be changed depending on speed, acceleration, and throttle and brake positions. Will we see downforce listed as a specification along with power and weight on future models? (BMW Motorrad/)
The chances are that the more extreme control movements suggested in BMW's patent are a case of the firm covering all the bases rather than a real indication that the company intends to implement the ideas, but the pivoting, aileron-style movement is key to the entire concept.
It's increasingly likely that BMW will add winglets of some sort to its bikes in the near future. The S 1000 RR is an obvious candidate, since race versions of the bike would stand to benefit, but BMW's electric Vision DC Roadster concept—which had moving aero surfaces, with cooling systems that extend into the airflow—is also now known to be influencing a future range of road-going electric bikes going under the DC name.