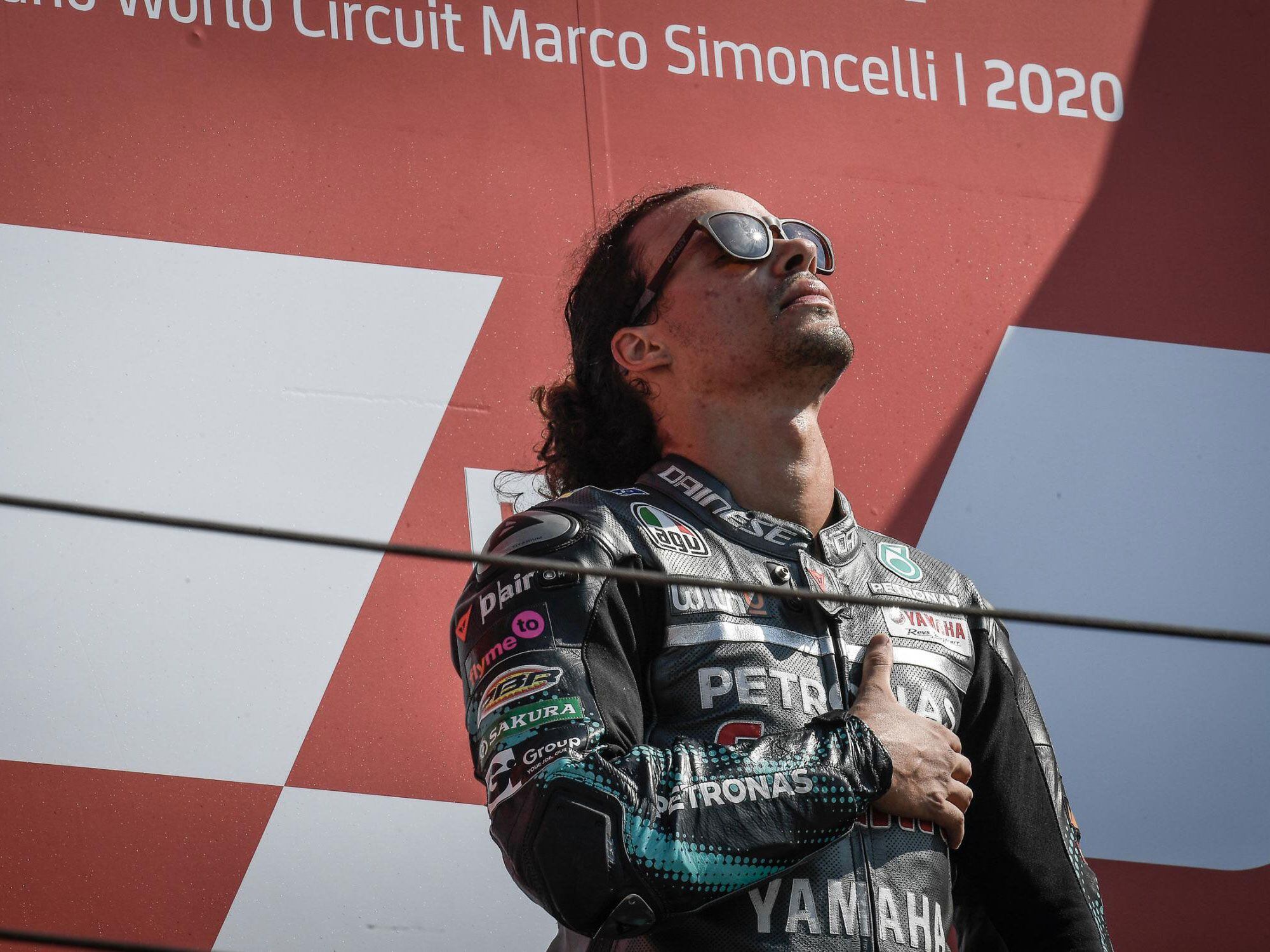 Franco Morbidelli took his first MotoGP win in Misano. (MotoGP/)
This year's trend toward new first-time winners continued at Misano with a start-to-finish victory by Petronas Yamaha rider Franco Morbidelli. Despite what Fabio Quartararo called a "rocket launcher" start by Jack Miller, Morbidelli was away first with FP3-topping Valentino Rossi right behind and challenging.
"When I saw I was pulling away," Morbidelli said, "I said to myself just to try to maintain (my) rhythm."
Through practice, with the usual strong one-lap performances by Maverick Viñales, all pundits were united in their certainty that Misano is "advantage Yamaha and Suzuki." When you look at a circuit map this seems strange, as the track is mainly middling straights connected by small-to-medium-radius turns. The curious fact is that this track was originally intended to be run counterclockwise, but was changed. This has caused turns that were of increasing radius and speed to instead become decreasing-radius turns, in which riders must slow progressively. Maintaining maximum side grip under such circumstances requires the stability of a corner-speed bike rather than the instant response and decisive weight shift of a point-and-shooter.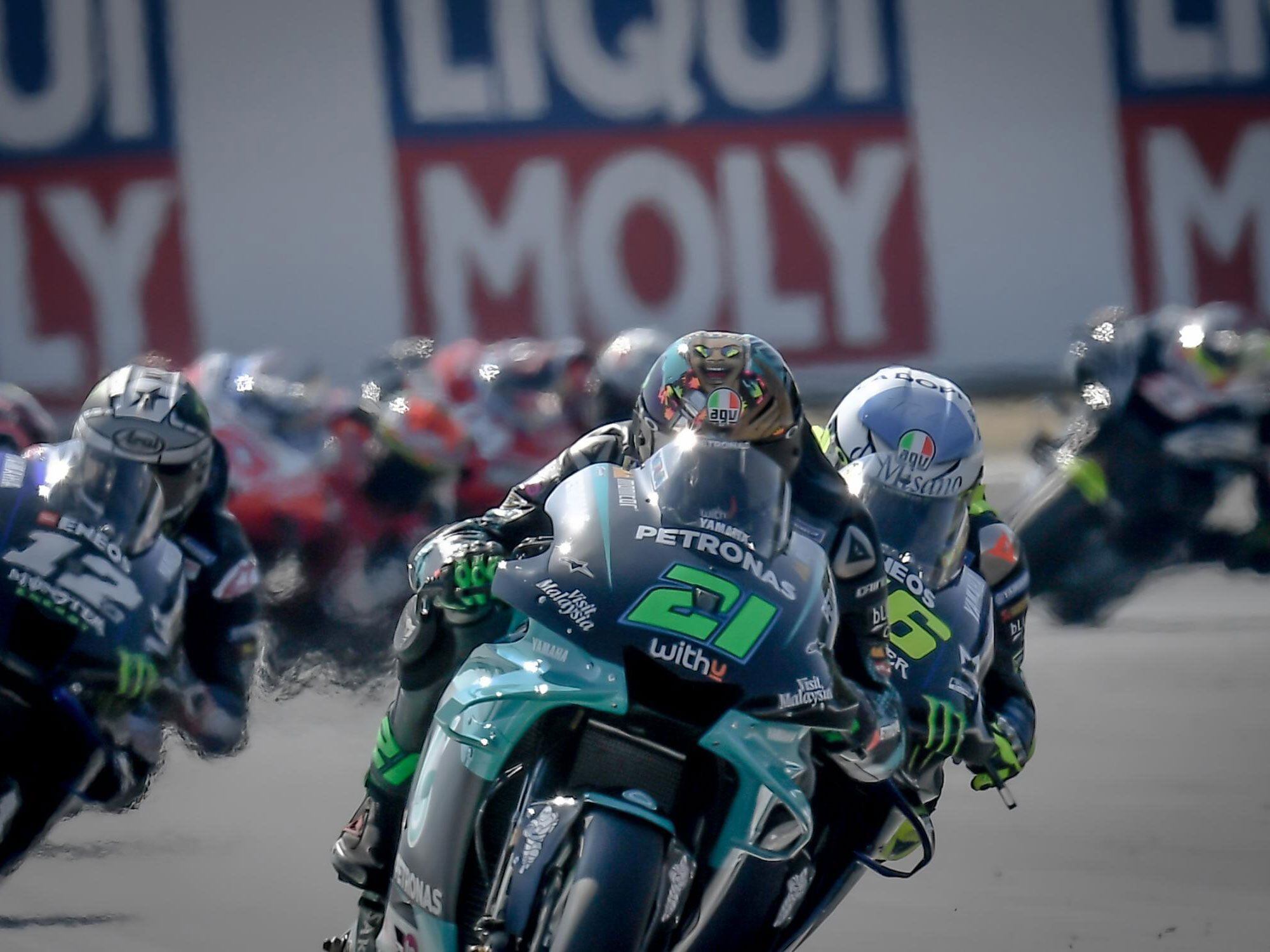 Morbidelli broke ahead of the pack early and never encountered a challenge from the rest of the pack. (MotoGP/)
Adding complication was this year's repaving, which (A) greatly increased grip, but (B) did not eliminate the bumps that had been so upsetting last year. All riders expressed themselves on the subject but the consensus is that the grip is great but the bumps that remain are really upsetting. This, too, counted for the corner-speed bikes, as they are generally set up softer to maximize mechanical grip (grip resulting from more consistent contact with the pavement), and softer suspension is less upset by such bumps. Honda riders Stefan Bradl and Alex Márquez ("it's quite difficult with the bumps") took special notice, as did Ducati men Andrea Dovizioso and Danilo Petrucci.
If tracks were perfectly smooth, the uninterrupted grip would favor neither type of chassis, but when bumps give some bikes more air time, those bikes step out in a series of mini-slides that threaten to become crashes when pushed. This disadvantages the Hondas and Ducatis in long corners.
OK, so what is low-hours Francesco Bagnaia doing in second, when Ducati's racecraft sage, Dovizioso, finished 8 seconds down from him, back in seventh? For many viewers, the only possible answer is that impetuous youth "wants it real bad" while older riders (Dovi is now second in championship points, remember) dream more of long afternoons at golf.
No one wins a championship by having "heart." Riders who toss the dice in every corner crash too often to win titles. Consistent high technique pulls in the points. What is Bagnaia doing that Dovi is not?
Dovi noted this weekend that, "…the riding style I've always adopted in the past years is not working right now."
That was to brake hard, get turned on the throttle, and go. But the increased grip of this year's rear Michelin, with its softer carcass laying down a larger footprint, won't do it. It grips rather than slips. This stops him from finding success in that way.
But Bagnaia, who was relatively nowhere last year, has come to terms with the Ducati's strengths.
"In Thailand (2019) we hit the reset button," he said, "with the setting and my riding style. I have worked hard with my head and I started to accept the riding style of the Ducati…
"This year I tried to be strong on the braking and in Jerez we finished this transformation."
Bagnaia's bigger, rounder line with a suspension setting to match (i.e., more in the direction of Yamaha and Suzuki), gives him a higher exit speed. That combined with Ducati's formidable acceleration made a potentially race-winning package this weekend.
Earlier this year Dovi had commented that the new riders come to MotoGP unburdened by the prejudice of long-established and successful technique. Their inexperience is an active advantage. This is a case of a fresh look seeing things not revealed by weeks of staring.
We must sympathize with Maverick Viñales, who qualified on pole with a killer 3/10 of a second advantage, only to finish sixth. He had earlier discovered great speed on a hard rear and, using it in the race, found himself unable to get it hot enough, quickly enough.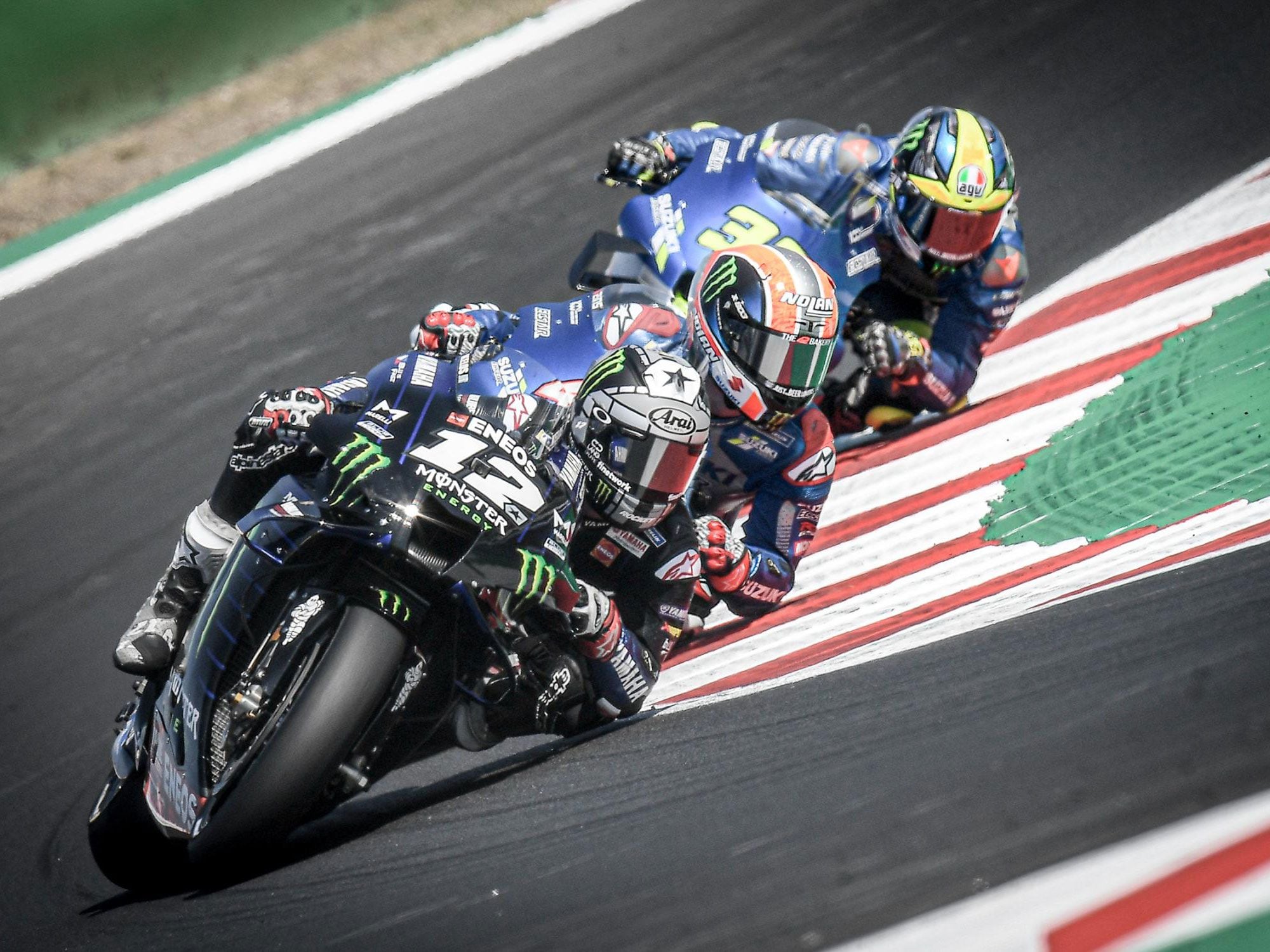 Maverick Viñales started on the pole, but struggled to get his hard rear tire to work in the race. (Maverick Viñales/)
Fabio Quartararo, so successful early in the season, learned another lesson: The Yamahas, lacking as they are in power anyway, and perhaps further handicapped by whatever adjustments have been made to overcome their early season running problem, need tight drafting to keep up. Tight drafting overheats the front tire, and Quartararo lost the front and low-sided. Riders on the powerful Ducatis, by contrast, can pull out of a draft at will and lose nothing.
"I made a mistake on my own," Quartararo said, "and crashed because the (front) tire temperature was too high since I had been a lot behind Viñales."
Riders can see this as it happens—tire pressure is displayed on the dash.
Fabio Quartararo went down early with a too hot front tire, caused by lack of cooling air in the draft. (MotoGP/)
The tightness of the field in equipment and in skills magnifies small differences. Morbidelli, getting away first and then gradually leaving Valentino Rossi behind, had the best conditions for his tires, no one to fight with, and no ground to make up. He was smooth and consistent, not "goin' fer it" and making dashing mistakes. All riders speak of the absolute necessity of a front row start and a strong launch, for being trapped behind closely equal others is slow going, with the likelihood of anomalous tire behavior in the hot air coming off the bikes ahead.
Jack Miller, eighth, said, "Normally I'm one of the best on the rear tire.
"So it's kind of a shock that we've been having this problem (decline of rear tire condition) all weekend long."
He added his observations of "Pecco" Bagnaia: "Pecco is maybe a little better but he runs a really round line (as opposed to the V-shaped line of the point-and-shooters) and doesn't open the gas too much.
"…he doesn't use the tire with the acceleration so much."
This is consistent, for the round line is that of high corner speed, which translates to a high corner exit speed with less need for tire-fatiguing acceleration.
Rossi remained second until seven laps from the end, when Bagnaia got past him, followed by Joan Mir (Suzuki) on the last lap.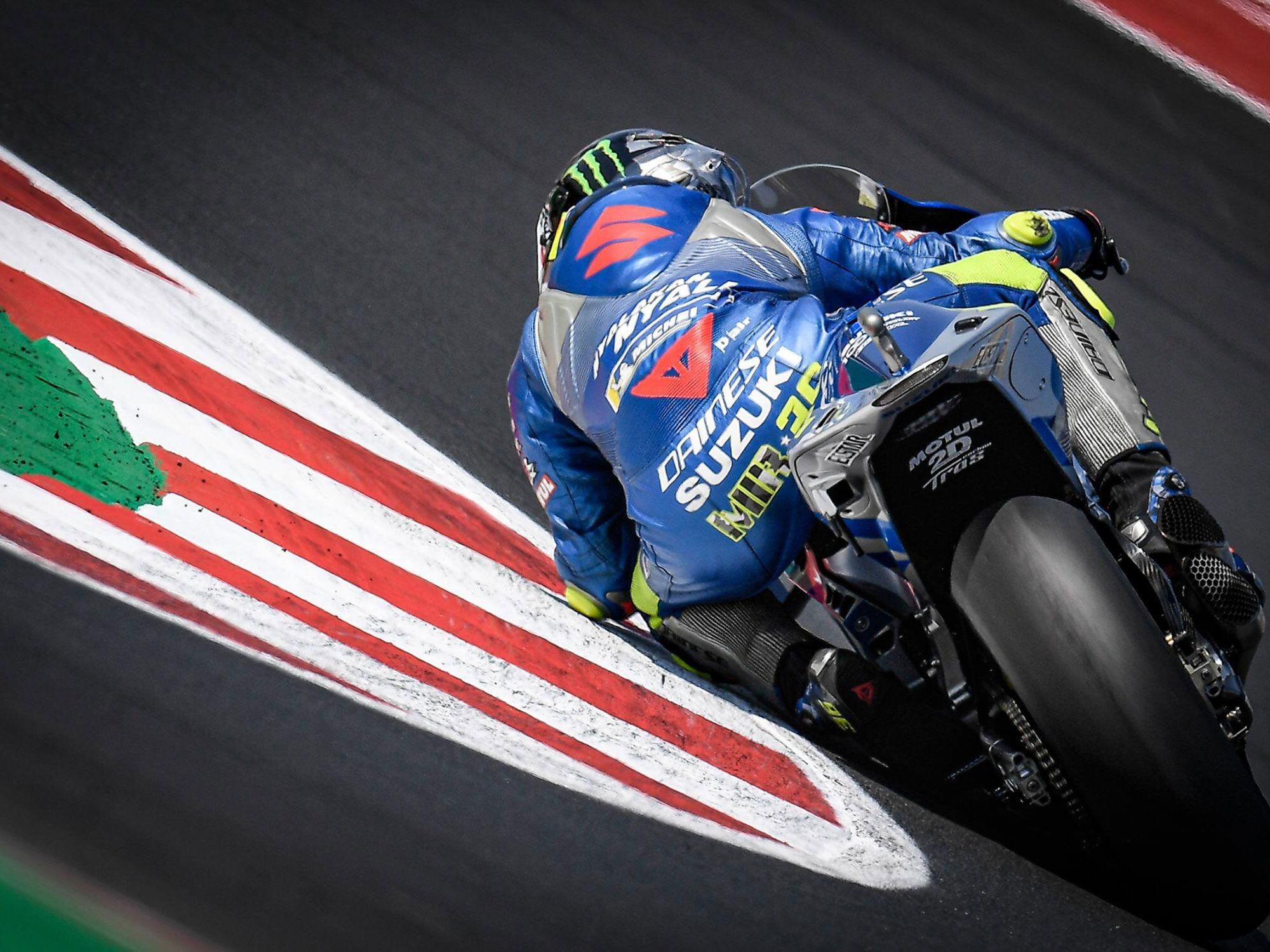 Joan Mir once again put his Suzuki on the box. (MotoGP /)
Bagnaia, still recovering from a broken leg, had been pleased to find in practice that the pressure of racing put the pain out of mind, and that his pace was competitive. The pain returned late in the race:
"On the last lap I had to give up a bit because the pain was too much and I could hear the sound of the Suzuki behind me, so I was scared on the last corner."
Francesco Bagnaia rode through the pain to hold onto a second place finish. (MotoGP/)
It is delightful that these racers are so candid about their hopes and fears—it is an antidote to the cornball movie version of racers as triumphant eagles in human form, who bend reality to wills of iron.
Rossi very much wanted a podium and showed that it was still possible to him at age 41, even in this crowd of strong riders and machines.
"During the race I suffered a little with the front and the rear. Franco (Morbidelli) was better than me and he was able to pull away."
Rossi had planned to run the hard tire as Viñales did, but then, "I change and put the medium. For me this made the difference today."
Álex Rins (Suzuki) rode a promising second half, into fifth place:
"I was able to catch up on Valentino but when I caught up with him he proved to be very intelligent. He always closed the door for any overtaking."
As the race announcers put it, Rossi "made himself wide." He well knows where and how pass attempts are most likely to be made, and puts himself just enough in the way to give the attacker too much to think about. He has long been expert at overloading other riders' central processors.
The Honda, without Marc Márquez, is a powerful but otherwise undistinguished motorcycle. Takaaki Nakagami continued his intensive studies of that difficult-to-ride machine, finishing ninth. A video of him making a practice start shows the back of his Honda suddenly dropping just before he brings up the revs. This adds Honda to the list of teams now using a variable ride height (VRH) system to lower CG in order to permit higher rates of acceleration/deceleration before wheel lift defines the upper limit.
Where were the men in orange shirts? The KTMs were unsuited to this track—perhaps the team can make a step in this Tuesday's official midseason practice, or next weekend at this same track.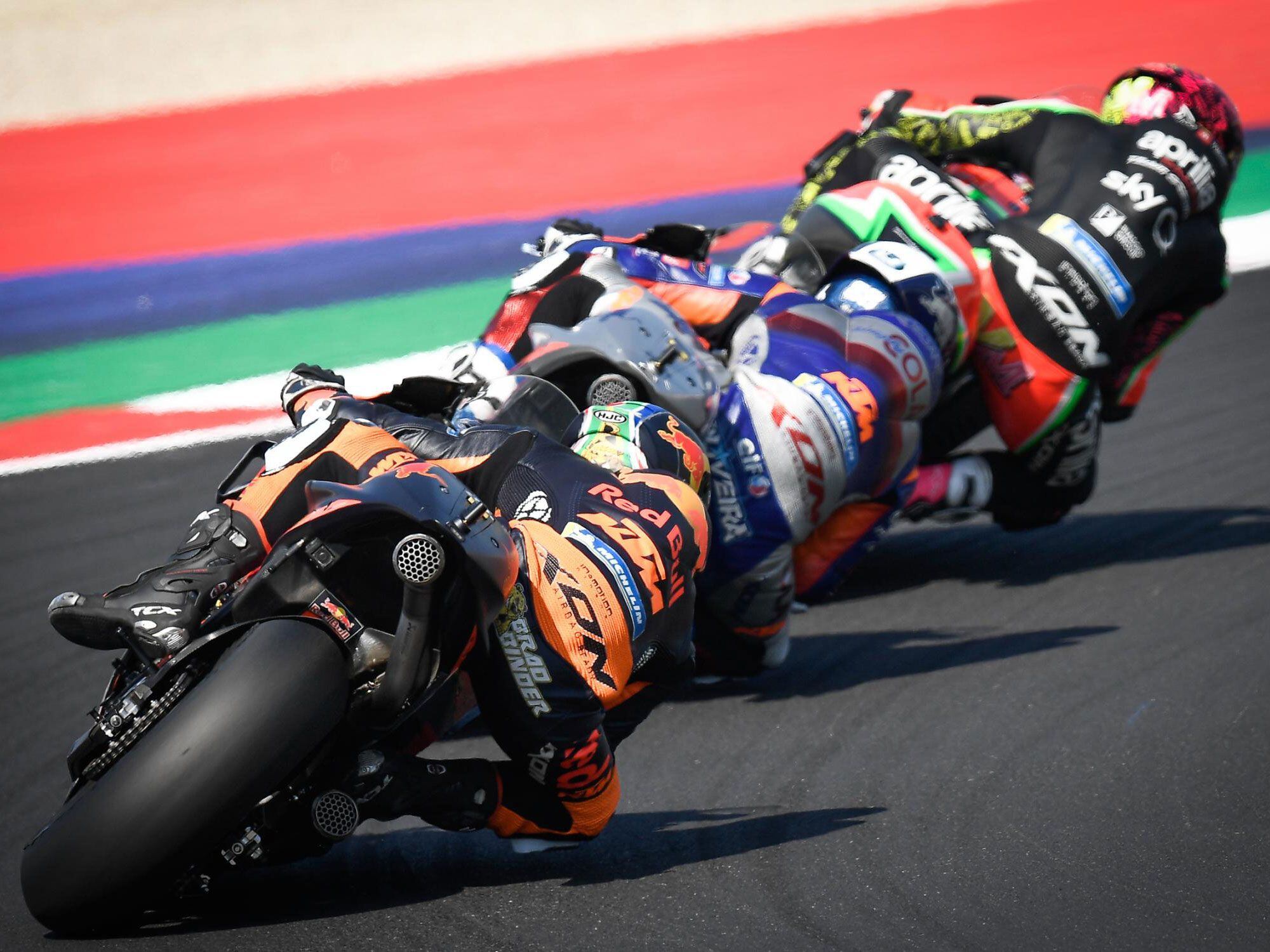 After a string of successful races, KTM struggled to keep the pace in Misano; Perhaps the team will find a solution for the second round at the Italian track. (MotoGP/)
Race director Mike Webb dispelled some of the criticism aimed at officialdom in recent cases of riders exceeding track limits and being assessed penalties. He said that if critics had access to the whole volume of video information available to Dorna, and had carefully read the rule book, they would see the solid basis for recent judgments.
On goes this strange season. Next weekend everyone will have a second chance at getting every detail of setup, tire choice, and riding technique exactly right. This is racing at its best—a golden age indeed.