To be able to ride into a Harley-Davidson dealership and ride out the same day with a 50-percent increase in horsepower is the goal with the new Screamin' Eagle 131 crate engine. Yes, if your dealer is up to it, you can turn your stock touring bike into a hot-rod bagger with a day in the shop. But there's much more to this new engine than just increased peak torque and horsepower. How and where does that new power hit, and what about heat and fuel management? We picked up a stock Street Glide Special, rode it as-is for a couple of weeks, then swapped out the 114 engine for the 131 to find out.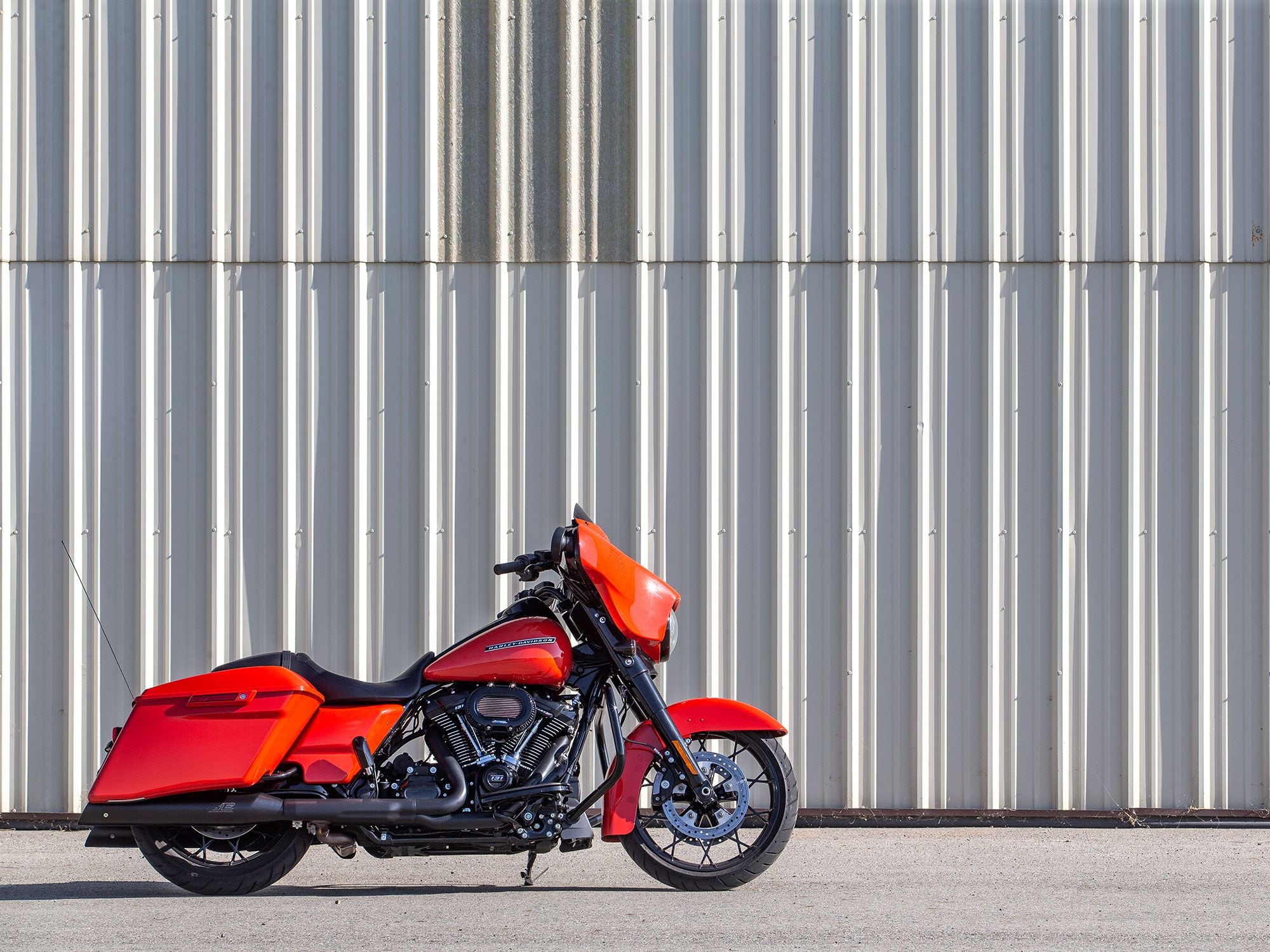 The Harley-Davidson Street Glide Special in Performance Orange retails for $28,199 with the Milwaukee-Eight 114.Jeff Allen (Jeff Allen /)
The crate 131 engine is changed in many more ways from stock than just increased displacement vs. the 114. The Screamin' Eagle 131 gets the typical Stage IV upgrades from H-D, plus a few bigger alterations. This includes 1mm larger intake and exhaust valves (when compared to Screamin' Eagle Milwaukee-Eight Stage IV kits), a higher lift cam with longer duration and higher lift for both intake and exhaust lobes, increased compression ratio with forged pistons, steel-sleeve cylinders, a larger 64mm throttle body with its corresponding intake manifold, and high-capacity 5.5-gram-per-second fuel injectors. So while the bump in power does come largely from the increased displacement, the wide, flat torque curve and how usable that power is comes as a result of a complete engine tune to take the greatest advantage of its extra cubic inches.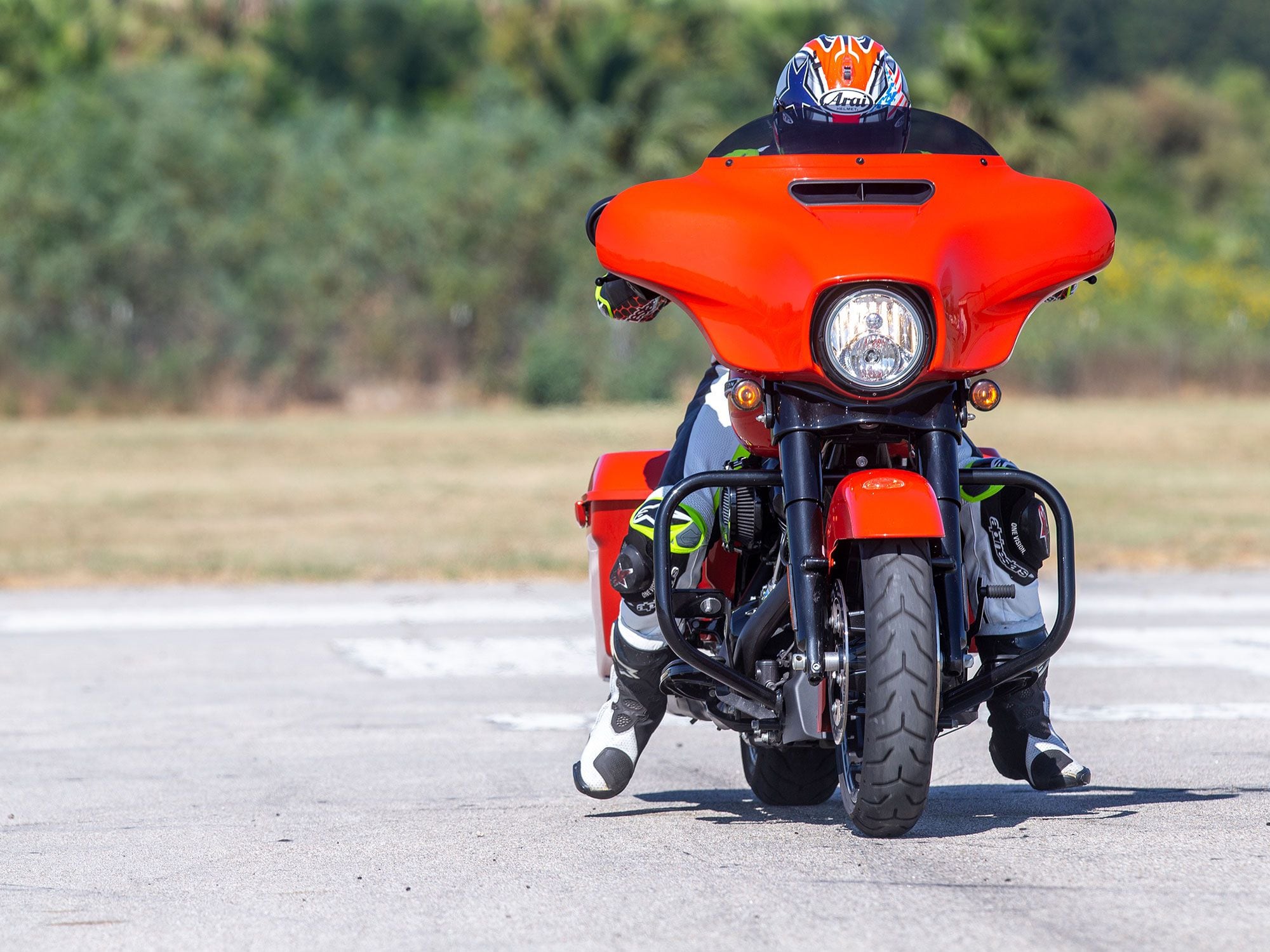 We took the 114-equipped Street Glide to our testing grounds to get base numbers in acceleration and brake testing. ( Jeff Allen/)
We gave the dyno sheets to Technical Editor Kevin Cameron for his take on stock vs. hop-up tuning: "The 114 engine has been given a classic H-D 'shed roof' torque curve—the peak of 112 pound-feet is on the left-hand side of the page at 2,500 rpm, after which it slopes downward to 70 pound-feet at 5,500. Often what this downslope means is that the smaller-diameter intake ports needed to peak the torque down at 2,500 aren't really enough to supply the airflow the engine would like at higher revs. English engine pioneer Harry Ricardo called this 'wire-drawing.'
After we tested the Milwaukee-Eight 114, the Screamin' Eagle 131 crate engine was installed. (Jeff Allen /)
"The big engine is not only larger in displacement, but has been re-cammed to give a broad 'haystack' torque curve, with its peak of 120 pound-feet 1,700 revs higher, up at 4,200," Cameron continues. "This engine has more breathing capacity at higher revs than the smaller one, a result of both larger ports and the more aggressive cam."
And that "haystack" torque curve translates to a very wide range of readily available power, peaking at 130.67 pound-feet and putting out more than 120 pound-feet of  torque from 2,800 to 5,200 revs. Horsepower production is also pleasingly linear, climbing steadily from idle until it plateaus right before redline, peaking at 121.62 hp at 5,620 rpm—a massive increase from the stock 114′s 81 hp at 4,780 rpm.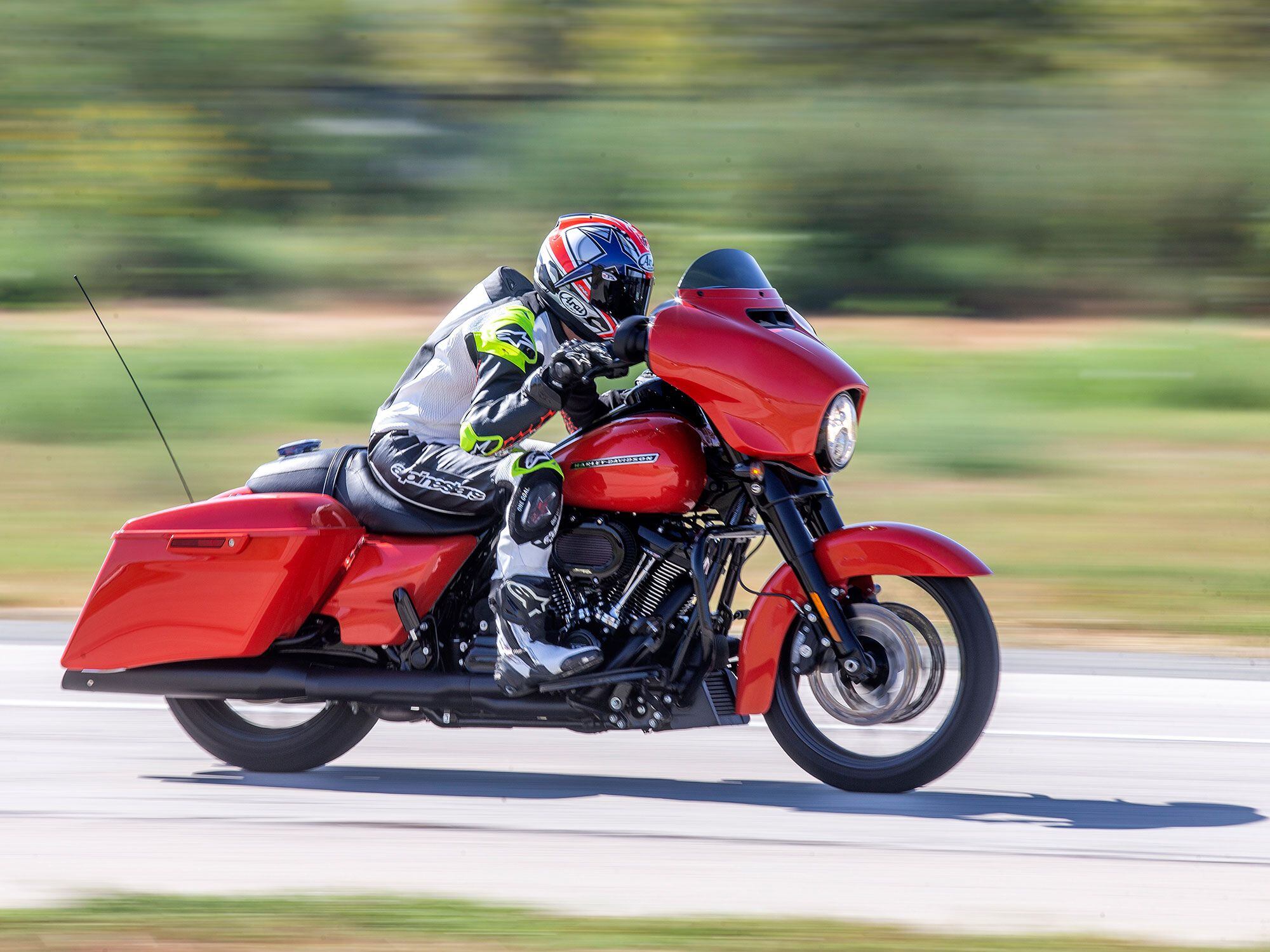 The same tests were performed with both engines to get comparable results. (Jeff Allen /)
In our instrumented performance testing, the 131 ran 0-100 mph 4.4 seconds faster than the 114 at 9.35 seconds, and finished the quarter-mile more than a full second faster at 12.58 seconds.
It feels healthy on the low end, although 0-30 mph times are almost identical to the stock bike. Road Test Editor Michael Gilbert noted that his quickest times on the 114 were with traction control disabled, since he could control the lower power and torque output given available traction. To get the best times with the 131, traction control was necessary to moderate wheelspin on launch due to the remarkable increase in torque and horsepower. Also, power production is shifted toward the midrange, so, in a sense, the greatest gains make themselves felt over the 40 mph mark.
"SE," for Screamin' Eagle, adorns a cooling fin of each cylinder. ( Jeff Allen/)
On the highway, the Street Glide runs an indicated 80 mph at just under 3,000 rpm. What this means on the 114 is that, since its torque declines from its 2,520-rpm peak, it is already on the downslope at highway speed. On the 131, torque continues to climb all the way to 4,260 rpm, resulting in much stronger top-gear roll-on performance.
Sign up here to receive our newsletters. Get the latest in motorcycle reviews, tests, and industry news, subscribe here for our YouTube channel.
"These acceleration improvements from roughly 40 to 100 mph are addicting, and enough to slide your butt back in the saddle as you tuck behind the fairing," Gilbert says. "The 131 develops a personality here not found in the Street Glide, with an attitude of 'I'm not going to kill you, but you better hang on tight.' This is also reflected in the top-gear roll-on numbers."
The 131 does not come with a new derby cover, so some 114 badging remains. (Jeff Allen /)
Gilbert is totally right: This power is addicting, and so is the sound that goes with it.
Swapping the intake and exhaust is a key part of the upgrade here, because the 131′s larger valves and more aggressive cam need more airflow to keep up. This also results in a chest-shaking exhaust note. Not just louder, but deep, the kind of rumble you can feel in your bones. And every crack of the throttle is intoxicating in the same way—crisp, clear, low. The sound is part of the traditional Harley-Davidson appeal and with the big bore, cam, and new exhaust, it really makes the bike come alive.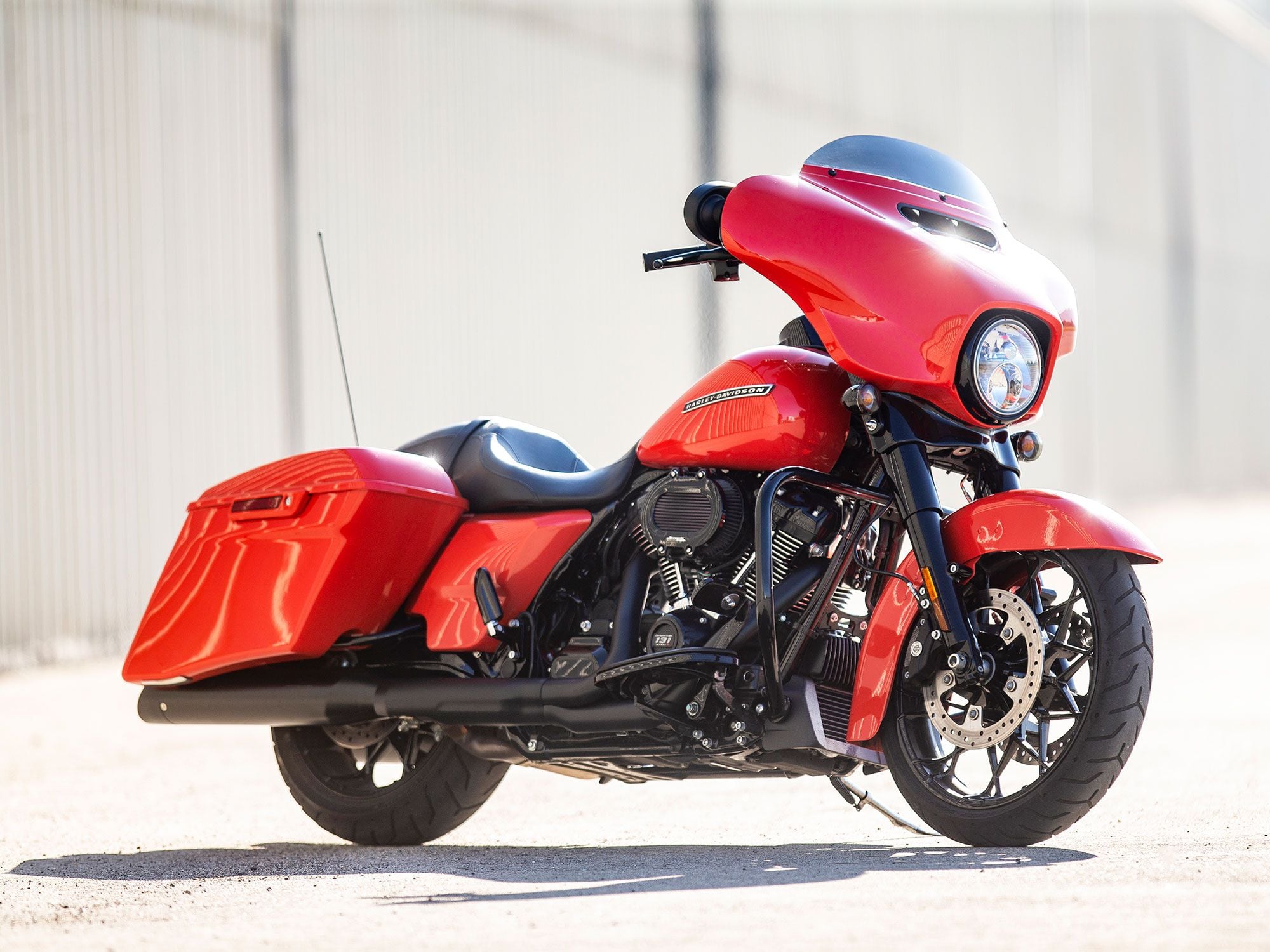 The crate engine alone costs $6,195, but installation and auxiliary parts add to the price tag. ( Jeff Allen/)
Any downsides? Previous testing of the Twin Cam's 117 kit some years ago had us expecting radiant engine heat to go up and for fuel economy to go down. But the 131 gets excellent marks on both counts. Even while testing in the heart of summer, engine heat remained at acceptable levels for the class and did roast our legs, even at lower speeds in traffic. Fuel economy, meanwhile, decreased from an average of 36 mpg to 32.5 on the Screamin' Eagle 131, which, given the performance increase, is an acceptable tradeoff.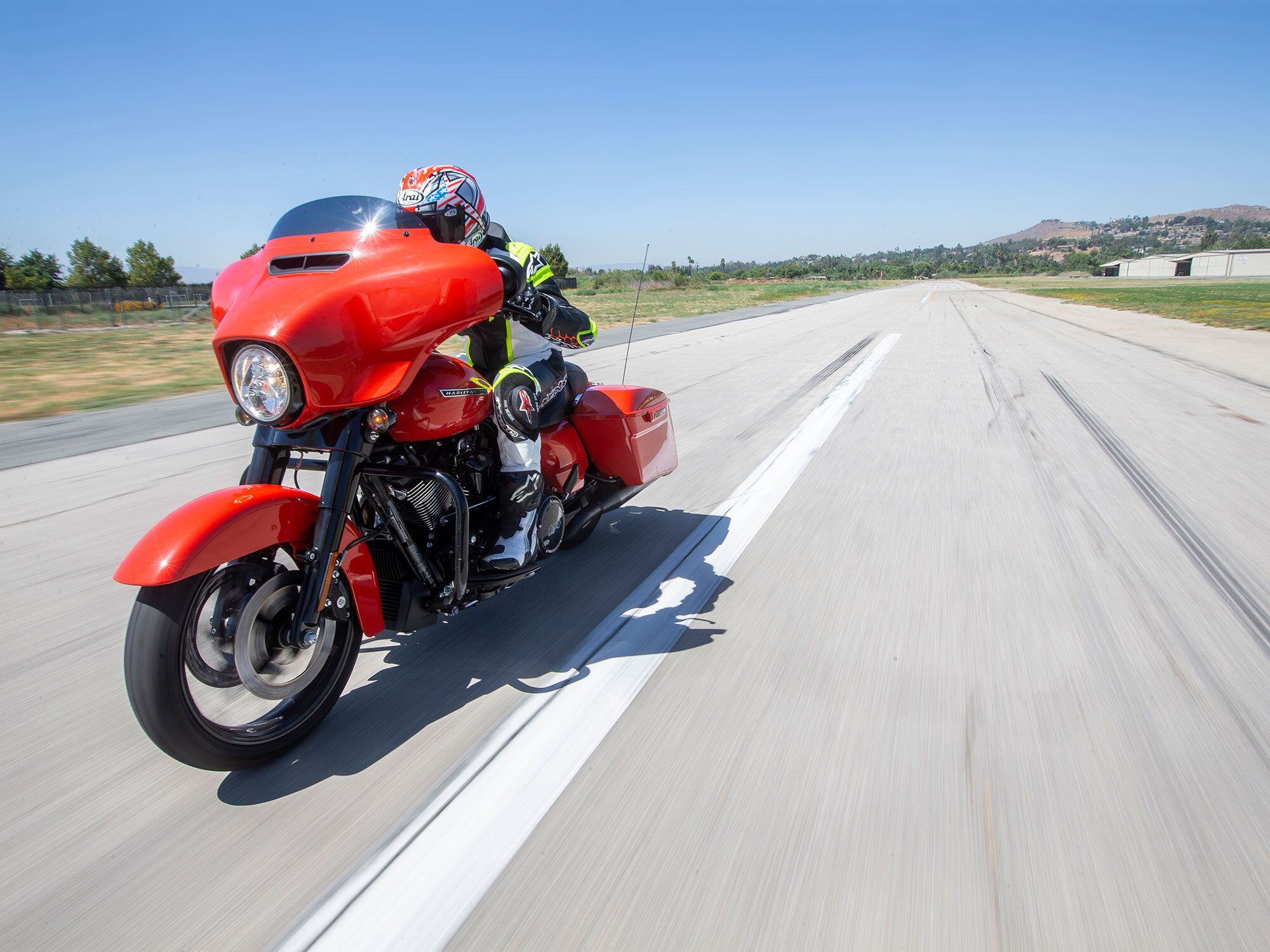 The SE 131 showed massive gains over the 114, jumping from 81.30 hp to 121.62 on the <em>Cycle World</em> dyno. (Jeff Allen /)
The crate engine is $6,195 in the oil-cooled configuration (as tested here) or $6,395 for Twin-Cooled models. Other associated costs such as the intake and exhaust systems, fan-assisted oil cooler and other parts, plus the Harley-Davidson estimated an 8-hour install time, will put the on-the-road cost at roughly $10,000, depending on your dealer's labor rate. The 131 is available for 2017 and later Touring models, as well as 2018 and later Softails. If the work is performed at a H-D dealership, the engine comes with a one-year warranty and will not impact your motorcycle's factory warranty.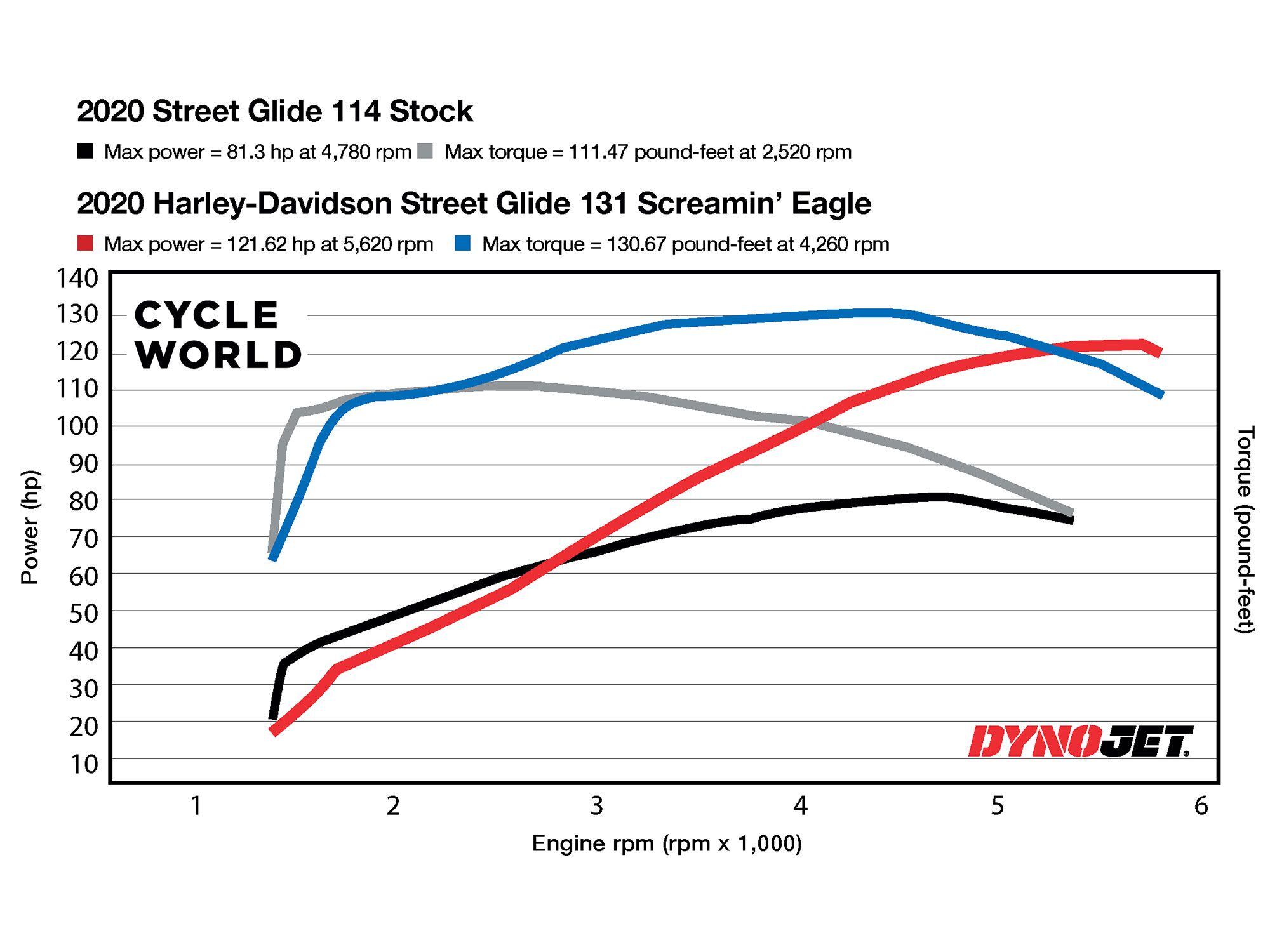 Dyno chart for the 2020 Street Glide Special with the stock Milwaukee-Eight 114, and with the Screamin' Eagle 131 crate engine. (Jeff Allen /)
Riders in pursuit of power have spent much more money than the cost of the 131 crate engine without achieving the results we have seen here. If you're after economy and long-mile touring prowess, you'd be just fine sticking with the 114 and maybe a few basic upgrades. Sure, you're paying the cost of a Sportster for the Screamin' Eagle 131 crate engine with install, but when it comes to real, to-the-wheel power gains, it's hard to argue with a warranteed one-step program after seeing the results on the dyno and asphalt.
114 Performance Numbers
| Horsepower: | 81.30 hp @ 4,780 rpm |
| --- | --- |
| Torque: | 111.47 lb.-ft. @ 2,520 rpm |
| 1/4 mile: | 13.67 sec. @ 99.84 mph |
| 0-30: | 2.00 sec. |
| 0-60: | 4.83 sec. |
| 0-100: | 13.74 sec. |
| 40-60 Top-Gear Roll-On: | 4.38 sec. |
| 60-80 Roll-On: | 4.88 sec. |
131 Performance Numbers
| Horsepower: | 121.62 hp @ 5,620 rpm |
| --- | --- |
| Torque: | 130.67 lb.-ft. @ 4,260 rpm |
| 1/4 mile: | 12.58 sec. @ 106.72 mph |
| 0-30: | 2.02 sec. |
| 0-60: | 4.09 sec. |
| 0-100: | 9.35 sec. |
| 40-60 Top-Gear Roll-On: | 4.29 sec. |
| 60-80 Roll-On: | 4.49 sec. |