Honda's CT125 will be coming to the US, but will be called the Trail 125. (Honda /)
Honda has announced another MiniMoto model powered by its semi-auto 125cc single—one that brings back fond memories of dusty days rambling to and fro at a campsite in the mountains. Step forward Honda's new Trail 125, the US-market version of the CT125 that was launched elsewhere earlier this year. Officially revealed as a 2021 model, the Trail 125 name is the only real change for the American model, mimicking the naming convention used by the bike's predecessors dating back to the Trail 50 of 1961. Elsewhere the bike goes under the "Hunter Cub" title.
Those very first Trail 50s were inspired by riders taking Honda's existing Cub scooter and adding off-road tires, creating a rugged, lightweight, go-anywhere machine at a minimal cost. The recipe remains the same in 2021.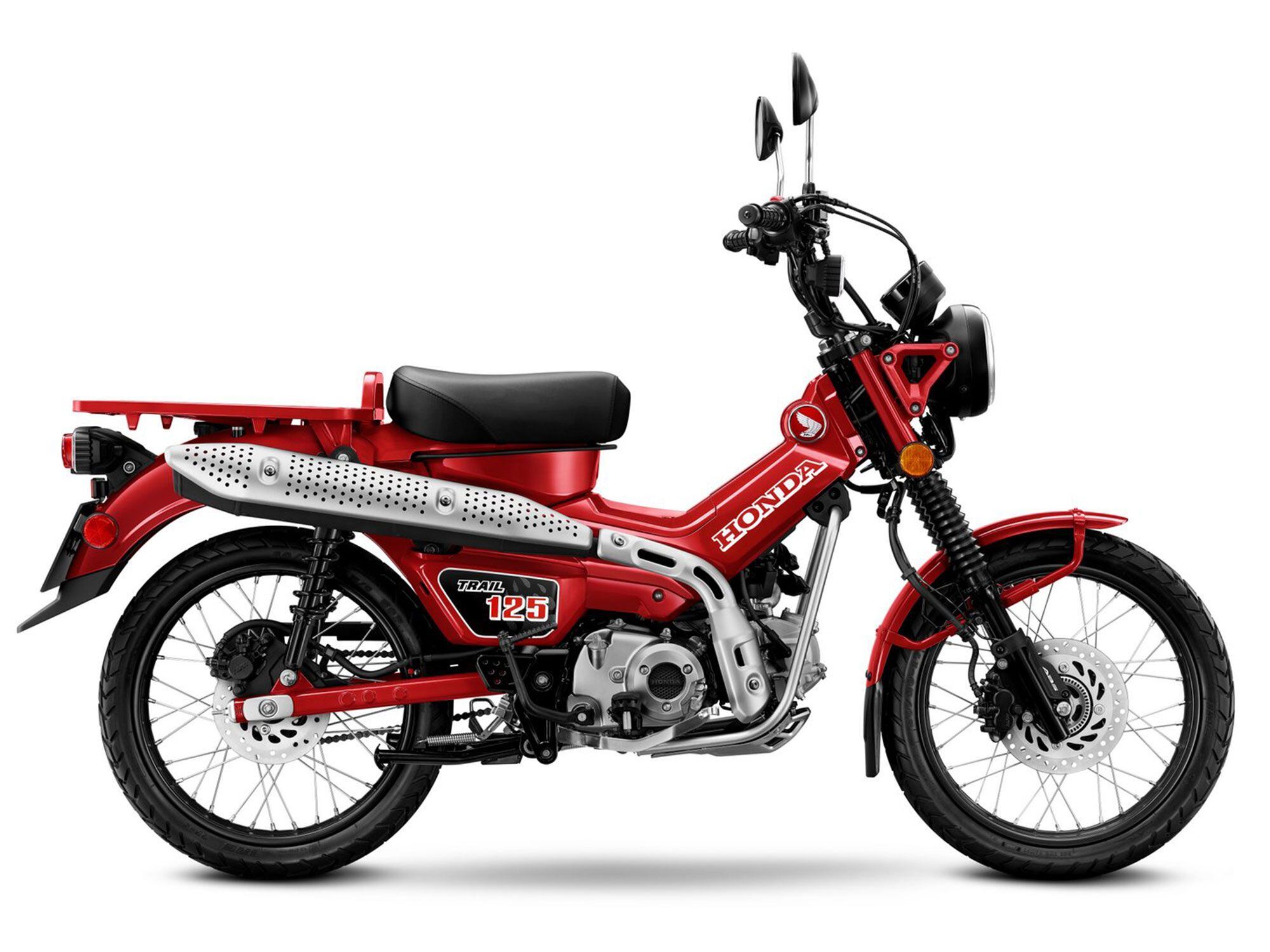 The Trail 125 is based on Honda's Super Cub, but features a more rugged and off-road-capable build. (Honda /)
Just like its predecessors, the new Trail 125 is based on the existing Cub, in this case the latest Super Cub 125, which takes the iconic look of Honda's most successful model and adds modern electronics, ABS, and emissions controls. To turn the Super Cub into the Trail 125, Honda added 0.5 inch to the wheelbase, 1.1 inches to the ground clearance, and 0.4 inch to the front suspension travel. While the resulting 4.3 inches of movement doesn't make it into a motocross machine, the idea is to make a bike that can cope with dirt roads with ease. It's a recipe that's worked before; the bike's direct predecessor, the CT110, was used for decades by the Australian postal service to get mail to the far corners of the country. Not to mention just about every motorhome seen in a forest in the '60s, '70s, and '80s had some version of a Honda Trail riding on the bumper—complete with plastic milk crate—ready to explore at a moment's notice.
Sign up here to receive our newsletters. Get the latest in motorcycle reviews, tests, and industry news, subscribe here for our YouTube channel.
A reinforced steering head and new triple clamp makes the chassis more rugged than the Super Cub's, while the bars are redesigned to allow a tighter steering lock—up to 45 degrees in each direction. Semi-knobby tires on 17-inch wire wheels give grip on loose surfaces, though they're clearly not aimed at deep mud. The high-mounted exhaust and air intake mean the Trail 125 should have at least some ability to wade through water too, while a bash plate protects the engine if you run out of ground clearance.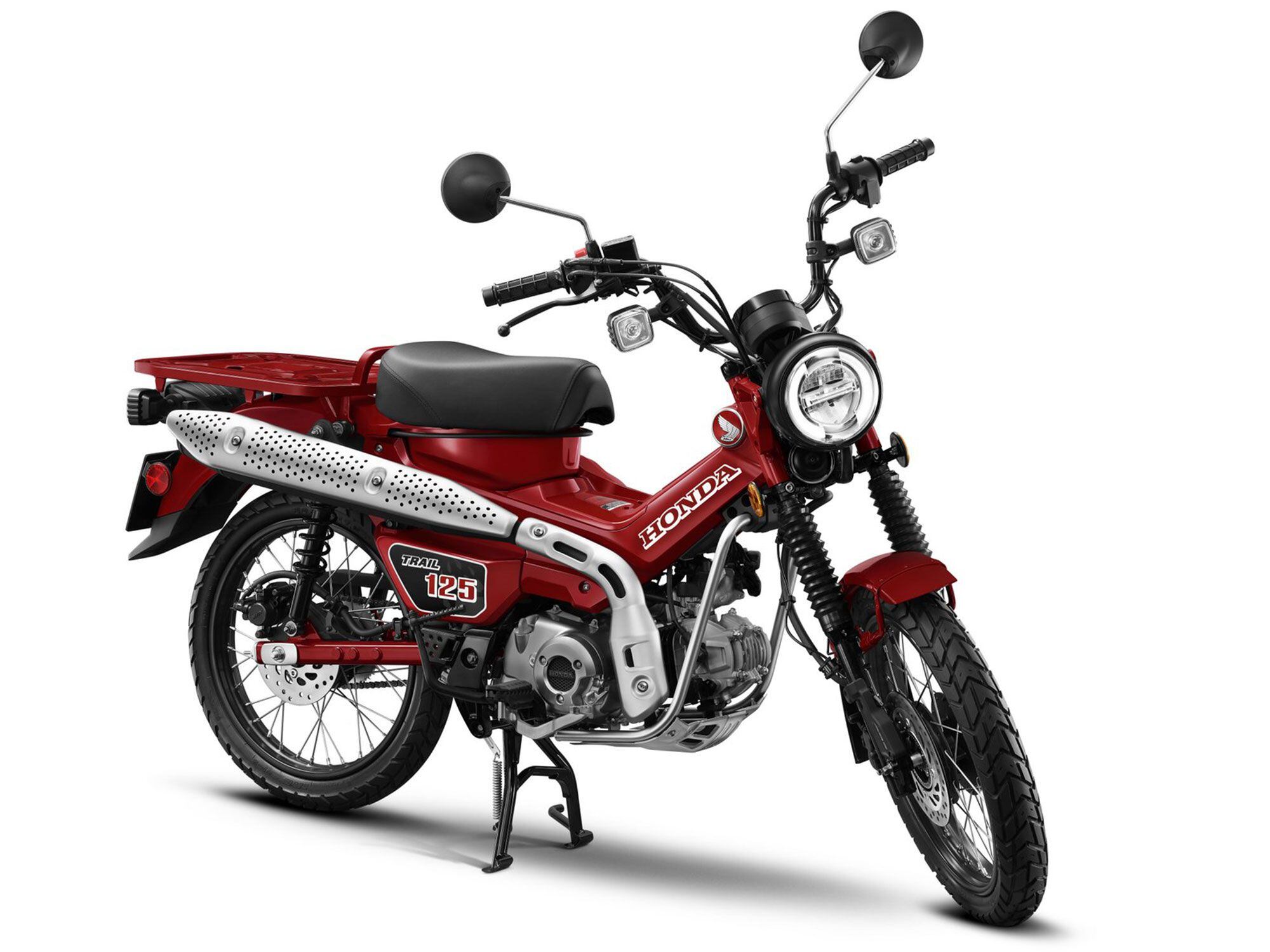 The Trail 125 gets a reinforced steering head and new triple clamp more suited for off-road duty along with a skid plate and high-mounted exhaust and intake. (Honda /)
Theoretically, the Trail 125 is good for 158 mpg, and with a 0.4-gallon-larger fuel tank than the Super Cub it's based on—at 1.4 gallons—it would conceivably be possible to cover more than 200 miles between fill-ups. Even if you're heavy-handed with the throttle—and with just 8.7 hp on tap you'll need to be—it should be pretty easy to see more than 100 mpg.
The economy isn't quite as good as the Super Cub's, thanks to those knobby tires and a larger 39-tooth rear sprocket that makes for lower overall gearing, but even so you'll struggle to find many alternatives that will go so far for so little.
That's thanks to the simple, air-cooled, SOHC single with two valves and fuel injection. It's retuned for the Trail 125, with a longer intake and that new, higher-mounted exhaust, leading to a slight loss in top-end power (the Super Cub makes 9.5 hp) but more midrange grunt.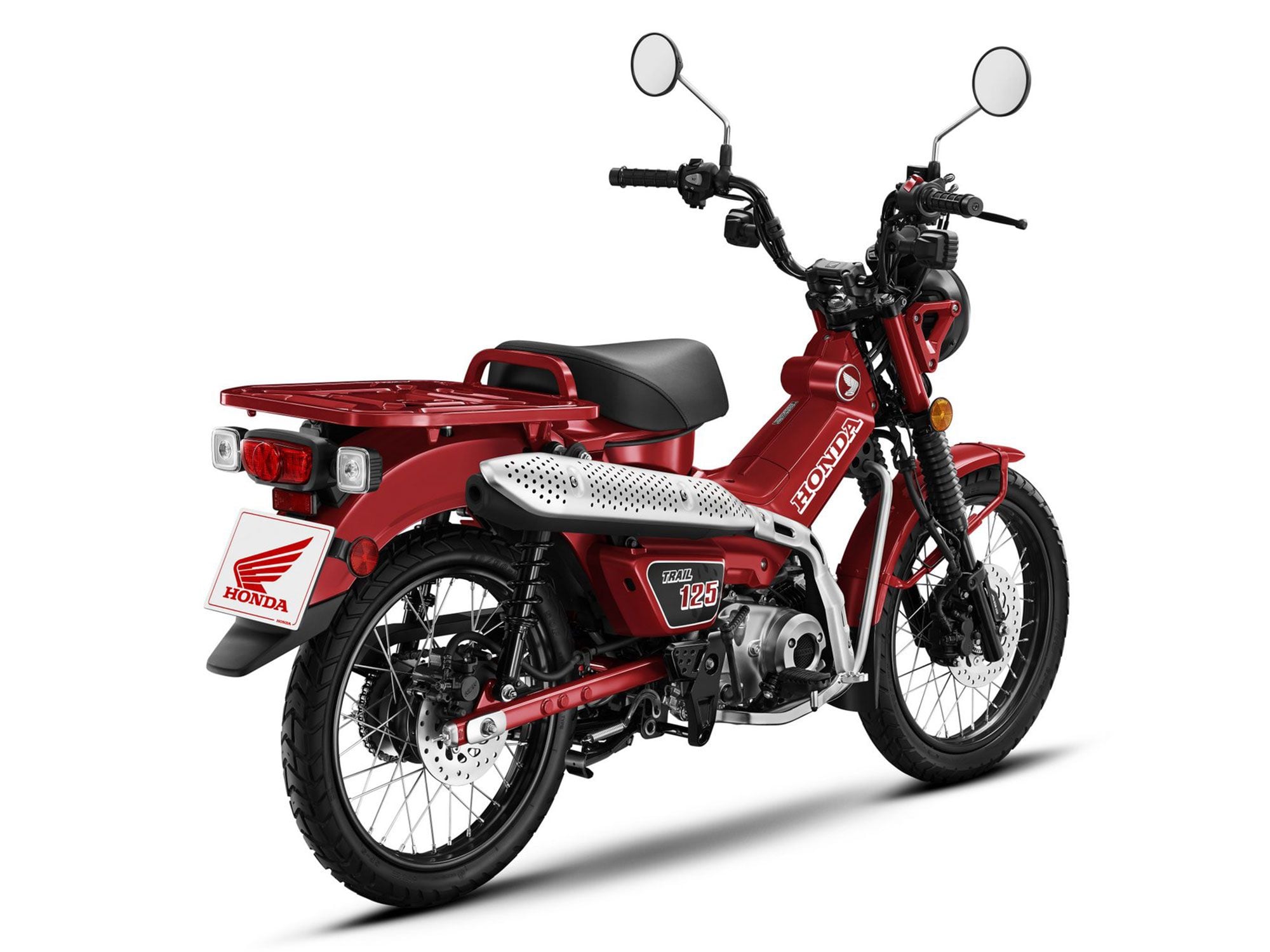 Honda's Trail 125 will produce a claimed 8.7 hp—slightly less than the Super Cub. (Honda /)
Just like the Super Cub, the Trail 125 uses Honda's semi-automatic four-speed transmission—there's no clutch lever but you kick through the gears manually—and there's still a kickstarter to back up the electric start. One disappointment is that Honda hasn't adopted the secondary, selectable low-range gear that was a hallmark of the original Trail models, effectively giving them an eight-speed transmission.
A large rack on the rear of the Trail 125 has plenty of room to strap your tackle box, cooler, and chair for a scramble down to the water. (Honda /)
How much will Honda's rugged little package set you back? The Trail 125′s MSRP is pegged at $3,899, just $150 more than the Super Cub it's based on. You'd better like Honda's signature red paint; that's the only option we're getting in the USA even though Japan gets the CT125 version in a khaki shade as well. Now where did we put that milk crate?