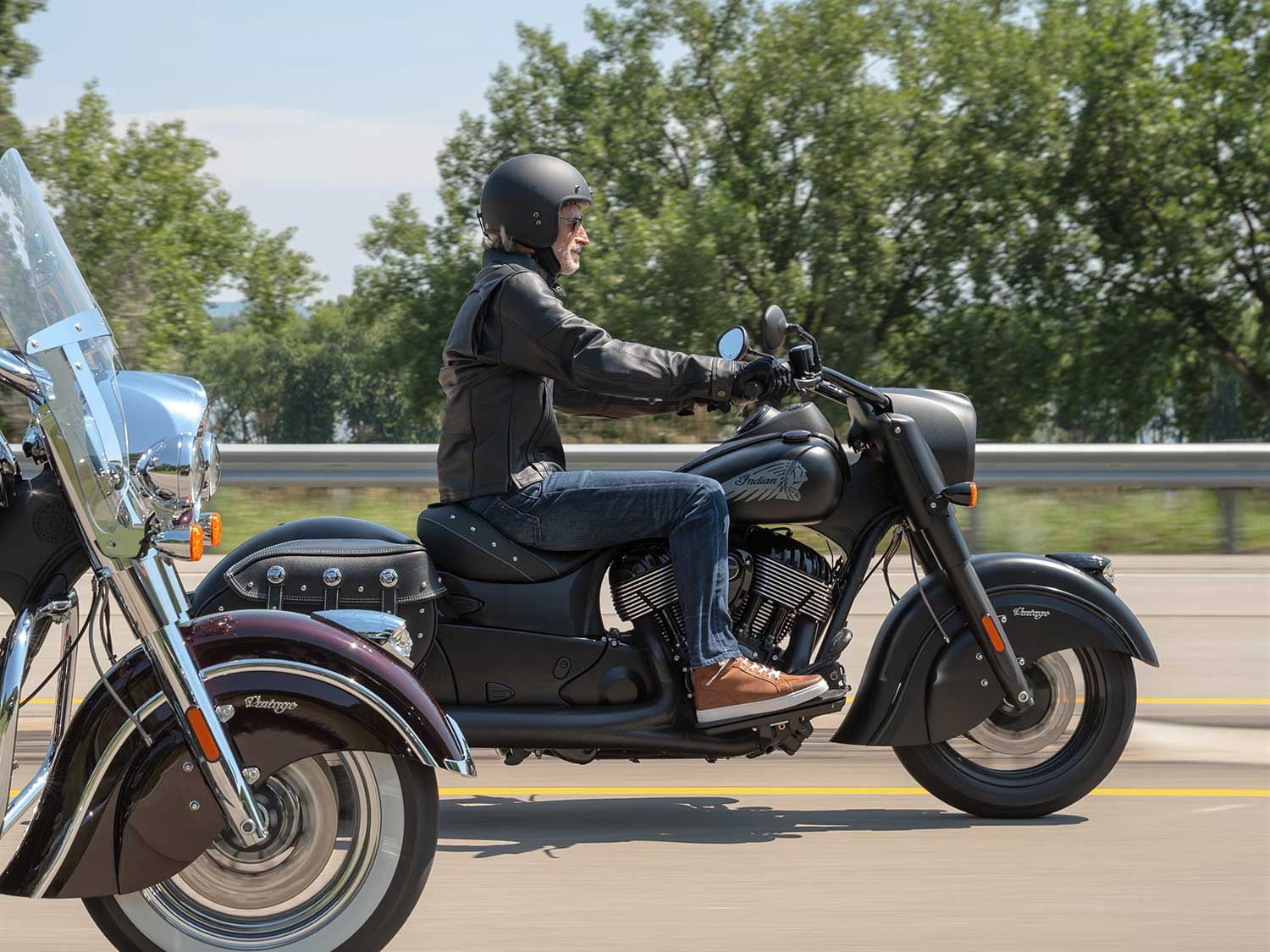 Indian has announced its models for 2021, with the new Vintage Dark Horse leading the charge. The regular Vintage model is to the left. (Indian Motorcycle/)
Indian Motorcycle has announced its lineup for the 2021 model year, and as expected, things are staying pretty consistent across the range for its cruisers, touring line, and baggers. There are some new additions however; we're getting two model iterations in the mix, the Vintage Dark Horse and Roadmaster Limited, as well as several technology upgrades primarily to the company's touring lineup as well as a whole suite of new accessories for the entire range.
Related: 2020 Indian Springfield Dark Horse Long-Term Review
Think of the Vintage Dark Horse as the Chief Dark Horse, but with fuller fenders and fringed saddlebags, a touring rear air shock, ride modes, and ABS. Here, it's accessorized with a touring saddle and taller handlebars. (Indian Motorcycle/)
Vintage Dark Horse And Roadmaster Limited
Let's hit the newbies first. Like the Indian Chief Dark Horse before it, the Indian Vintage Dark Horse goes for a matte-paint vibe, joining the Thunder Stroke lineup for 2021 as a touring cruiser with full-boat classic style. It builds on the existing Chief Vintage model—er, scratch that. It actually deconstructs the Chief Vintage, taking away the touring shield and any hint of color, and instead dousing the entire motorcycle in black. That means a touring chassis with air shock, ABS, and cruise control, and soft leather bags, though those are now black, but don't worry, they still rock conchos and buckles. In fact, just think of the Vintage Dark Horse as the Chief Dark Horse except with bags and fuller fenders; in fact, the Chief Dark Horse isn't listed in the 2021 lineup, so there you go. The Indian Vintage Dark Horse starts at $19,499, and is available in Thunder Black Smoke only.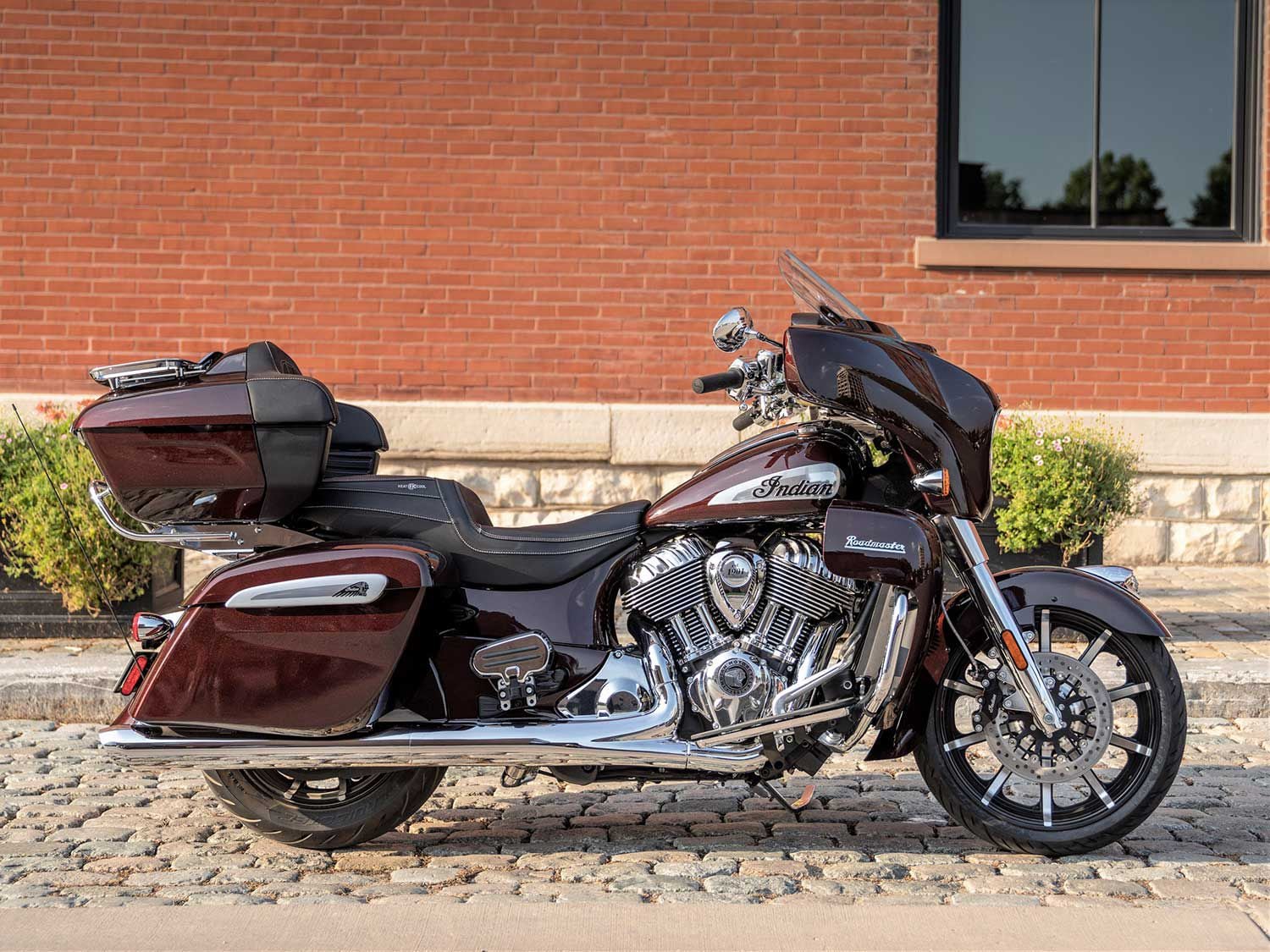 Also new for 2021 is the Roadmaster Limited, which debuts just above the Roadmaster Dark Horse with an MSRP of $30,749. (Indian Motorcycle/)
The other newbie is the Roadmaster Limited, which squeezes into the firm's touring series between the Roadmaster and Roadmaster Elite at a price that starts at $30,749 (the Roadmaster starts at $29,999, but there's no mention of the Elite for 2021, though last year's model was $38,999). On the Limited you'll get the requisite glossy paint and chrome finishes, but it takes most of its styling cues from the Roadmaster Dark Horse, with a sleeker, more modern fairing and the same open-type front fender and squared-off saddlebags as its darker brother. It's available in either red or black.
Related: 5 Challenges With The New Indian Challenger
Speaking of the Roadmaster Dark Horse, it gets a bit of a refresh this year, mainly in the form of more blacked-out finishes. The Roadmasters are all powered by the beefy air-cooled Thunder Stroke 116 engine and still bring handy touring features like Metzeler Cruisetec tires, adjustable airflow vents, heated grips, and an adjustable windshield along with remote-locking saddlebags, ABS, and cruise control. The Roadmaster Dark Horse retails at a starting price of $29,999, and can be had in black, white, or tan.
The entire Roadmaster lineup also now gets Apple CarPlay as standard, while the Roadmaster Limited and Roadmaster Dark Horse models feature Indian's all-new ClimaCommand Rogue Seat with Ride Command integration.
The Roadmaster Dark Horse adds more blacked-out bits and comes standard with Apple CarPlay and the new ClimaCommand seat. Here it is in White Smoke. MSRP is $29,999; as pictured, it's $30,749. (Indian Motorcycle/)
Indian Scout Models
Although Indian has added a good number of new models to the Scout series in the past year or so, the main lineup returns basically unchanged for 2021—the bikes just get new paint colors. The Scout Sixty and Scout Bobber Sixty are both back with their 78 hp (claimed) 1,000cc motor, with each coming in at an MSRP starting at $8,999. If you want the more powerful, no-nonsense original, the 1,133cc Scout is back too, along with its Scout Bobber stablemate. Colors like Stealth Gray and Sagebrush Smoke are options on the Scout Bobber Twenty, with Maroon Metallic and White Smoke as well as good ole black making the cut for on the Scout Bobber.
Related: 2020 Indian Chief Dark Horse
The Scout series is back mostly unchanged; here's the Scout Bobber Twenty wearing its new Sagebrush Smoke colorway for 2021. MSRP starts at $11,999; here, it's $13,399 (with ABS). (Indian Motorcycle/)
The 2021 Scout in Maroon Metallic over Crimson Metallic. MSRP is $11,499 for the black base model. (Indian Motorcycle/)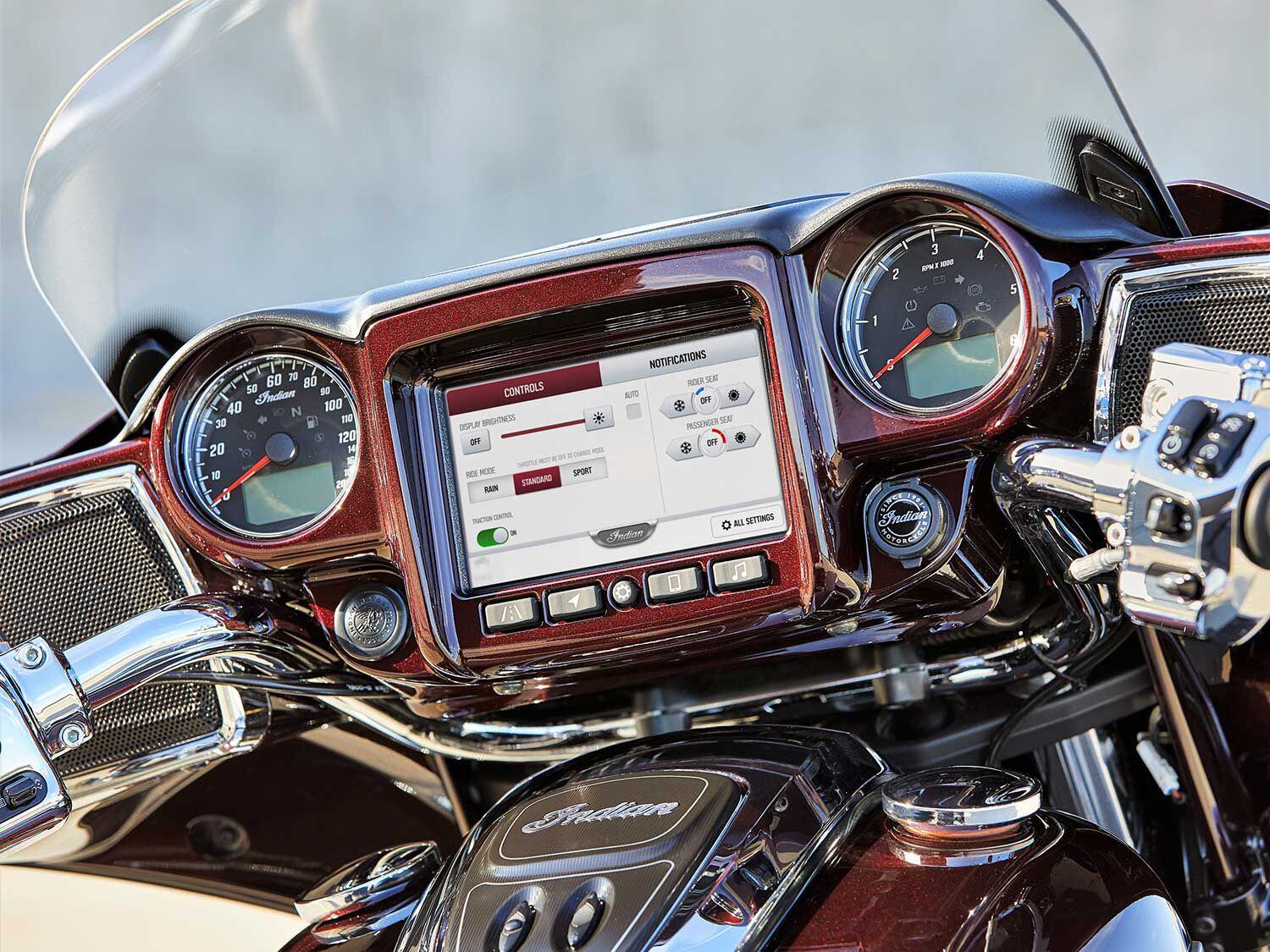 Apple CarPlay now comes standard on a good chunk of the touring and models if they're equipped with Ride Command with navigation, like the new 2021 Roadmaster Limited. (Indian Motorcycle/)
Technology Upgrades
Indian says there's some new ride-enhancing technology on tap for 2021 as well, but these apply mainly to the touring and bagger models, both in the form of standard equipment or as an upgrade. The ClimaCommand Heated and Cooled Seat Indian announced a short while back has migrated onto the Roadmaster Limited and Roadmaster Dark Horse as standard equipment, but the ClimaCommand is also available as an upgrade for all Thunder Stroke models. Additionally, the 2021 ClimaCommand's heating and cooling can now be adjusted directly through the Ride Command infotainment system on select 2020 and 2021 models like the Chieftain and Roadmaster, so you can manage comfort on the road.
Related: Indian ClimaCommand Classic Seat Review
Apple CarPlay also now comes standard on all 2021 Roadmaster, Chieftain, and Indian Challenger models equipped with Ride Command with navigation.
And if you're looking for solid lighting upgrades, the all-new Pathfinder Adaptive LED Headlight is now available for most 2015-2021 Thunder Stroke models, and Pathfinder S LED Driving Lights can be fitted on most Chieftain, Roadmaster, and Indian Challenger models. You can also add the Pathfinder S LED Driving Lights to complement the Pathfinder Adaptive LED Headlight for even more nighttime visibility.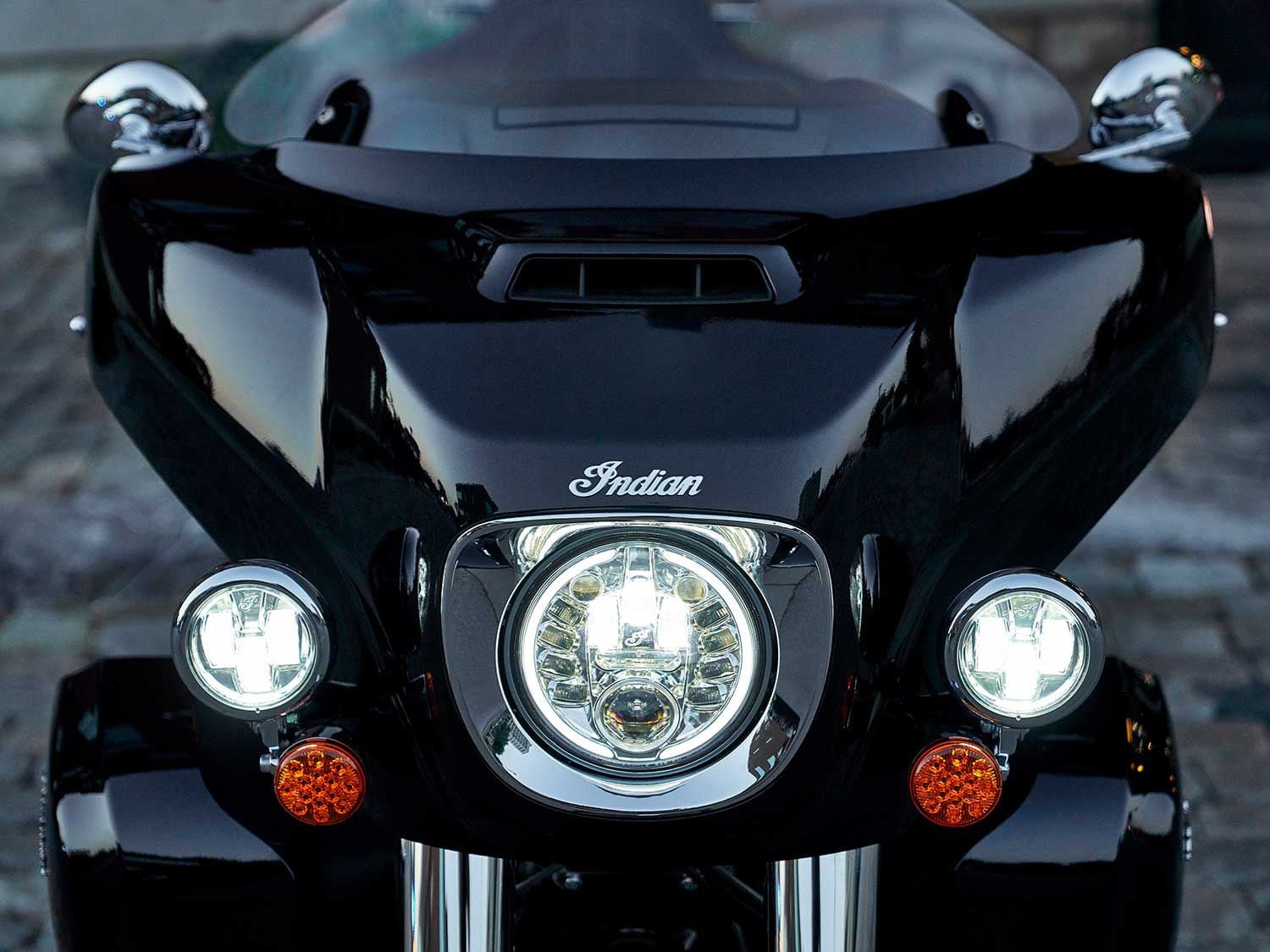 New Pathfinder Adaptive LED Headlight can be fitted to most 2015-2021 Thunder Stroke models. The light senses lean angle and activates individual projector beams to reach dark corners for better visibility. (Indian Motorcycle/)
Lastly, you can spring for a better audio experience on the Challenger with the PowerBand Audio quick-release trunk amplified speaker kit. Pair it with PowerBand Audio Plus, and the system claims to deliver sound that's 50 percent louder than the Indian Challenger's stock audio.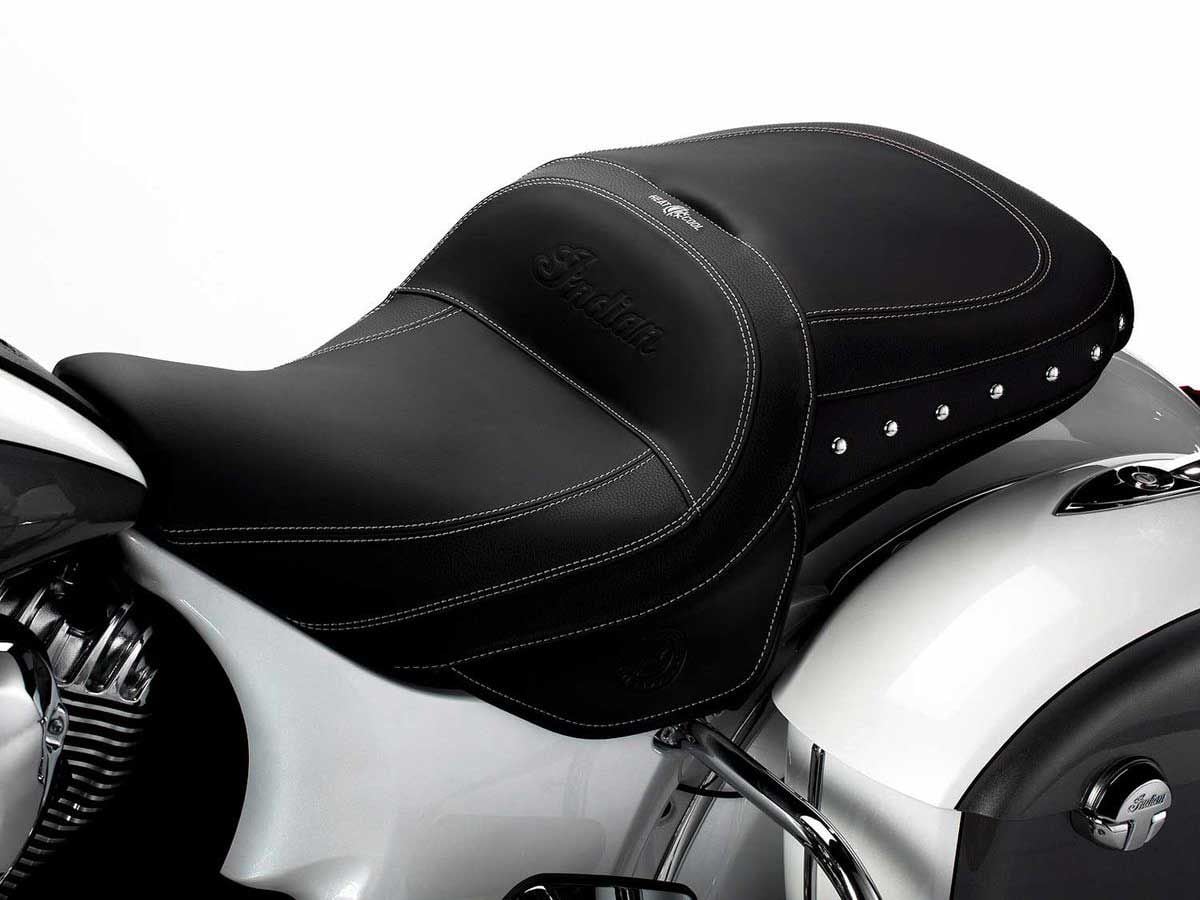 Touring types can upgrade to the heated and cooled CilmaCommand seat which can now be controlled via the Ride Command screen on select models. (Indian Motorcycle/)
Touring And Comfort Accessories
The Challenger gets other accessory options too; Indian has added a slew of touring amenities for that model, like a quick-release trunk that adds 17 gallons of additional storage. It's lockable via key fob and can fit two full-face helmets. There's also a new quick-release padded sissy bar with low-profile passenger pad available for the Challenger and Thunder Stroke models, as well as taller accessory windshield options, and an extended reach seat and various mid-rise and apehanger handlebar options. For those riding two-up, a quick-release passenger sissy bar, passenger backrest pad, and passenger floorboards are also on offer.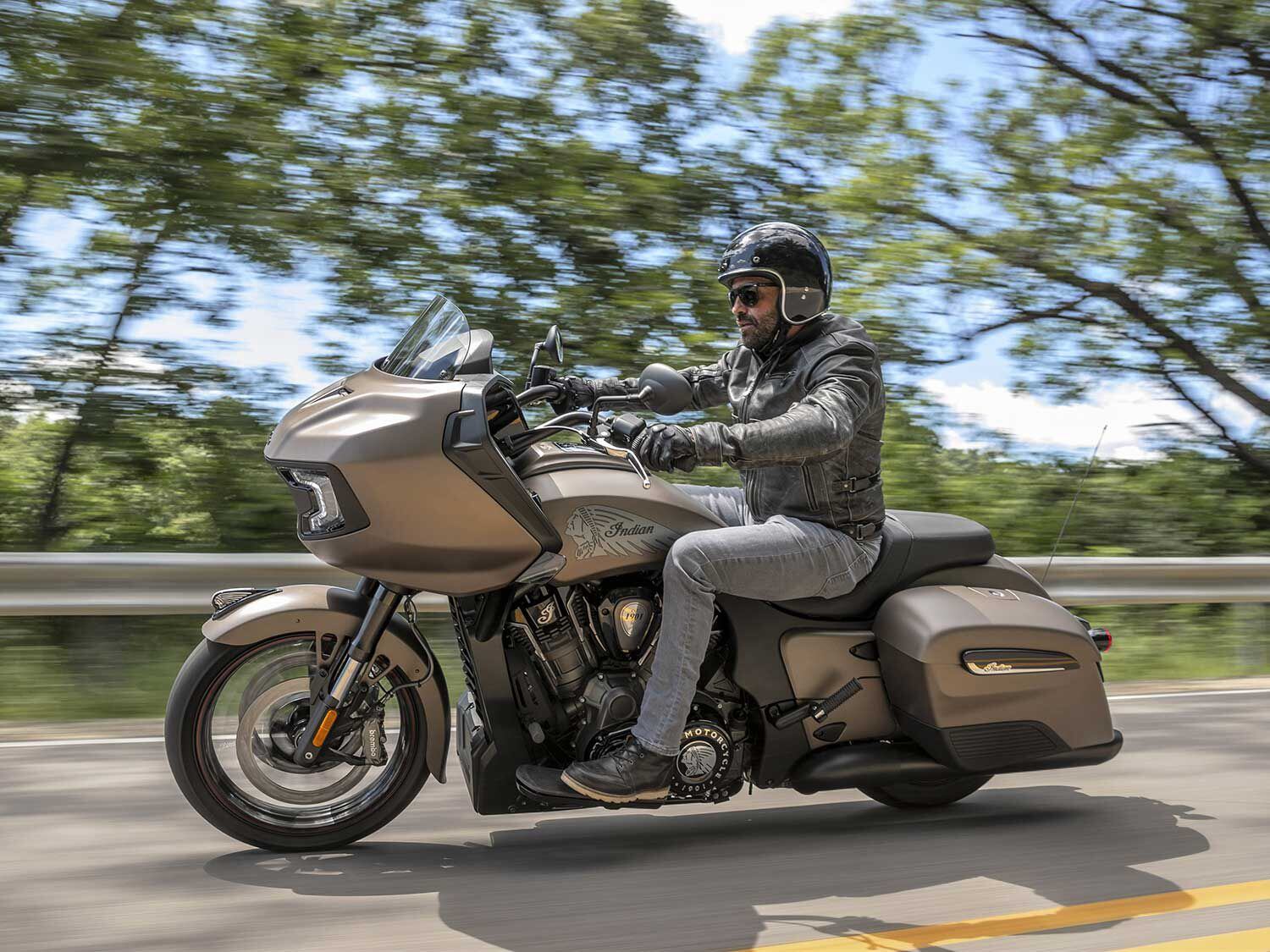 The 2021 Indian Challenger Dark Horse in Bronze Smoke colorway retails for $28,749 (starts at $27,999). (Indian Motorcycle/)
Performance Upgrades
Last but not least are the performance accessories. Riders can opt for a Stage 1 slip-on exhaust, available in black or chrome, for both the Thunder Stroke 111 and Thunder Stroke 116 for mild performance gains, or go bigger with the addition of Stage 2 performance cams (Indian claims 13 percent more horsepower compared to a stock Thunder Stroke 111). The Thunder Stroke 116 Stage 2 performance kit, which includes cams, higher-flowing fuel injectors and throttle body, is claimed to produce 17 percent more horsepower when paired with both Stage 1 accessories. Riders can also upgrade any Indian model packing the Thunder Stroke 111 with its Thunder Stroke 116 Stage 3 big-bore kit, which is said to produce 20 percent more horsepower compared to a stock Thunder Stroke 111. The kits are also available for Scout models.
Stage 1 accessory exhausts are available for the Scout series as well, with either 2-in-1 full systems or a shorty slip-on muffler kit – both available in chrome and matte black. (Indian Motorcycle/)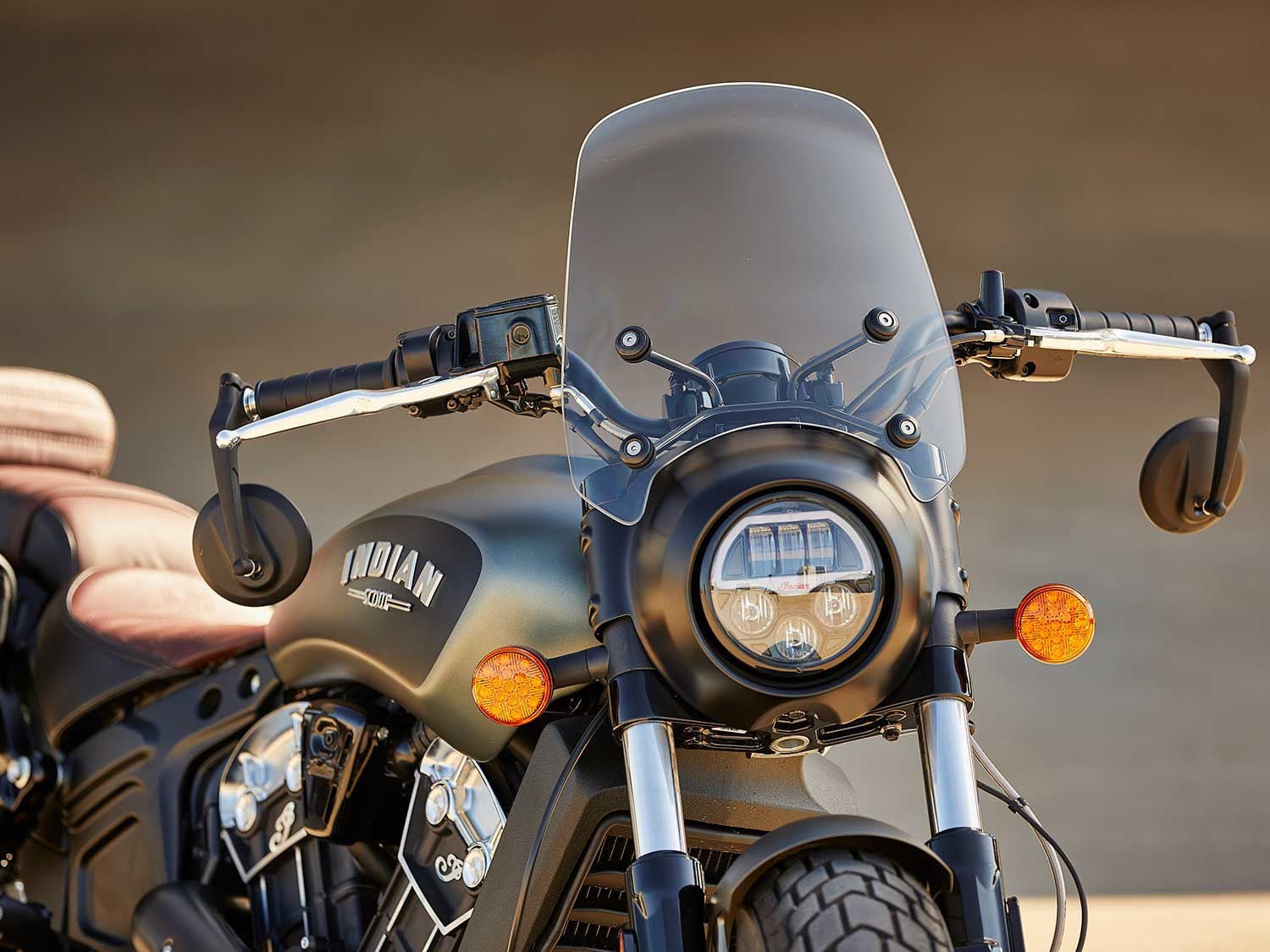 A 2021 Scout Bobber in Alumina Jade Smoke accessorized with Low Wind Deflector, Pathfinder LED Headlight, Rider Comfort Seat, and Leather Passenger Seat with sissy bar. (Indian Motorcycle/)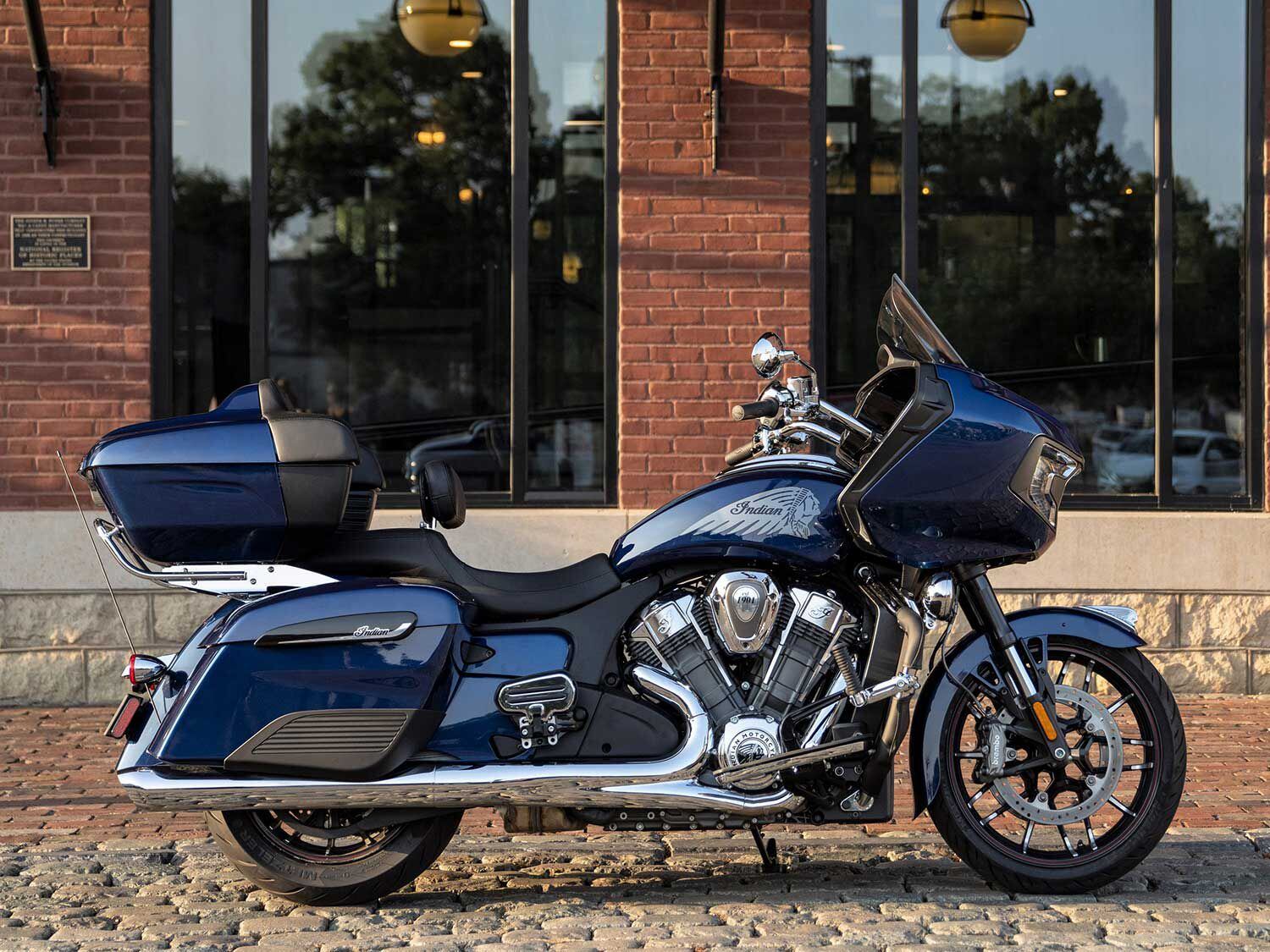 The Challenger Limited for 2021, which comes in Thunder Black Pearl, Deepwater Metallic, or Ruby Metallic, will set you back anywhere from $27,999 to $28,749. (Indian Motorcycle/)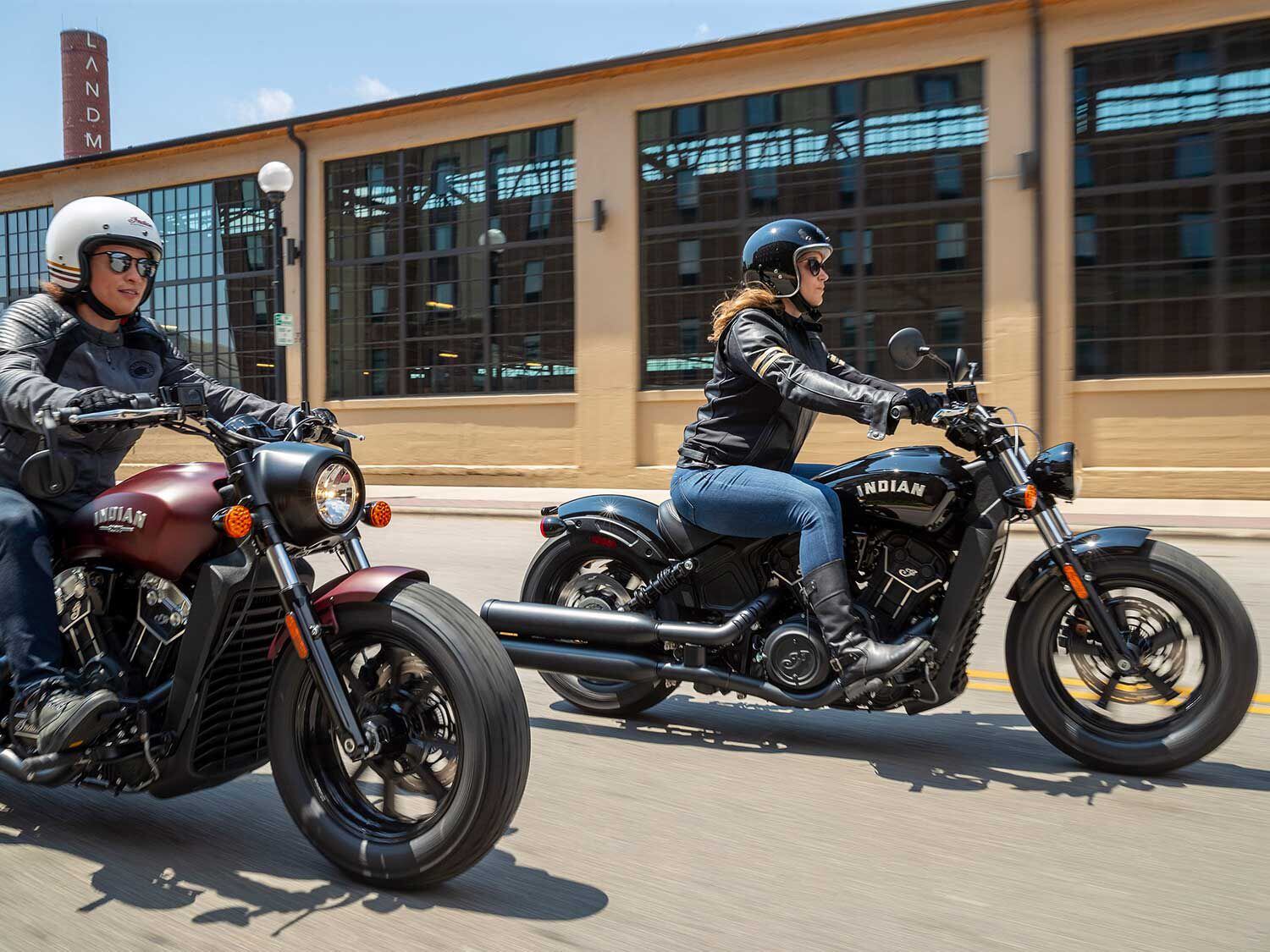 The Scout Bobber Sixty returns unchanged for 2021 save for a couple of new color options and additional accessories. (Indian Motorcycle/)