Published in: News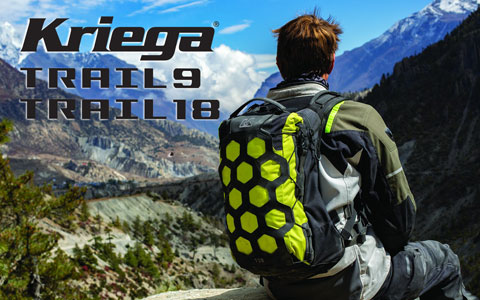 Serious adventure bike and trail riders have been attracted by Kriega's reputation and world-renowned build quality for years; the introduction of the TRAIL range sees a pair of backpacks with specifications more closely tailored to their demands.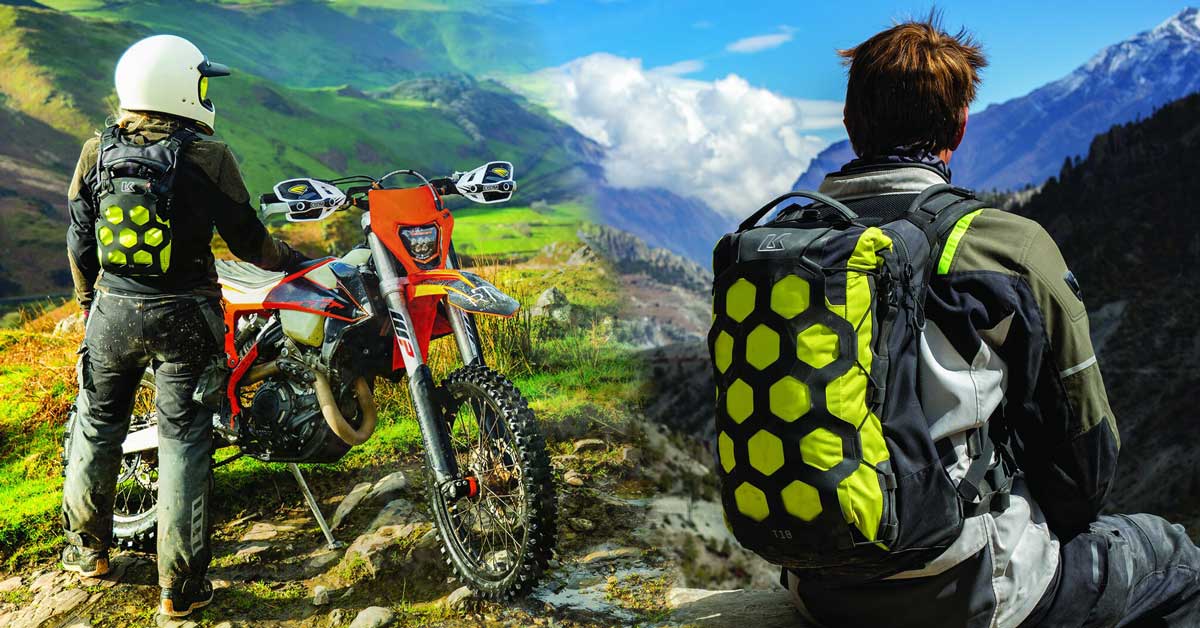 The TRAIL9 is the most compact adventure backpack ever produced by the British specialists, and is favored by riders for whom weight, speed and agility is key and comfort is essential. The bigger TRAIL18 shares much of the same class-leading features, but has twice the load-carrying capacity.
Both the TRAIL9 and TRAIL18 have two main compartments: one is fully-waterproof with a roll-top, the other has zip-access and is designed to take a choice of different removable hydration reservoirs. A distinctive, elastic, hexagonal Hypalon net adds additional storage.
Kriega used their 20-plus years of experience and the feedback from elite-level, extreme enduro champions in the development of their TRAIL backpacks, and thanks to this they have no hesitation in offering a 10-year guarantee with the new packs.
It wouldn't be a Kriega backpack without the firm's revolutionary Quadloc-Lite harness. This design is a vast improvement over traditional straps because the weight of the pack is taken by the rider's torso, not their shoulders. Kriega's original design minimizes fatigue, which is especially useful for ADV and trail riders facing long days and challenging trails.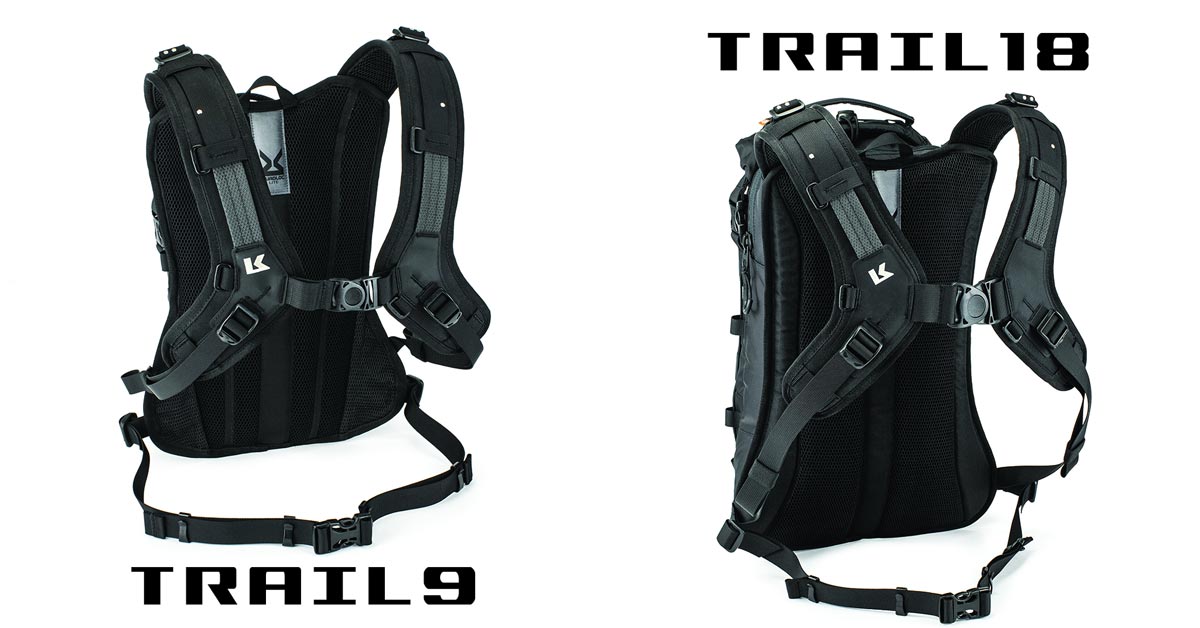 100% waterproof, roll-top, storage body (11 liters or 5 liters, depending on model) constructed from extremely durable 420D Cordura and integrally mated to Kriega's unique Quadloc-Lite harness system, adjustable for just about any body shape.
Auxiliary zip-access compartment (7 liters or 4 liters, depending on model) to transport essentials and house one of Kriega's hydration packs (sold separately).
Additional, versatile carrying capacity offered by a Hypalon cargo net, backed with one of three colored panels offering optional injections of hi-viz lime or safety orange. It wouldn't be Kriega if there wasn't a trademark all-black option too.
See the TRAIL18 in action with Pol Tarrés in THE SEEKER as he pushes the bounds of reality on a Yamaha T7.
{youtube}eDxBGc9TD4c{/youtube}
• FEATURES
QUADLOC-Lite™ harness transfers weight from the shoulders to the chest and body, giving all-day riding comfort, even with heavy loads.
Ultra-durable 420D Cordura® Lite Plus and Hypalon construction.
Air-mesh back panel for rider comfort.
YKK® heavy-duty zips throughout.
100% waterproof 11-litre main pack body (5L in case of TRAIL9).
7-litre heavy-duty zip access compartment (4L in case of TRAIL9).
100% waterproof 1-litre internal pocket (TRAIL18 only).
Internal zip pocket with key clip (TRAIL18 only).
2L, 3L and 3.75L hydration reservoir compatible (3L not suitable for TRAIL18. Hydration packs (sold separately).
External Hypalon net with elastic cord adds useful extra storage.
Removable waist strap for extra pack stability when riding.
Reflective panels on the harness give added visibility.
Harness pocket compatible.
Semi-rigid carry handle
Available in Black, Lime or Orange
10 YEAR GUARANTEE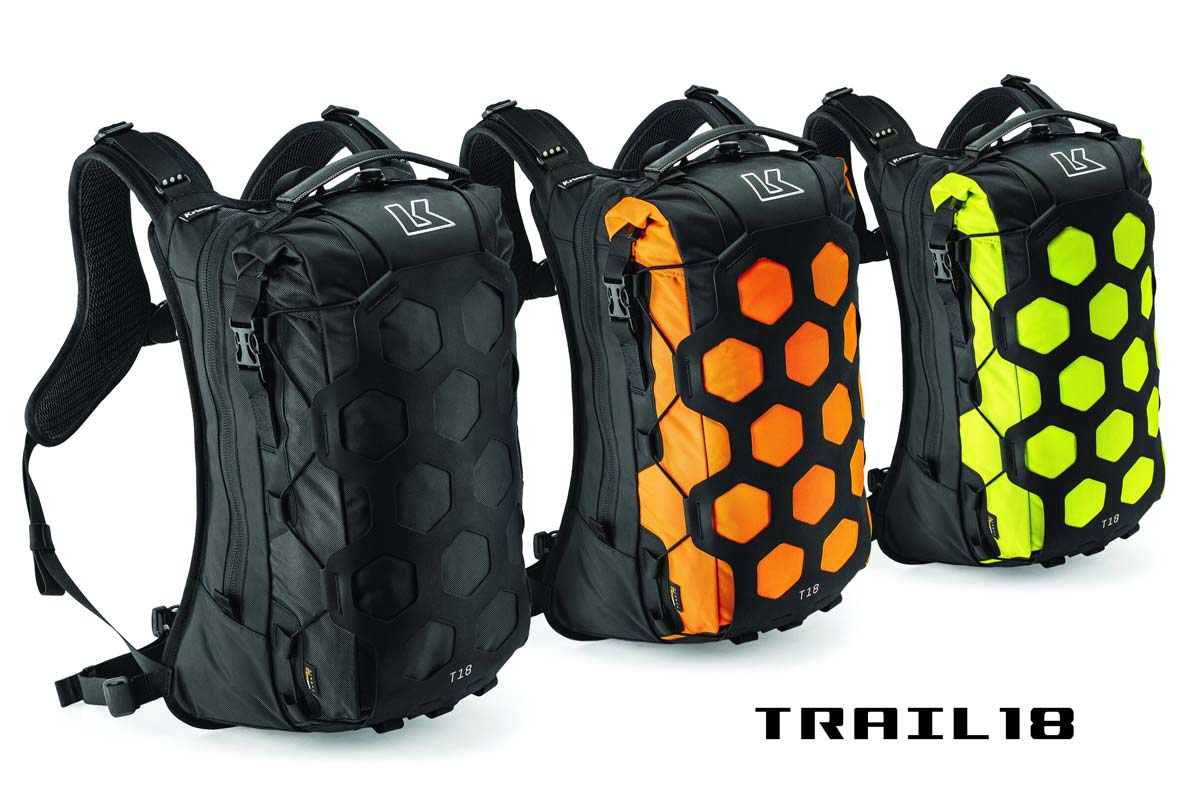 • SPECIFICATIONS TRAIL18
DIMENSIONS: 445(h) x 250(w) x 170(d)mm / 17.5"(h) x 9.8"(w) x 6.7"(d)
VOLUME: 18-Liters (1100cu in) total capacity
WEIGHT: 1630g / 57oz
COLOR: BLACK / ORANGE / LIME
PRICE: $225
AVAILABILITY: IN STORES NOW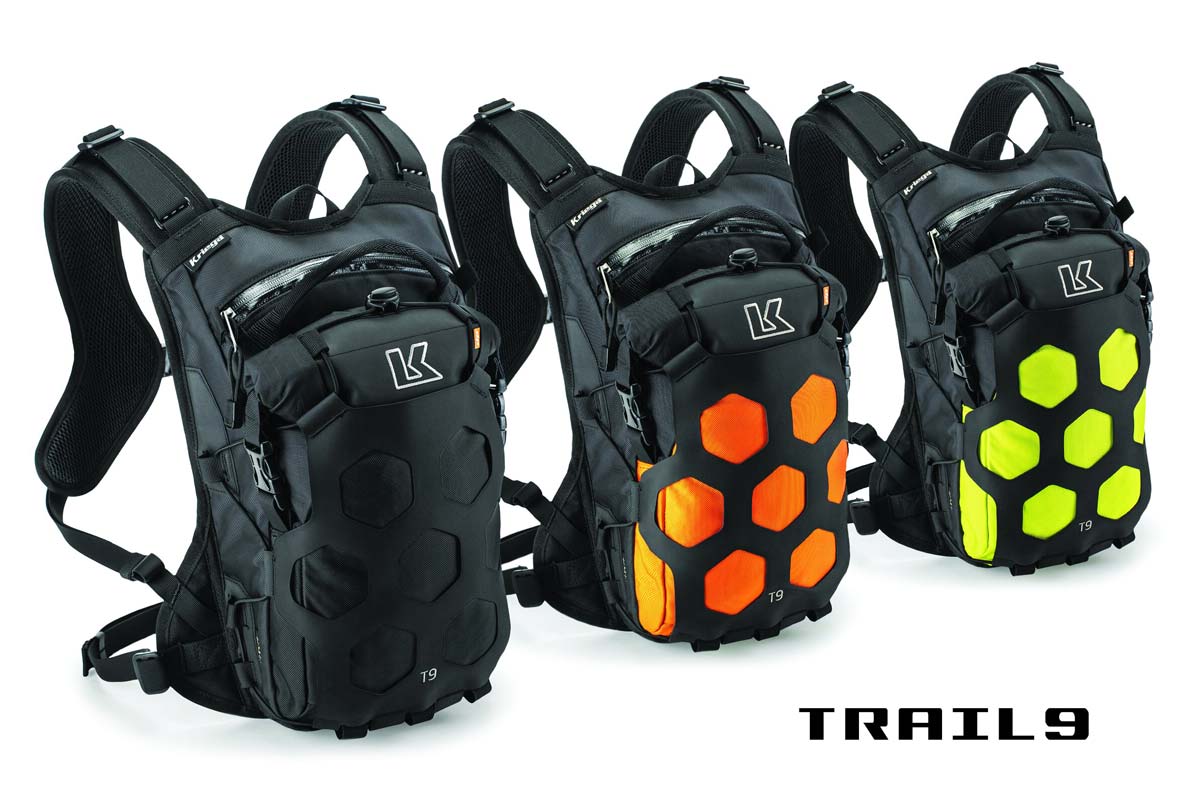 • SPECIFICATIONS TRAIL9
DIMENSIONS: 400(h) x 210(w) x 130(d)mm / 15.7(h) x 8.26(w) x 5.1(d)ins
VOLUME: 9-litres (550cu in) total capacity.
WEIGHT: 1030g / 36oz
COLOR: BLACK / ORANGE / LIME
PRICE: $175
AVAILABILITY: IN STORES NOW
More Info available at KRIEGA.COM