Published in: Gear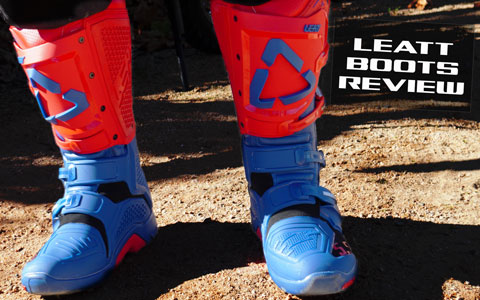 Now Leatt can finally say "we protect you from head to toe" with their first ever riding boots. The GPX 5.5 Flexlock is a "Made in China" premium boot that offers many features associated with top-shelf boots, but at a price tag under $400.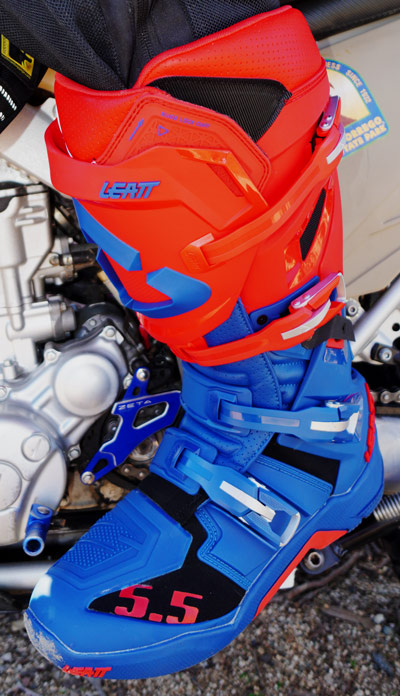 I'm told Leatt really focused on the R&D, pouring three years into the design ensuring they were up to snuff for their sponsored team riders. The GPX 5.5 boots are protective yet reasonably flexible allowing for easier manipulation of the foot levers. "Flexlock" further allows adjustment of lateral flex by means of swapping out a plastic pivot piece using a 2.5mm Allen key. The toe-box area is low profile thus allowing for a more comfortable gear shifting posture. A dual-compound sole provides rigidity where needed and traction where it counts—it's also replaceable. And an added plus is the breathable mesh inner liner with an anti-slip reinforcement which aides in zero heel lift.
A feature you'll notice when pulling the boots on is the top portion of the cuff where there's a unique slide lock system with a Velcro'd cuff. The system ensures a snug fit as it engages in one direction only. The four buckles made of long-lasting forged aluminum with an overlocking function ensure easy manipulation. And the inside portion of the outer boot has a grippy textured material that provides a solid feel against the pegs and foot controls.
As far as safety, there are embedded steel shanks in the soles to shield your foot from damage, and 3D-shaped impact foam encased around the ankles to further reduce the chance of injury.
As far as sizing, they seem true to the indicated size. Leatt uses U.S. sizes ranging from 7–13.
A neat feature I haven't seen before in off-road style boots are the two non-closable vents on the outboard portion just behind the ankle and the other about a foot above it near the calf area. But I can't help but wonder how this would fare in multiple water crossings.
Leatt has done a great job at their first rendition of a boot which now completes their protective rider gear ensemble.
MSRP: $389.99
Leatt.com
PROS:
• Highly protective
• Good price point
• Nice aesthetics
CONS:
• A bit stiff
• Non closable vents
• Limited graphics
Where to Buy: