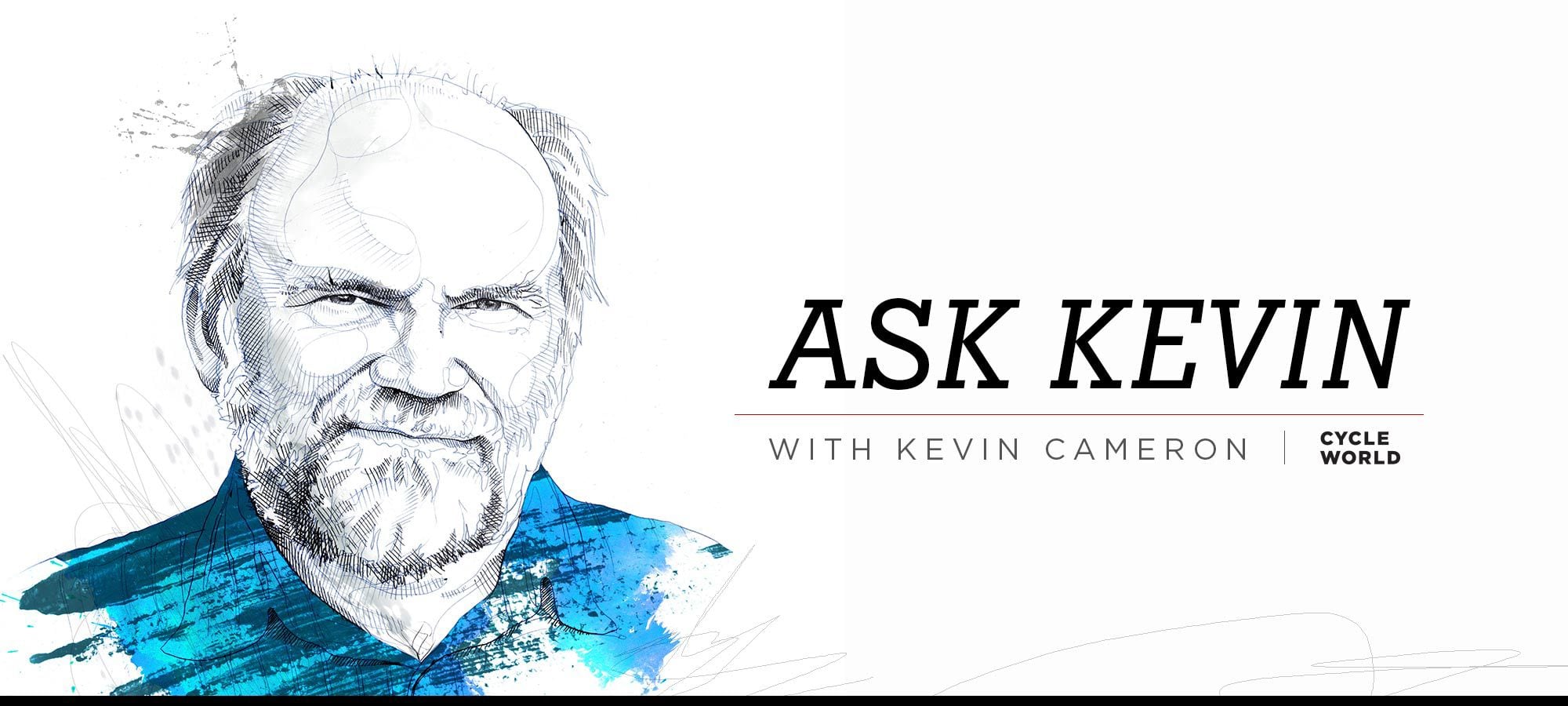 Kevin Cameron (Robert Martin/)
Engine friction! Yes, everyone is right—in the particular areas each person discussed in recent comments. Yes, spark ignition engines suffer a lot of pumping loss at low throttle because it takes power to create the intake manifold vacuum of 25 inches or so. This is why cars or bikes get worse mileage while putt-putting along two-lane country roads (small throttle openings, high intake vacuum) than they do on the interstate highway at 75 mph (larger throttle openings, so less manifold vacuum). In the case of my econobox, I see 26 mpg on local roads, but get 42–47 mpg on the interstate. Big difference!
Wide Variation In Specific Fuel Consumption
The present CEO of Ducati, Claudio Domenicali, once pointed out to me that specific fuel consumption (the amount of fuel required to produce 1 hp for one hour) in their engines can vary over a range as great as 2.5-to-one, from the least to the most.
Engine mechanical friction from the shearing of oil films, windage, oil churning, etc., increases rapidly with rpm. Former Harley racing manager Dick O'Brien once decried the privateer practice of revving the XR750 dirt-track engine to 9,200 rpm by saying, "Fer crissakes, don't those dumb bastards know friction's taking 25 percent of everything they're making up at those revs?"
Of course, he was talking about full throttle operation, when there is very little intake vacuum, and so, much less pumping loss.
Therefore pumping loss in spark ignition engines rises at low throttle openings, while mechanical friction from oil film shearing rises with rpm. This produces an "island of lowest fuel consumption" somewhere in the lower-loss zone between those extremes, and it is in order to operate mainly within that island that late-model cars are being given so many gearbox ratios. Honda recently patented an 11-speed with three clutches, and Ford has announced an 11-speed as well. Back in the 1960s era of classic motorcycle Grand Prix roadracing, gearboxes with from seven to 12 speeds or even more were needed to stay within the ultra-narrow powerbands of those engines. Today, similar numbers of transmission speeds are being used to stay within auto engines' narrow "islands of lowest fuel consumption."
Where Is The Friction Occuring?
In 1953, NSU's engineer Dr. Walter Froede used a motoring dyno (it spins the engine with an electric motor to measure its friction loss at various rpm) and numerous degrees of assembly to evaluate the sources of loss in the 125cc Rennfox racing single. I wish I knew the test rpm, but I don't. These are percentages of total engine friction, which ranges from about 15 percent of power produced for highway cruising to the 25 percent of Dick O'Brien's actual measurements in a racing engine.
Total Engine Friction
Piston

36.6%

Piston rings

13.2%

Pumping,

etc;

15.8%
Crankshaft

9.2%

Con-rod

6.6%

Timing gears

6.6%

Valve drive

4.6%

Magneto

4.0%

Oil pump

3.3%
You can find other and more recent studies of this kind on the internet.
Why Diesel Engines Operate Unthrottled
Diesel engines operate unthrottled. Spark ignition engines (including the recent "GDI" or direct fuel injection variety) require a mixture between the rich limit of about 10-to-1 and the lean limit of 18-to-1, outside of which the mixture is not reliably ignitable by a normal ignition spark.
In an operating diesel engine, high compression (usually around 16-to-1 in open-chamber engines) of the pure air charge in the cylinder raises its temperature high enough that when fuel is injected directly into it, it is ignited by charge air heat alone. For cold starting, when compression alone may not produce enough temperature to initiate combustion, a glow plug or other form of combustion chamber pre-heater is operated for a few seconds to help the combustion process get started.
Even at full power, diesels consume no more than 80 percent of the air they take in, for injecting more fuel than this produces visible smoke. Operation with excess air allows fuel combustion to be more complete, and by reducing average combustion temperature it also reduces the energy going into rotational and vibratory molecular motions that are wasted out the exhaust rather than contributing to pressure on piston crowns as simple molecular velocity.
Because diesels operate unthrottled, they lose minimum power to pumping loss.
Kevin Cameron responds to questions about friction and pumping losses in motorcycle engines.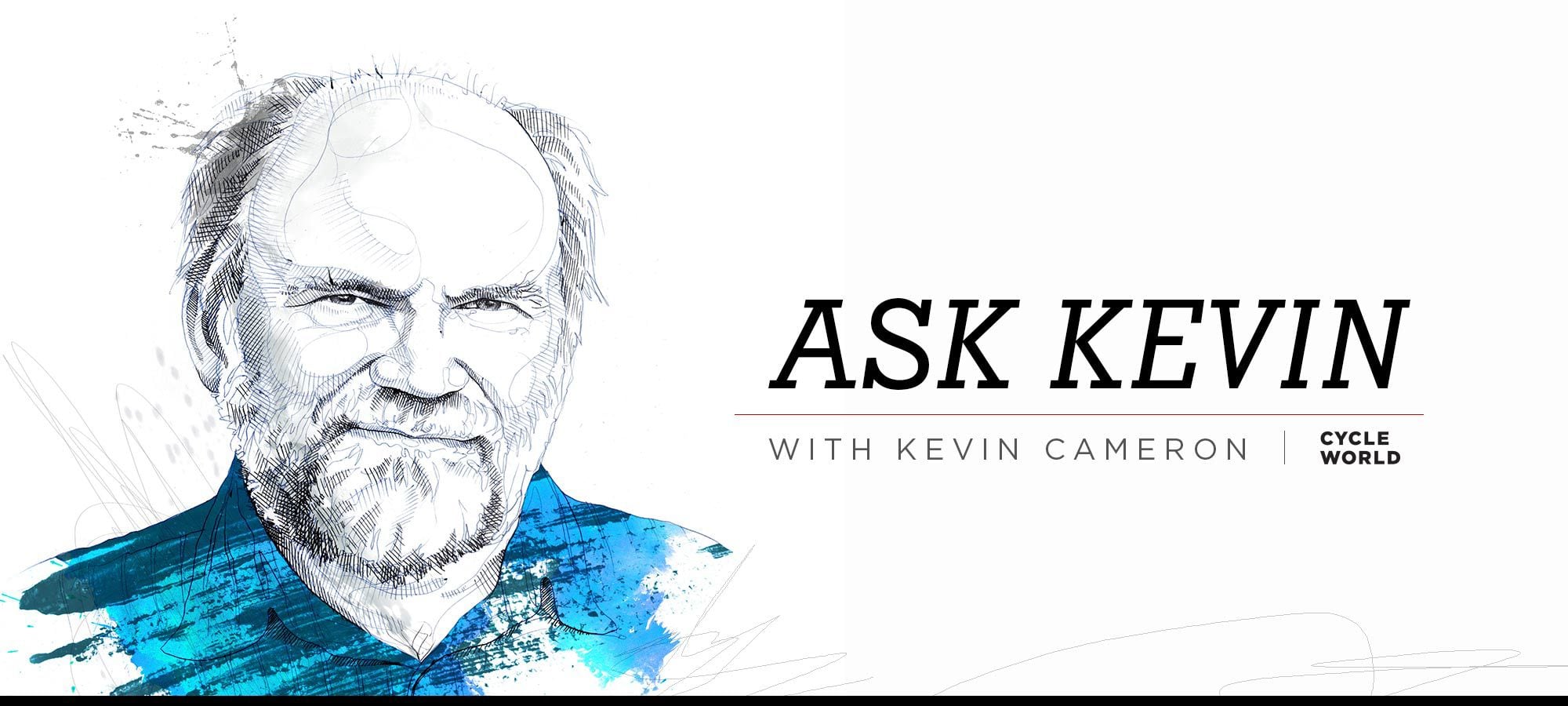 Read More