Published in: Gear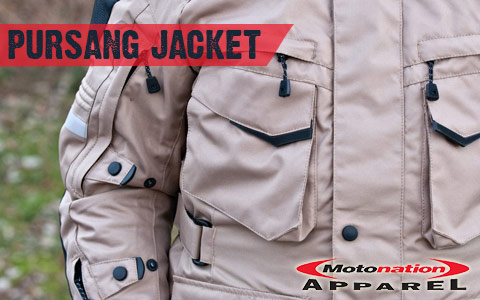 Budget riding gear is steadily getting better and better, the best of which reach above their price points to offer comfort, performance, protection, and value. A name you should know in this market is Motonation. As the North American importer of Sidi and Forcefield, Motonation certainly knows high-quality motorcycle gear and they've chosen to put their own name behind a collection of gear which can stand proud with their other offerings. The Pursang jacket and Phantom pants are Motonation's four-season adventure touring options which I've had the pleasure of testing for the past few months.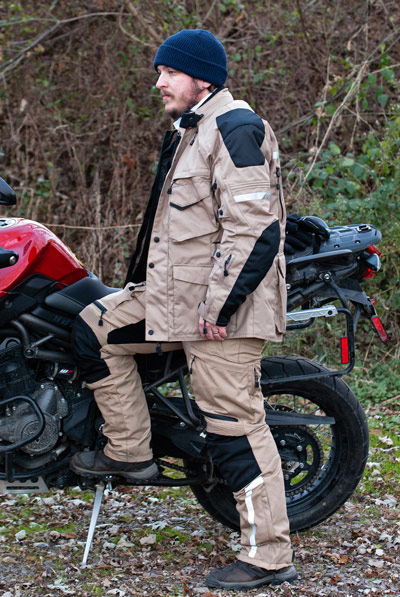 Both the Pursang jacket and Phantom pants start their construction with a 600-Denier polyester reinforced at the shoulders, elbows, forearms, knees, and inside of the lower legs with a robust ballistic nylon for additional abrasion resistance. All the zippers are quality YKK bits with robust pulls for easy use while wearing gloves. Stitching is clean and precise throughout, with double stitches in some areas, bar tacks, and reinforcement gussets in high-stress areas. Motonation aims for subtle branding; only one logo is present on the exterior of the jacket and is color matched to the material on the sand version. Hi-viz and black colors have contrast stitching but you still shouldn't feel like a walking billboard while wearing them.
Both the jacket and pants also feature two removable layers, a Reissa waterproof-breathable liner and quilted thermal liner. The removable liners in other gear I've checked out don't usually inspire ideas, but Motonation worked some thoughtful touches into these. Rain layers have full mesh linings to prevent any sticky-plastic-on-your-skin feeling and the jacket's quilted liner has a pocket to restore some utility when two of the interior shell pockets are blocked. Speaking of pockets, you get 10 on the jacket and four on the pants, enough to please any hoarder on the move. Nearly all the pockets are sized and positioned to be useful and accessible while on the bike; the only oddities are the fleece-lined hand warmer pockets which can't be closed or secured. A simple zipper would have provided two more spots to squirrel away items.
Fit is relatively slim for both garments but the sizing schemes are a little different between them; I wear a large in most "American" fit jackets and a large Pursang jacket fits me well. The Phantom pants are sized a little smaller, closer to "European" sizing, I am able to fit in an XL-short as the size chart suggested but would be more comfortable in an XXL-short. Both garments are cut to fit relatively close to the body and provide a slim fit. The pants have stretch material in the crotch and inner thigh which allows for extra comfort and range of motion despite the snug fit. Waterproof gussets and zippers up to the knees provide enough room to fit the pants over my Forma Adventure boots, but slimmer or lower boots may work better with the slim leg cut for some.
The slim fit continues at the wrists and collar, as well. While livable, these are two areas Motonation may want to consider refining in future iterations. At the wrists are two-way zippers with a mesh gusset on the forearm and Velcro at the cuff which closes over the zipper. If the cuffs were larger, this would provide adjustment, but even with short-cuff gloves it can be difficult to secure the Velcro. Lastly, the neck closure is a single-position snap which has a hook to hold it open when things are warm, but when it's closed I would appreciate a wider position, just a little more room, or a touch of stretch for ideal comfort.
Protection is handled by CE-rated armor at the shoulders, elbows, and knees, with foam pads at the back and thighs. The armor used is relatively small and somewhat stiff and I've noticed it can shift a little in the pockets. On the back, the pad is a diamond shape and the pocket wouldn't take any of the protectors I have for my other jackets, but I believe with some research you could find one to fit. Where I expected hip protection, I found foam pads which sit very low on the outer thigh. Personally, if I were doing any really intense riding I would pull the included armor and wear more substantial off-road armor for better coverage and protection I know won't shift. I'm glad Motonation has included the armor and pads they have, but it's one of the few notable areas of cost savings between the pieces.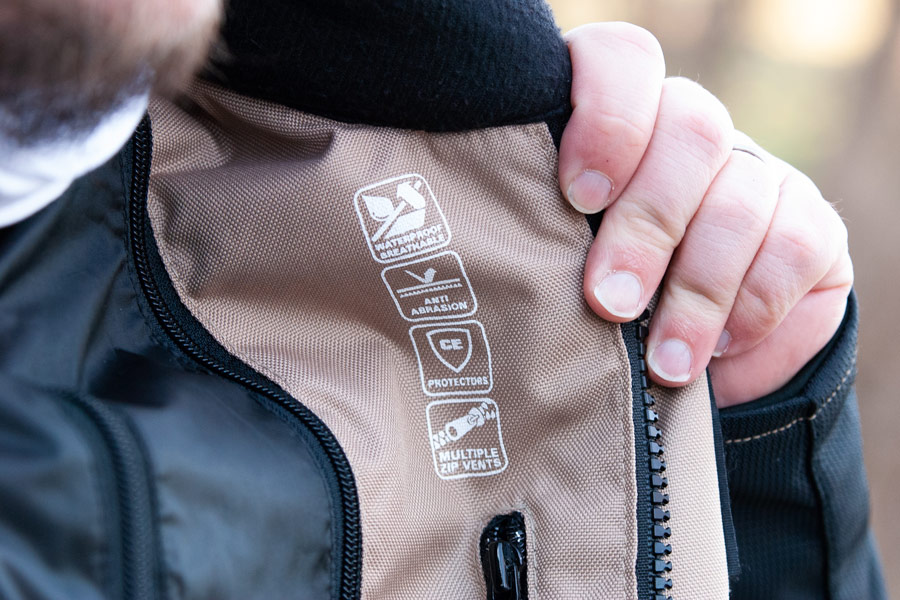 Adaptability to different weather conditions is an area where the Pursang jacket and Phantom pants excel. Autumn in the mid-Atlantic states can offer high temperatures above 90°F and lows below freezing,  usually with a significant amount of rain. When the mercury is up, eight intake and two exhaust vents on the jacket are paired with two each intake and exhaust vents on the pants to flow enough air to keep things cool while moving. While anything is hot when stopped in traffic, the sand color felt cooler than similar dark-colored jackets in my closet. In the rain, the Reissa liner has performed well; it's only weak point is at the wrists where I had a small amount of water intrusion in heavy rain. I was concerned about the lack of a storm flap on the liner but the one on the jacket shell is up to the task and my core stayed dry. On a warm day, the rain liner's mesh lining helps with breathability but ultimately will hold some moisture from perspiration. Lastly, the quilted insulating liners are adequate down to at least 40°F with appropriate base layers; if you're planning on extended time spent in cooler temps I'd suggest supplementing or replacing them with more substantial mid-layers.
Overall, Motonation has come up with a fantastic budget offering for adventure riders in the Pursang jacket and Phantom pants combination. Pricewise, you can get a full suit for less than many jackets cost alone and it's amazing they're offering it in so many color and size options. At this price the armor compromise is easily overcome; depending on budget, one could have enough cash left over to bring your own armor layer or slip upgraded protectors in the pockets.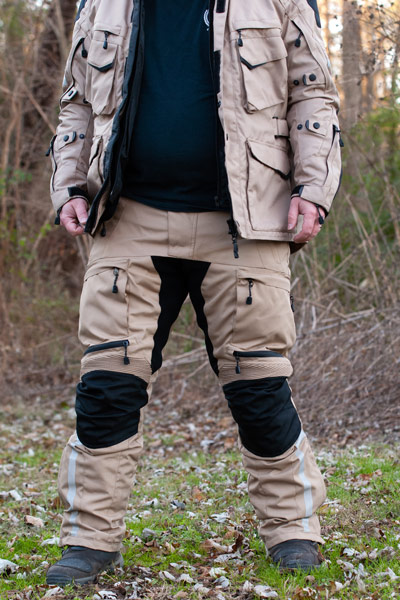 MSRP:
Jacket: $179.99 available in S–2XL in Sand, Black, Hi-Viz, and 3XL Black
Pants: $129.99 available in Short and Regular sizes M–2XL in Sand and Black and Regular 3XL Black
PROS:
True four-season versatility
Affordable
Available in short sizes and multiple colors
Very subtle branding
Pockets and plenty of 'em
CONS:
Rain and Insulating liners could be more breathable and warmer
Collar and wrist closures could use more adjustment
Budget armor—small, stiff, and shifty