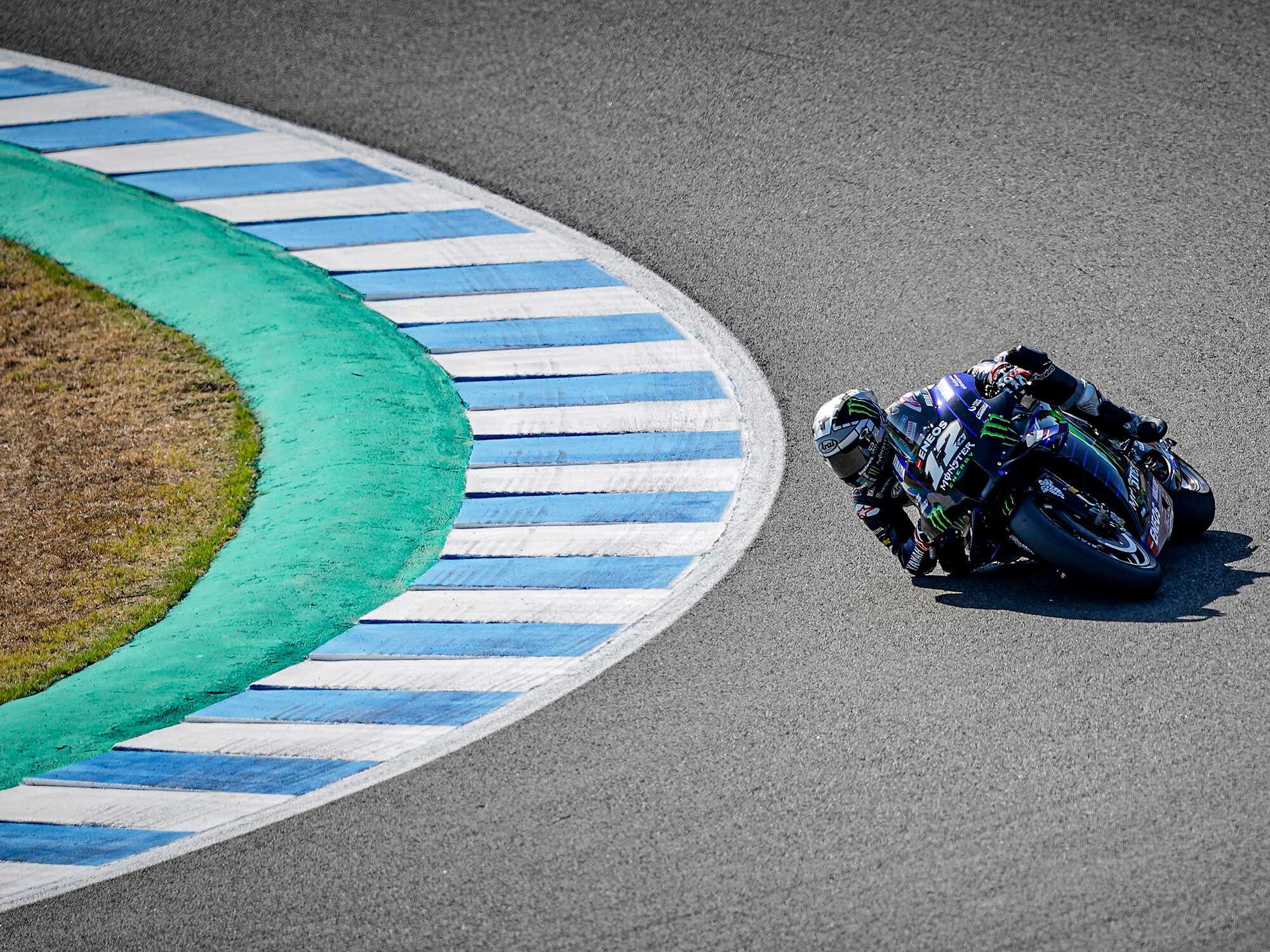 Neutral throttle in a corner allows the motorcycle to maintain the proper radius for the corner. Having the patience to continue neutral throttle until it is time to take away lean angle and open the radius is an important skill to riding safely on the track or street. (Monster Energy Yamaha/)
For the last month, I have been creating a series that gives you a specific drill to work on on your next ride. Have you been following along? Have you focused on those next ride drills? Did you pay attention to your hand pressure while steering? What about closing the throttle to the brake lever? Have you slowed your motorcycle longer in corners? If you haven't, go back and run those drills! This Next Ride Drill is all about patience—at neutral throttle.
The Vital Move Between Slowing And Going
This week's Next Ride Drill will use the terms neutral throttle and maintenance throttle interchangeably. Both mean that we have picked up enough initial throttle in a curve to stop the bike from slowing but we are not yet accelerating. Let this be the focus of our next ride because neutral or maintenance throttle is key to consistently safe riding at any speed.
Why?
1. Safety: An accelerating motorcycle will open its radius, and as we experimented with last week, a slowing motorcycle will tighten its radius—at the same lean angle. So what happens to our bike's cornering radius if we hold the same speed? Right, the bike holds its radius, stays on line, and stays in our lane. So when the leading cause of Marine Corps rider deaths is running wide in a corner, it could be because neutral throttle is skipped over.
2. Myth Busting: How many times have you heard, "You should be braking or accelerating"? No mention of neutral throttle! The quote above works just fine in simple 90-degree-or-less curves, but how many of those are on your favorite ride? The simplicity of "brake or accelerate" falls short because many corners require your speed to be held constant between the entry and the exit. If you struggle to stay online in long-radius corners, forget the oversimple "You should be braking or accelerating" and instead hold your speed to hold your radius.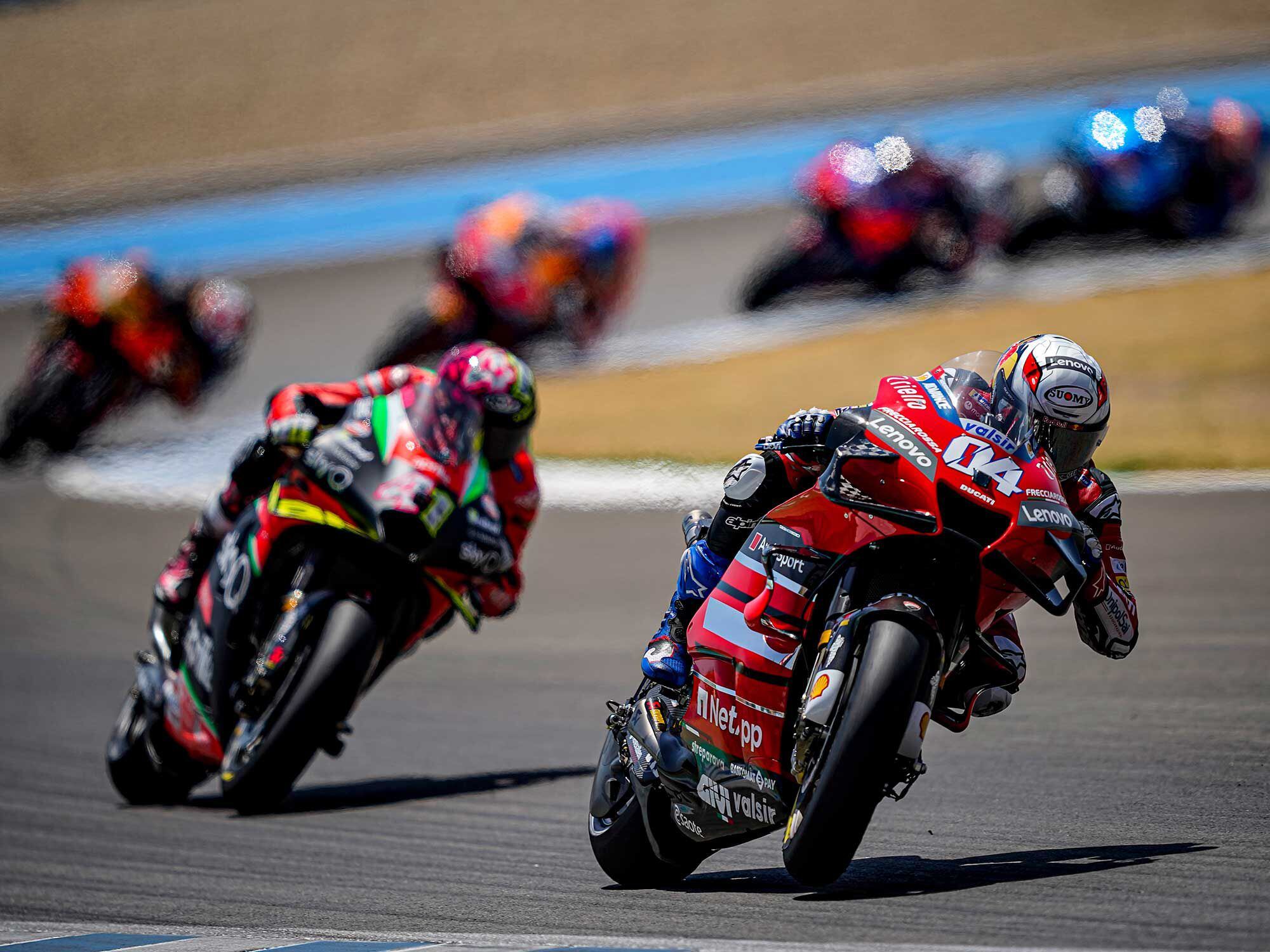 Look at Andrea Dovizioso's front wheel. He has moved away from neutral throttle and is now opening his radius and taking away lean angle. Just before this he held neutral throttle (if only for a split second) waiting for the right moment to accelerate. Waiting is the key word here. (Ducati /)
3. The Patience of Being Consistently Fast: Patience?? How could patience have anything to do with being consistently fast on a motorcycle? Consistent speed is how you win roadracing championships—consistently slow doesn't work, nor does fast and erratic. Patience becomes a main priority in the middle of long-radius sweepers because the corner is not yet opening and the correct (faster and safer) throttle application is just enough to keep the bike online. As an A-type personality, many of us want to "get going." Not yet. We've got to wait at neutral or maintenance throttle until the corner opens. In some long-radius corners we must hold neutral throttle for several seconds.
4. The Discipline of Being Consistently Fast: At your next trackday, do you hear the bike ahead of you begin to accelerate but you know that rider is accelerating too early and will run wide or have grip issues (maybe not immediately on fresh tires, but eventually)? You know it, but do you have the discipline to let that rider go? Can you, in the moment, remember that this rider's too-early acceleration will hurt their exit speed because they will be forced to hold lean angle on the exit? Can you let them jump away from you midcorner, knowing it will all come back to you with dividends (mph) on the next straight because you get your bike pointed before accelerating?
You're having fun on the back roads and enjoy accelerating off corners, but do you have the discipline to let the bike turn on maintenance throttle so that when you accelerate you can do it safely—all day long and for the rest of your life? If you can find this discipline, you will be quicker and healthier on the track and will master the ever-changing challenges of the street.
5. The Timing of Acceleration: When do we truly accelerate in a corner? When we want our radius to increase. Yes, we can bring our midcorner speed up a little if we enter too slowly, but this drill is all about waiting at maintenance throttle for the corner exit to expose itself to us.
On the track, we're waiting at maintenance throttle because we're at the limit of grip; any more acceleration and the rear tire will spin if we maintain lean angle. On the street we're waiting at maintenance throttle until we can see the pavement we are accelerating into—or if acceleration is even possible based on street challenges like traffic, deer, and gravel. In both cases, we are waiting to accelerate until we can take away lean-angle points to compensate for the acceleration points we are adding, given the tire's 100 points of grip.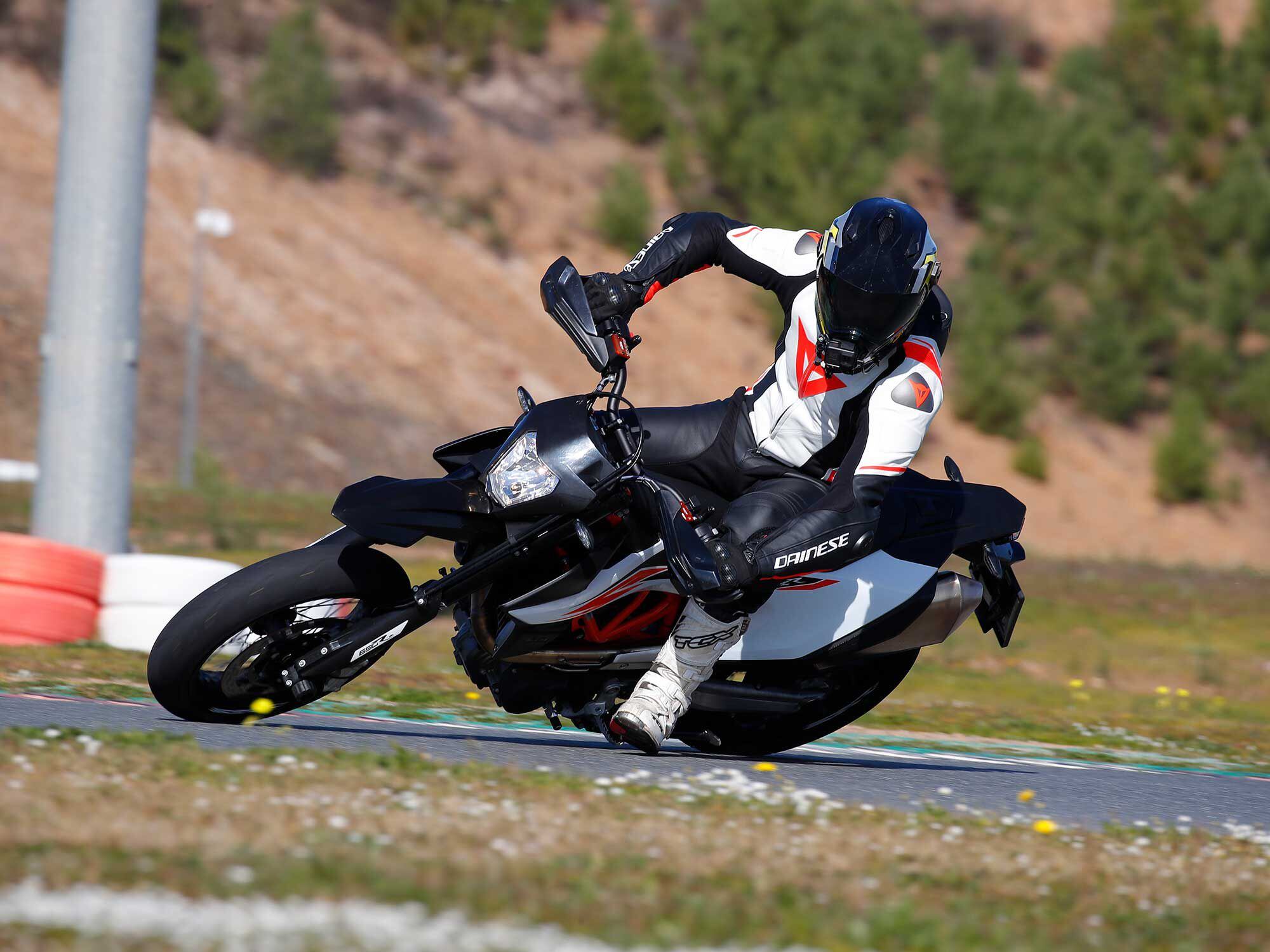 Look at that lean angle—there are not many points of grip left, and a neutral throttle until lean angle is ready to be removed is key. (KTM/)
How Much Throttle Is Maintenance Throttle?
As much throttle as it takes for your bike to quit slowing after entering the corner, but not enough to accelerate yet. Did you expect me to write "8 percent"? If you're cruising along in a tall gear, it will take more throttle movement. Near redline—less initial throttle. A low-horsepower bike will take more throttle to maintain speed than a faster bike. This week's drill is all about getting your focus on what happens after the corner entry: neutral or maintenance throttle.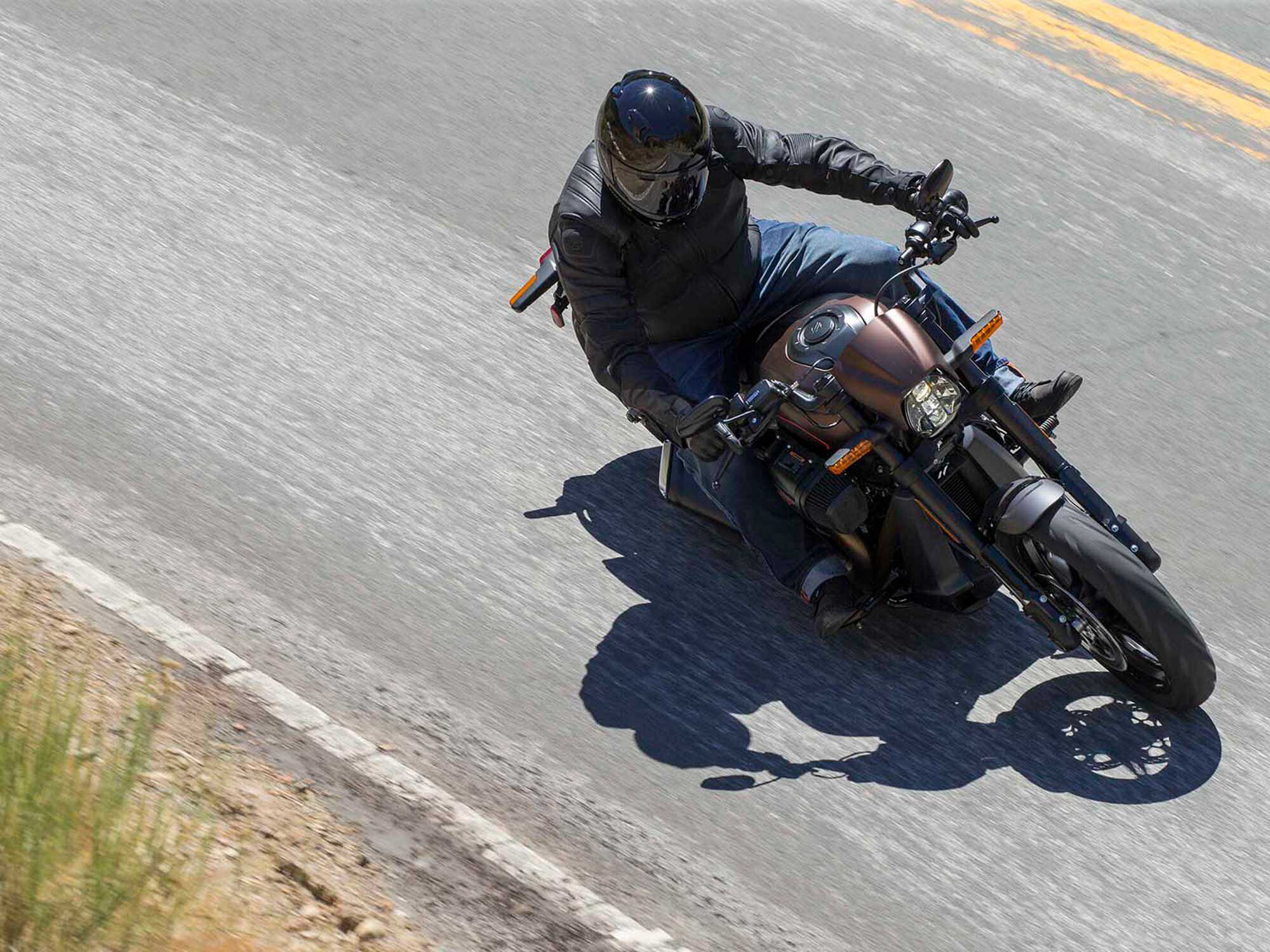 Each motorcycle and situation will take a different amount of throttle opening to achieve maintenance throttle. (Kevin Wing/)
If you over-turn your bike and find yourself too low in the corner too early, you are simply late with the throttle or need slightly more throttle earlier.
How Long Does Neutral Throttle Last?
We want answers! Specifics! Exactness! But so many riding-technique answers should begin with, "That depends." In this case, the length of neutral throttle is dependent upon the length of the curve and your entry speed. At ChampSchool, Kyle Wyman talks about reducing the duration of neutral throttle as much as possible. That means higher entry speed to use the brakes longer into the corner, an awesome direction change (see last week), and acceleration as early as possible—which means the acceleration matches the pace at which he can stand the bike up.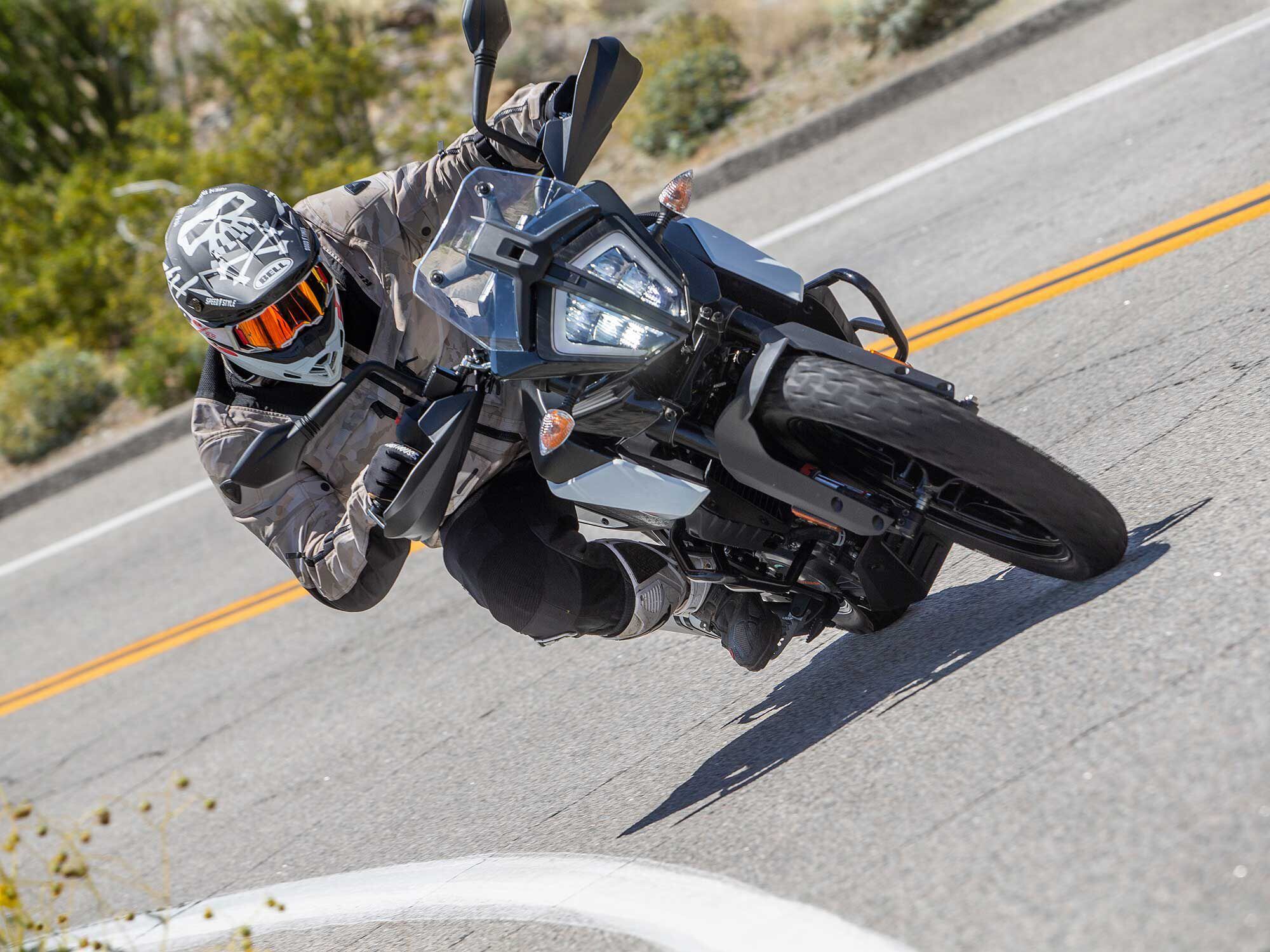 How long does neutral throttle last on the street? When you can clearly see the exit and the road has revealed itself to you. (Jeff Allen /)
This is called efficiency and it matters to superbike racers like Kyle, but is a distant priority for street riders who face significantly more challenges and must ride with at least a 30-percent safety margin in terms of speed, brake pressure, lean angle, and aggressiveness. Don't feel rushed to get the bike accelerating when street riding; let it turn for safety and enjoyment. Street or track, we use neutral throttle until two things happen: We can see the exit and take away lean angle.
The Beauty Of Sound On Our Computers
Study video of your favorite racing hero, whether MotoGP, SBK, or Formula One, and listen to the astounding gentleness with which they initiate throttle, most apparent during on-board footage; this gentle initial throttle is the rear suspension and tire load. Then listen to how this initial throttle is held until the corner opens. Hear how the engine note doesn't change midcorner? That's neutral throttle. They are paid to win, and part of that winning is allowing the bike to continue to steer through the corner on maintenance throttle.
It's Okay Not To Accelerate Everywhere All The Time
The missing ingredient in the cornering plan of many riders is neutral or maintenance throttle because it just doesn't seem aggressive enough! Shouldn't we be driving that bike through the corner, accelerating like the devil himself? No, we shouldn't. At Champ school, direction takes precedence over all else, and neutral throttle holds the radius we've chosen at the lean angle we are comfortable with until the bike gets pointed at the exit. Track or street, pro or novice, cruiser or sportbike, fast or slow.
These Next Ride Drills are about putting our focus on specific actions to get specific results. This week, get your brain on the amount of throttle necessary after turn-in and before corner exit. Use initial throttle to stop the bike from turning further into the corner and then make minor adjustments to hold the radius until the corner opens, allowing acceleration. Make it a part of your next ride, a part of every corner, a part of your future riding plans.
More next week!
Having the patience to maintain neutral throttle to allow your motorcycle to turn is one of the most important skills on the track and street.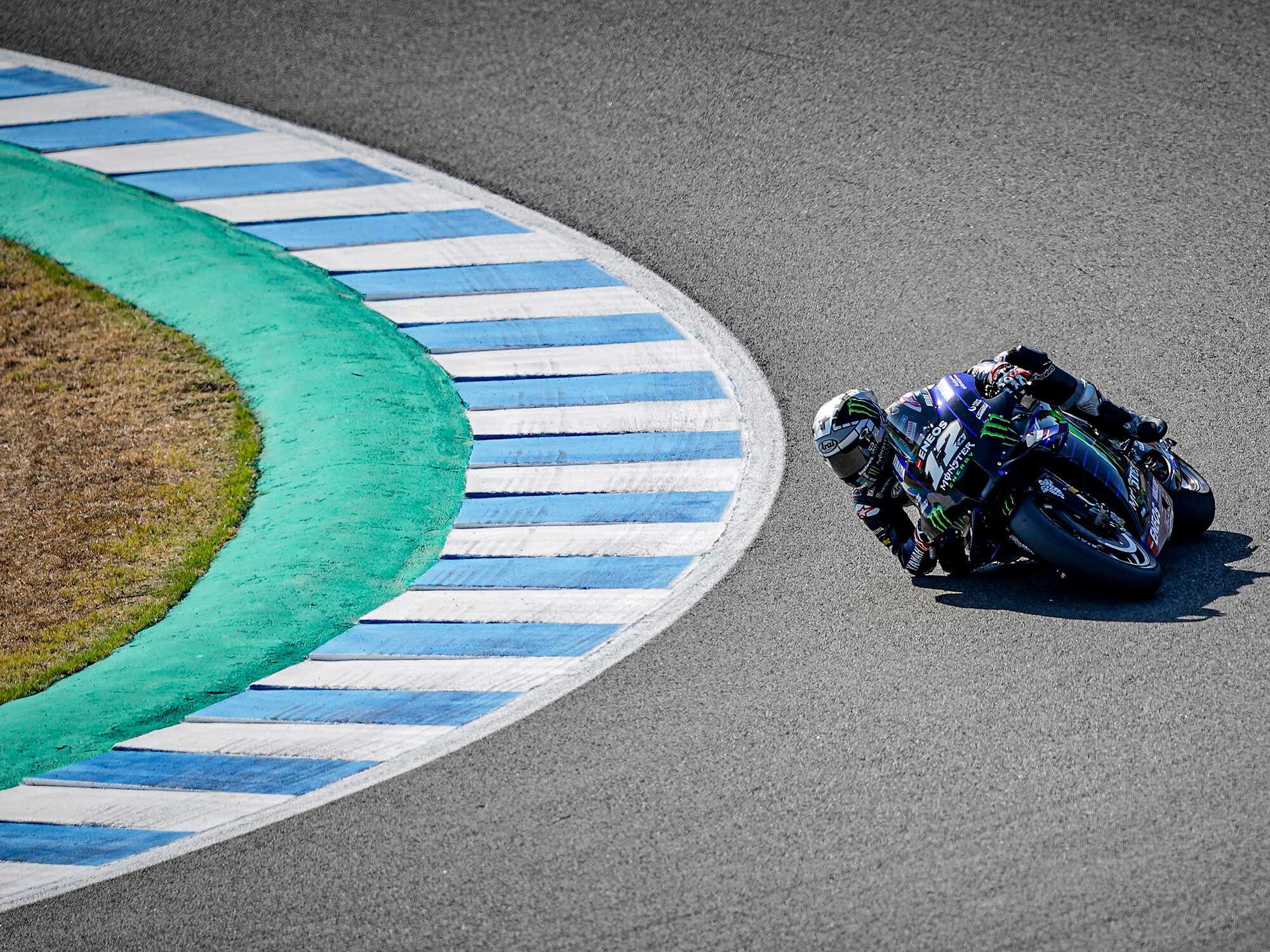 Read More