Kevin Cameron's TD1-B 250 roadracer project presents welcome challenges—like getting proper function from old carburetors. (Cycle World Archives /)
One step in the assembly of my 1965 Yamaha TD1-B 250 roadracer is to find acceptable carburetion among the 10 used carbs and two and a half sets of remote floats that the original owner had accumulated. Not one single carb body would allow easy throttle return. Eight of the 10 had distorted mounting flanges (where an insulating fiber spacer is sandwiched between carb and cylinder). Two of the brass slides still bore most of their original "wear-preventing" chrome plating.
Many a born-again motorcyclist has rolled out a much-beloved Norton Commando, BSA Rocket, or Triumph Bonneville, cleaned the tank and fuel system, performed a basic tune-up, and then been rewarded with a lumpy idle that changes from minute to minute—often with stalling thrown in as a special test. Closer study often reveals that idle would be perfect and steady if a disembodied thumb could be found that would constantly press the throttle slide against the downstream side of its bore (as opposed to randomly rattling backward and forward with every intake pulsation).
When I first laid eyes on early Mikuni VM carburetors in 1968–'69 I noticed that their metering needles and throttle slides were aluminum, their surfaces hardened by anodizing (which converts the metal surface into the hard ceramic aluminum oxide). But I didn't realize the importance of those features; they would not wear out.
When I rode a few novice races on a TD1 in 1967, I became aware of the problems of carb mounting. Each of the two 27mm lead-zinc alloy carbs mounted on a pair of 8mm studs. This became an approach conflict: I wanted to tighten the nuts to prevent intake leakage (air leaks can be death on two-strokes), but if I tightened them too much, throttle slide return became iffy. There I was, approaching turn 3, when suddenly…
Mikuni engineers were well aware of this, and of the problem of engine vibration causing float bowls to froth and overflow, so they pretty much gave up the ideas of separate float bowls and flange mounting on studs. In their place they mounted a rubber-covered steel flange to the cylinder, with a short projecting cuff of flexible rubber into which you popped the carb's circular spigot. The VM's float chamber was concentric with its main system, an integral part of the carb body. A narrow flat steel band and pinch-screw clamped the rubber cuff against the carb, preventing leakage, and a groove in the carb's spigot engaged a narrow rib inside the cuff, preventing backfires from blowing the carb off the engine. Although I didn't appreciate it then, this form of mounting also separated the carb body from the large forces of the flange mounting, absolutely eliminating that as a source of carb body distortion.
For some classic carbs there are machine shops that provide a re-sleeving service. They fixture the carb body on the miller bed and then oversize the throttle slide bore to accept a steel sleeve that restores roundness and reliable slide return. That allows you to begin the distortion process all over again, but for an unspecified period you may indeed enjoy both a stable idle (resulting from reduced slide leakage) and confidence-boosting throttle slide return. Out you roll on your classic machine with its proper classic carbs. Reminds me of poet Ogden Nash's advice on woolen socks: "Wear them once as they're shrinking by."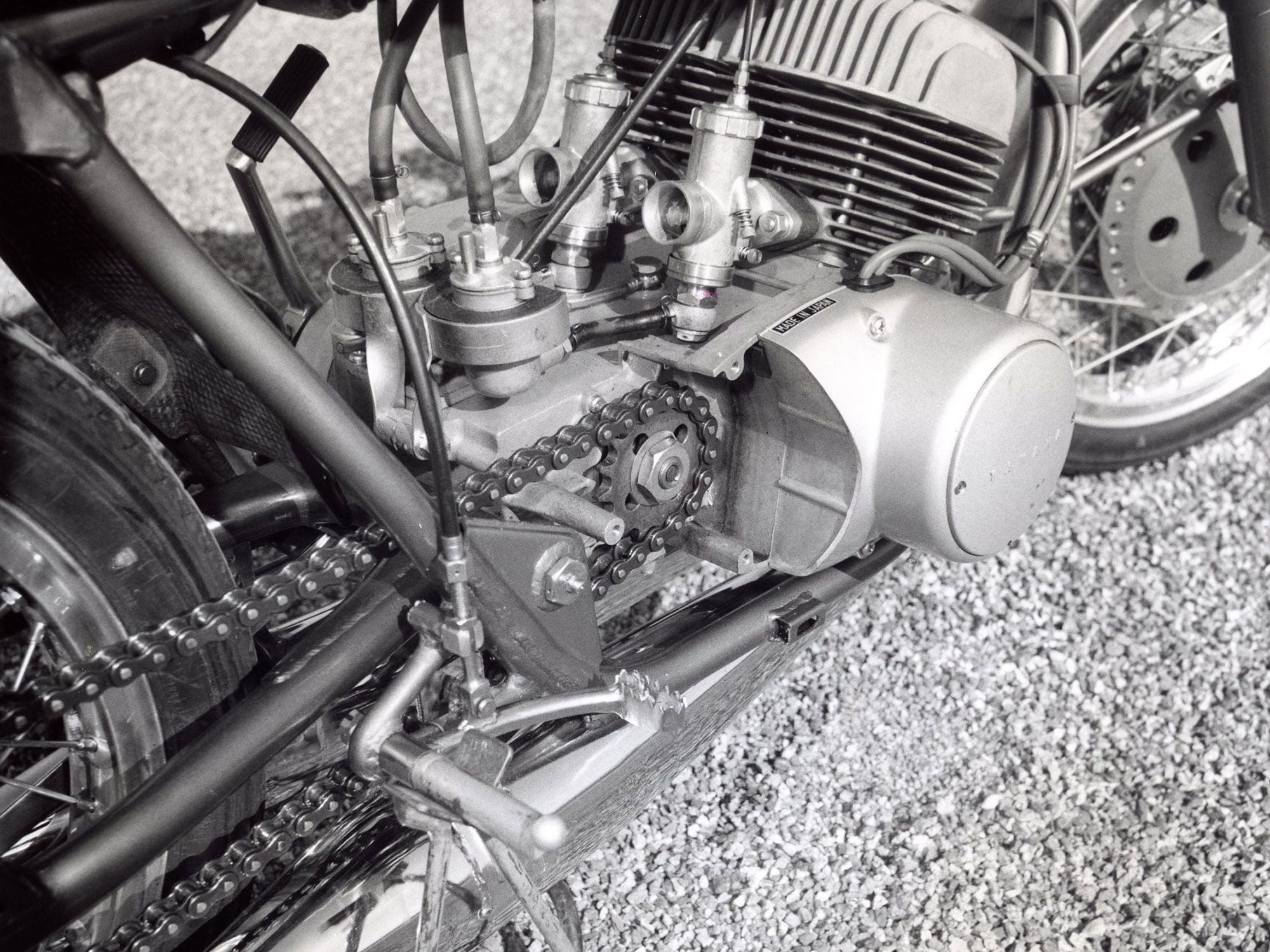 Enjoying a stable idle and proper slide return on an old TD1-B is short lived, but a worthy endeavor for some. (Cycle World Archives/)
At present, the aesthetics of this matter have caused at least one maker of modern bikes to style its fuel-injection throttle bodies to look vaguely like 1960s carburetors. Kind of like making a transistor radio with dimly glowing red filaments inside to remind you of vacuum tubes.
Many a classic bike enthusiast, deciding that it's the experience of riding the classic that stirs their emotions, rather than the 100-point correctness of its every part, will install one of the many Mikuni conversion kits available—some of which convert fussy twin-carb installations to the more pleasant T110-style single carb. Starts, runs, idles. Doesn't leak. Satisfaction.
Sign up here to receive our newsletters. Get the latest in motorcycle reviews, tests, and industry news, subscribe here for our YouTube channel.
I know that many present-day owners of bikes like mine have installed proper electronic ignitions and Mikuni VM carbs, but mine is not a silk purse project. I want to sit with my Okuda Koki meter and piston-motion dial gage to set the magneto's points gaps and timing. I want to see if I can make these terrible original carbs carburate. If I wanted to update, why not also see about having some water-cooled cylinders and heads cast? I could also do away with the crankshaft-mounted clutch by installing a TD1-C crank, longer gearbox input shaft, and full-sized clutch. And so onward to the present day, improving everything until no part of the original bike or experience remains.
I've honed the distorted throttle slide bores until the slides return nicely. I've made the carb mounting flanges flat again. Next comes assembly of carbs and float bowls, leak test, and installation on the bike.
Maybe it will be not only terrible but embarrassing, with fuel dribbling out to wash the upper surface of the gearbox clean. Maybe I'll push the thing, trying various throttle openings, ooo-wahhh-ooo, hoping for a pop that never comes. I have the pleasure of anticipation, of not knowing.