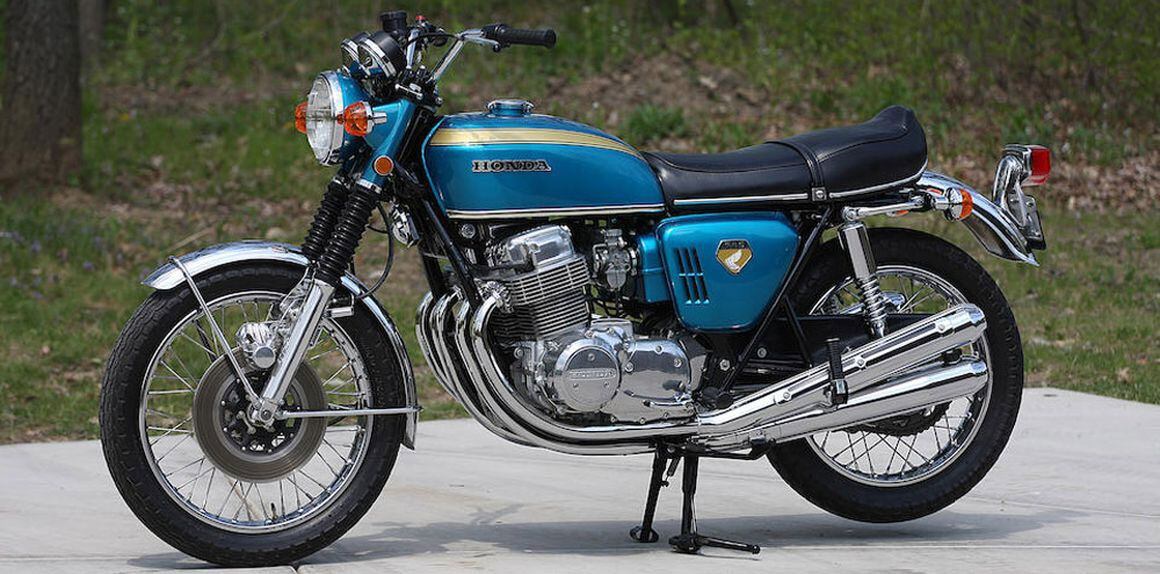 One of the ways the CB750 changed the industry in 1969 was by simplifying production via a one-piece crankshaft and plain journal bearings. Shown is a 1970 model. (Courtesy Bonhams /)
Honda's 1969 CB750 took the marketplace by storm, outselling Triumph/BSA's 750 Triple 10 to one. England did nothing. Advanced Japanese production systems could now build overhead-cam electric-start bikes at pushrod and kickstart prices.
Honda's new four introduced automotive cost control in the form of a one-piece forged steel crankshaft that was carried, not in the traditional ball or roller bearings, but in simple and reliable plain journal bearings. Triumph's Edward Turner had moved in this direction in 1937 by running the 500 Speed Twin's aluminum rods directly on its crankpins, but like Ducati in its long-running twins, he retained rolling main bearings. Motorcycle engines had always used rolling bearings. Soichiro Honda himself was a believer, insisting that his classic four-stroke GP bikes of the 1960s have complex and fabulously expensive pressed-together roller crankshafts, able in the five-cylinder 125 to spin up to 21,000 revs. Today, every single engine in Formula 1, MotoGP, and World Superbike spins on plain journal bearings.
Kawasaki's early big four-strokes like the Z1 continued to use a crankshaft turning on traditional rolling bearings. (Courtesy Wikipedia/)
Plain bearings are sensitive to dirt, but factories were now clean, and use of fine-particle-stopping pleated paper oil and air filters was beginning. A forged one-piece crank had no pressed-together joints to slip, but Honda's fearsome RC181 Grand Prix 500 four in its final year (1967) did suffer instances of slipped joints. Enough. It was time for change. That would take time—Kawasaki and Suzuki in their early big four-strokes continued use of roller cranks (Suzuki's big GS has a role to this day in ProStock drag racing, so Vance & Hines list its own, made-from-new-forgings roller drag crank at $5,500).
Today, some off-road four-stroke singles do have roller rods, but that is more to simplify the oil system than for any intrinsic value in rolling bearings.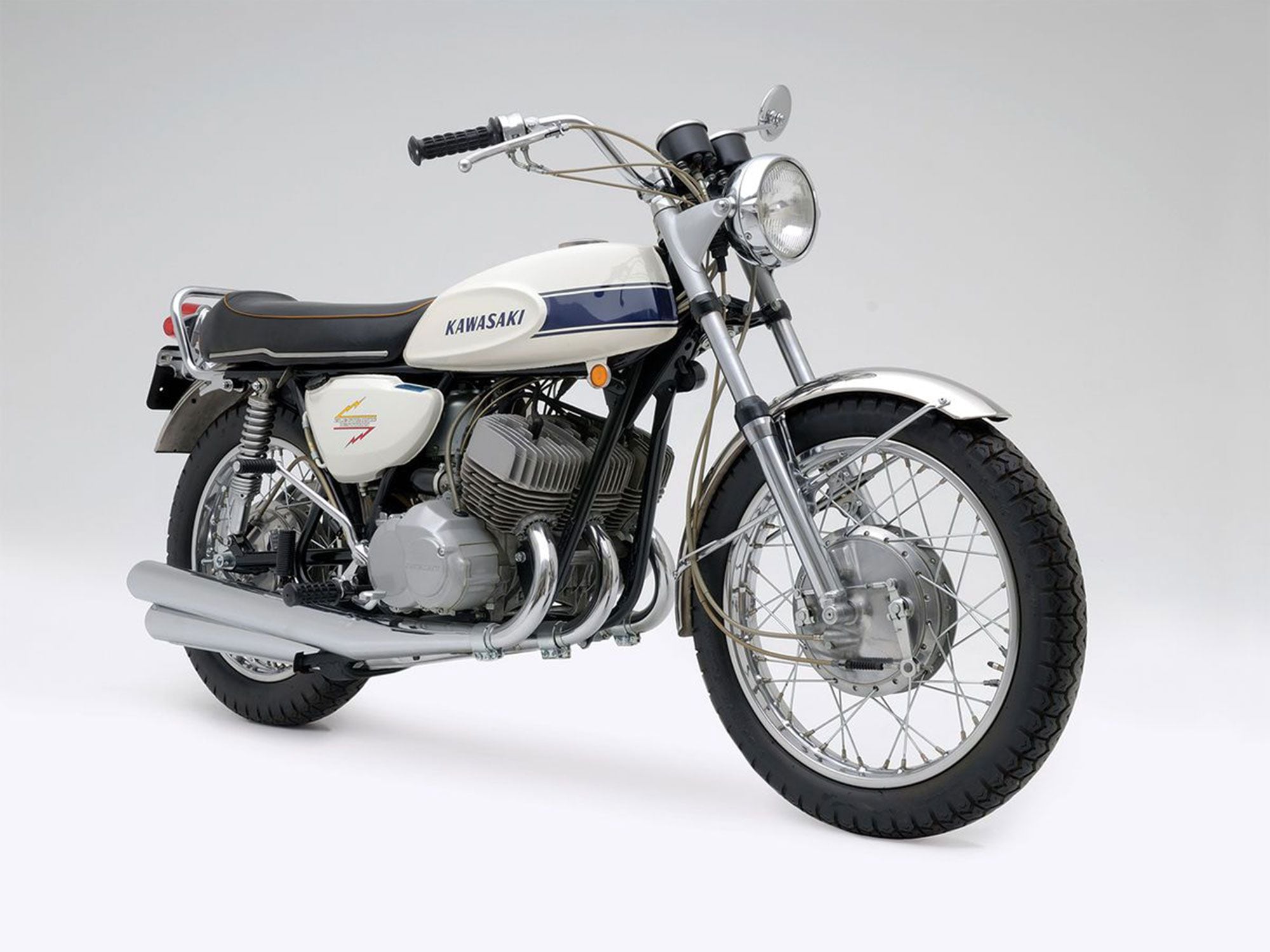 The brand's new two-stroke H1 triples quickly showed their prowess in match races against Bonnevilles and Sportsters. (Kawasaki Archives/)
Kawasaki, inheriting a lackluster BSA-like 650 twin from a subsidiary, in the later 1960s pushed into the US market with high-performance two-stroke rotary valve twins in 250 and 350 displacements. Honda's long experience in that market had given them full coverage from 50 to 750cc, but the relatively bland performance of most Honda production bikes left room for hot rods like the new Kawasakis. In 1969, the former aircraft manufacturer added a 500cc inline-triple, the Mach 1, a bike which quickly became king of the closing-time match races, pushing Triumph Bonnevilles and Harley Sportsters down the pecking order. Talk right and you could ride away on one for under a grand. Yes, they smoked and said "ding," but quarter-mile time slips didn't lie.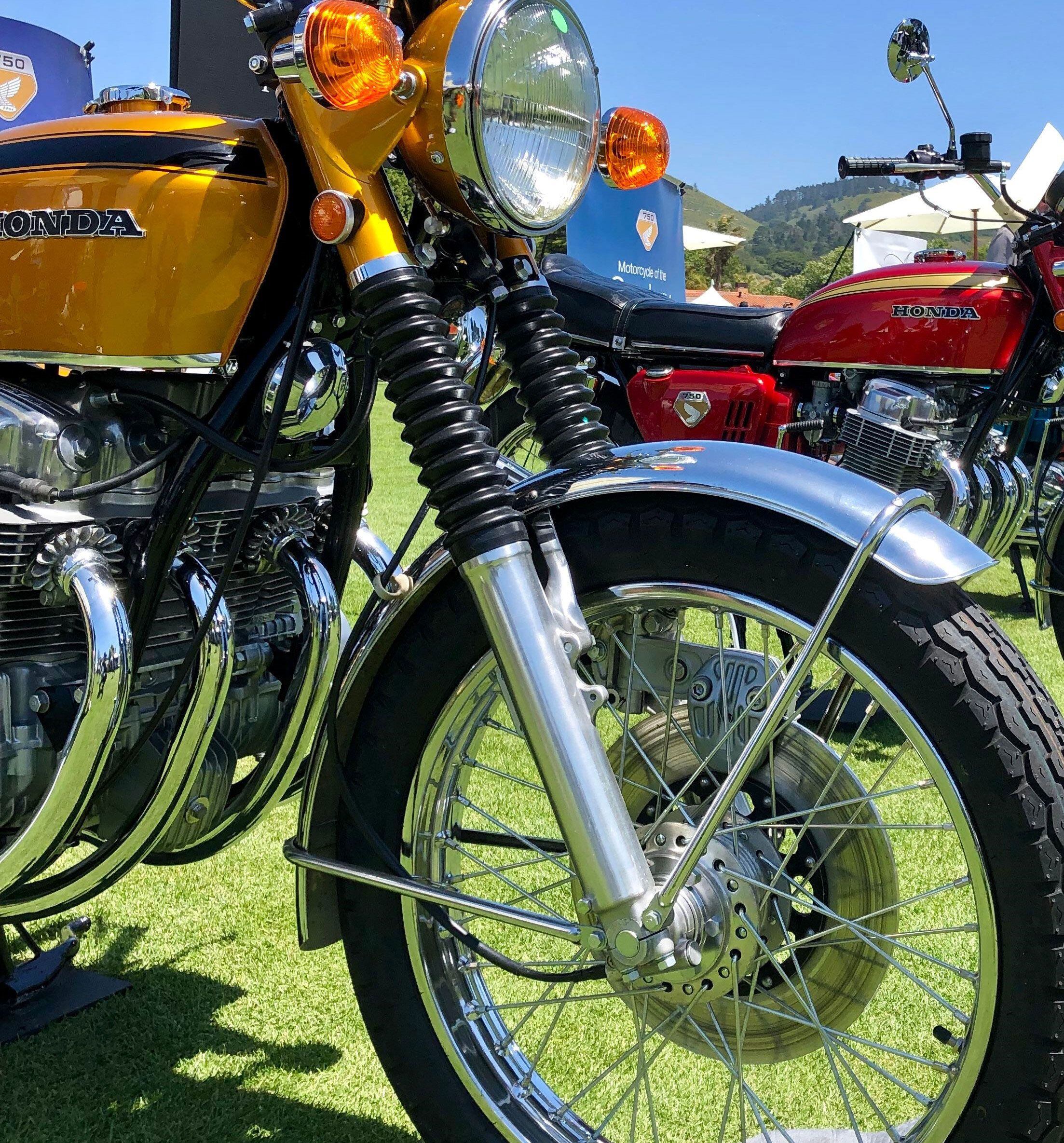 Disc brakes on the CB750 were also a first for production motorcycles of the late 20th century. (Andrew Cherney /)
Disc Brakes Arrive
Honda's CB750 introduced the disc brake to the motorcycle market, but the idea had been played with off-and-on since Jaguar in 1953 used experimental Dunlop disc brakes on its C-type sports racing car to win the Le Mans 24-hour race. Drum brakes could be made very powerful by adding the self-servo action of leading shoes (a geometry in which shoe pressure is boosted by wheel rotation), but this tended to make braking "digital"—either on or off. Disc brakes could be both very powerful and accurately controllable. When our new 1974 TZ250 arrived at Boston Cycles, we sold its outdated big drum brake to a street guy for a hundred bucks (people are paying $2,500 for them now) and put a single 10.6-inch RD350 disc brake in its place.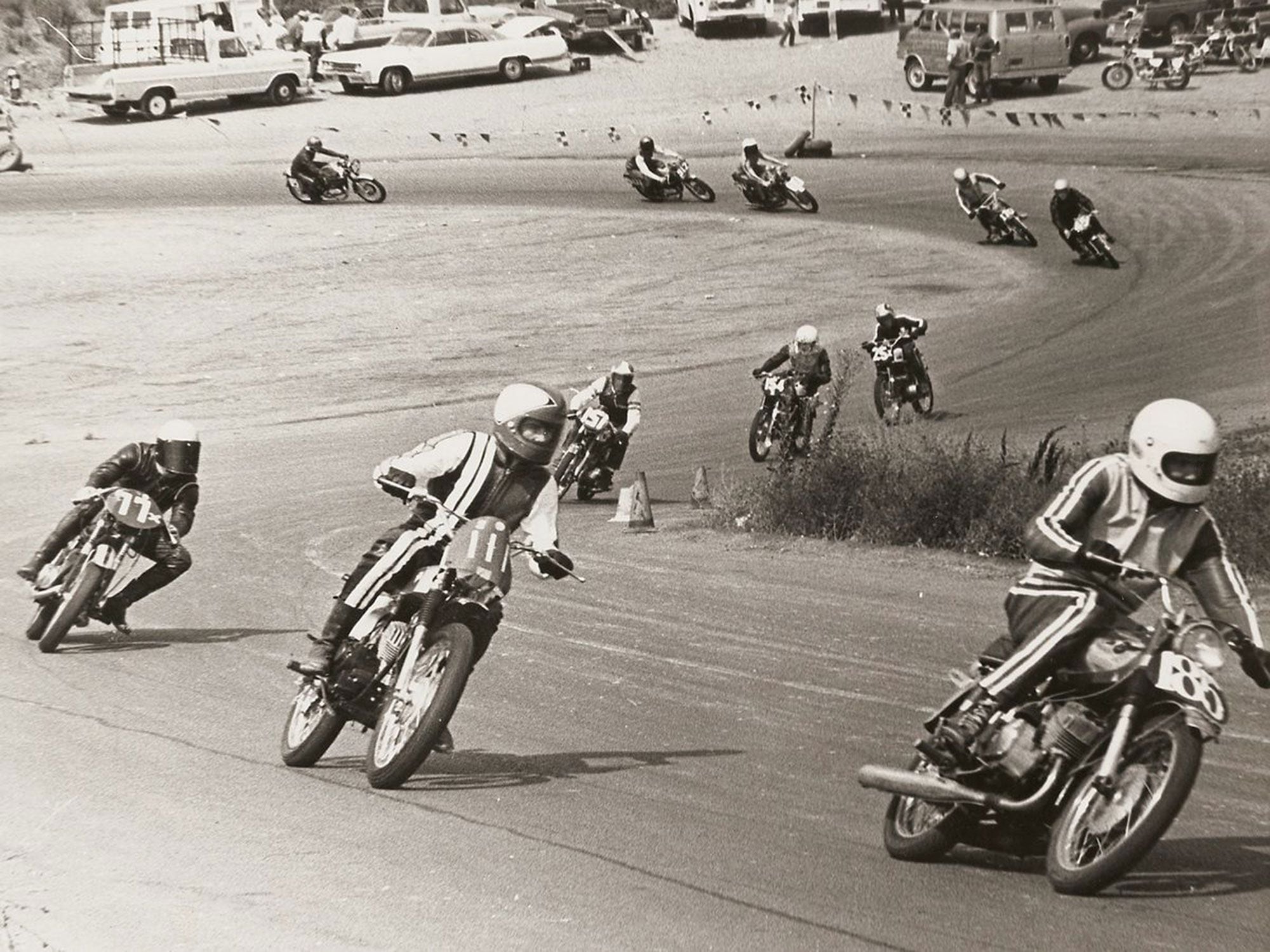 By the early 1970s, more powerful motorcycles were starting to overwhelm the narrow-profile, skinny tires of the day (Motorcyclist Archives/)
The Tire Revolution Of 1972
Little Yamaha 350 twins won Daytona in 1972 and '73 while full 750 two-stroke triples from Suzuki and Kawasaki tore up their tires. In '72, Phil Read on Peter Williams's Norton-based racer was fourth behind three little Yamaha twins, and in '73, Dick Mann on a Triumph Triple was fourth behind three Yamaha 350s. Motorcycling was turning upside down. Everybody was learning fast in racing. When we got to the Dallas national in '73, there was Dick Mann, puzzling over what he was to do with the Triumph 750 twin he'd been issued for the event.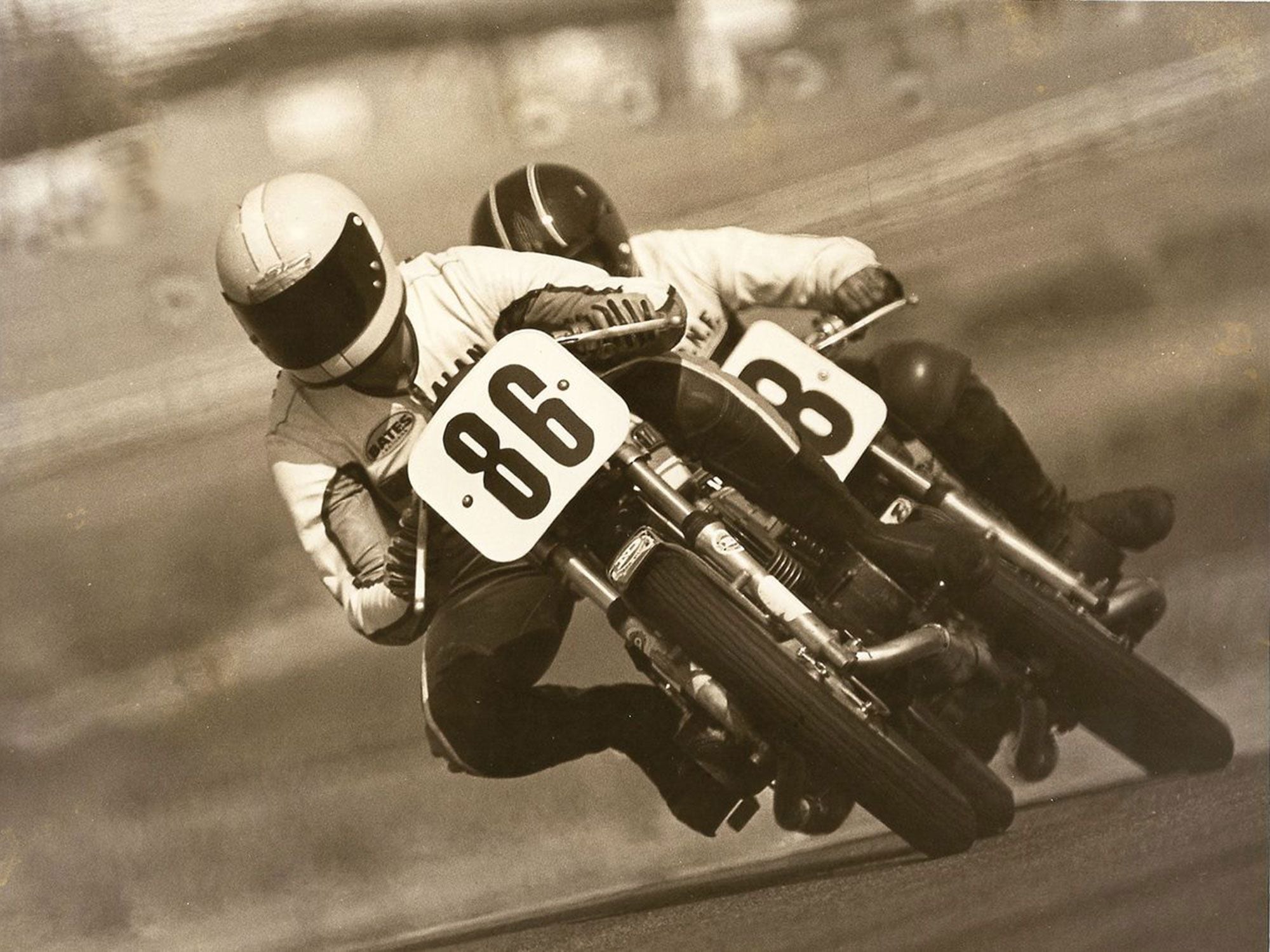 Wider rubber with a round profile and under-tread belts would prove to be the answer. (Motorcyclist Archives/)
Dunlop's Tony Mills saw that what he called "the hard rubber era" was over. To handle the 100-plus hp of the new 750 two-stroke racers plus the added load of the Daytona banking, called for a much wider tire with a round section that laid down a big footprint at all lean angles. Race tires had always been of all-weather design, with deep water drainage grooves molded into their tread. Such grooves made individual tread elements weak, allowing them to flex, generating tire-destroying heat. Mills' new tire retained only a few vestigial grooves—just enough to say so. To stop centrifugal tire growth at speed, he gave his tire a fabric under-tread belt. The modern motorcycle tire of today began with his innovations.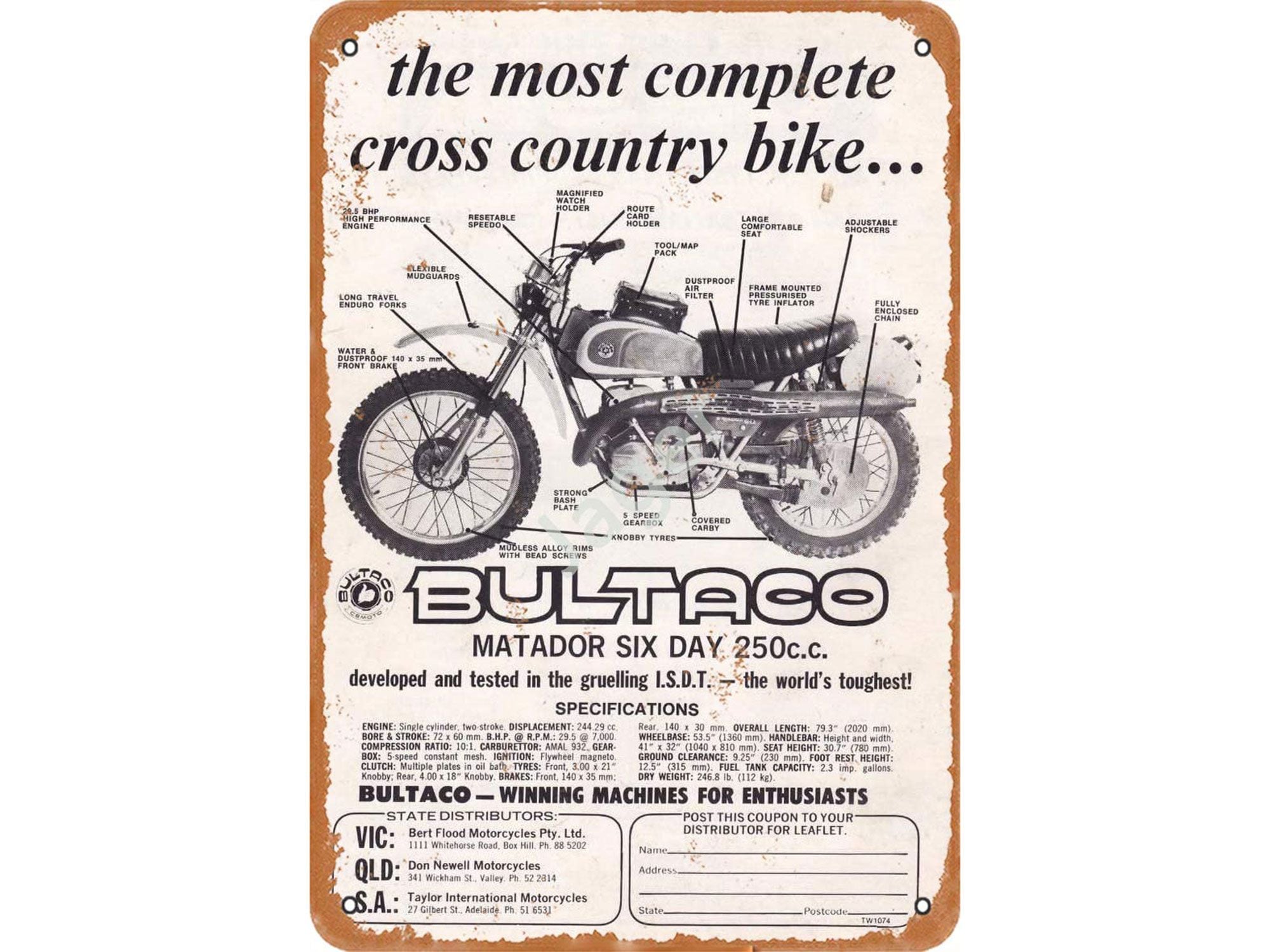 Bultaco saw the possibilities of placing a lightweight engine in a minimal package to appeal to the off-road crowd. (Courtesy Amazon/Jager/)
Off-Road Bikes For Everyone
Back in the "you meet the nicest people" days, it wasn't long before "street 'n' trail" versions of small Japanese bikes appeared, often with a giant bacon-slicer rear sprocket. Bultaco, in mountainous northern Spain, combined the lightweight two-stroke engine with minimalist cycle parts to make off-road bikes attractive to a specialist following. The new European sport of Motocross was transformed by the lightness of two-stroke power. Marketing now took over—if a few purists like off-road sport, where's everyone else? Yamaha's DT-series two-strokes sold briskly and soon great numbers of riders were churning dirt on weekends.
Sign up here to receive our newsletters. Get the latest in motorcycle reviews, tests, and industry news, subscribe here for our YouTube channel.
1974—Long-Travel Suspension Arrives
There's nothing like active competition to inspire ideas. Up to the beginning of the 1970s, motorcycle chassis and suspension had evolved along 1950-60s lines, following the epoch-making Featherbed twin-loop frame designed for Norton in 1950 by the Irish McCandless brothers. Rear suspensions offered roughly 3 inches of travel—plenty for traditional street riders, but the impacts and jump landings of the expanding off-road market soon uncovered an underlying principle: a suspension's ability to absorb energy is proportional to the wheel travel, squared. In practical terms that meant you could leave the 3-inch people far behind by extending suspension travel, and enjoy the victory party while the short-travel riders took to their beds with hot compresses.
Rethinking Suspension Dampers
And here came another discovery: Traditional rear shocks, even though designed to have 90 percent of their damping on the rebound stroke, felt like they were locking solid at the high damper-rod speeds of off-road riding. It was a case of simultaneous invention—when engineers at Honda, in the US aftermarket, and elsewhere, actually measured damper-rod speeds in the field and tried to simulate them in their labs, damper rods broke just as they were breaking on MX tracks everywhere.
Simple compression damping just pushed oil through an orifice, converting suspension energy into the kinetic energy of a fluid jet. The nature of fluid resistance is that the pressure necessary to produce this jet rises as the square of speed. This quickly reached a state of "orifice limitation"; it effectively locked solid at higher damper rod speeds. Engineers quickly came up with variable-orifice compression systems (usually, flexible washers covering many orifices) that prevented this, and soon found they could tailor any desired curve of resistance-versus-damper-rod velocity. This tailoring is what "re-stacking your shock" is all about—using combinations of bending washers and shims to achieve the desired damping curve.
RELATED: Kawasaki Z1 – CLASSICS REMEMBERED
Racers had long known that it was best to time your upshift off Daytona's last infield turn 5 to occur just as you hit the transition from the flat onto the 31-degree banking. If you didn't, the combination of damper compression lockup and being under power could send you sliding.
Strange to say that problems first encountered in the Spanish mountains and on 25-hp 250 MXers produced a revolution in road bike and roadrace suspension, but that's just what happened.
Three fundamental changes launched the modern late-20th-century motorcycle—Tony Mills' wide, round-profile tire on a matching wider rim, long-travel suspension, and the engineered suspension damping curve.
Wider Tires
Back in 1971, we were told what a privilege it was to have a rare WM4 rear rim 2-1/2 inches wide between flanges to give a proper foundation for present-day wide tires. (They'd been made especially for the anticipated but unrealized 1968 500 battles between Mike Hailwood on Honda and Giacomo Agostino on MV. Today, powerful motorcycles have rear rims 2-1/2 times wider than this—6.25 inches.) In 1974, Yamaha's TZ750A was delivered with a 3-inch (WM5) rear rim and we later mostly used 3.5-inch. But 20 years later those tire and rim sizes, which were huge in our eyes at the time, were being used on little 250s!