Kawasaki surprised the motorcycling world last October by announcing it had acquired Bimota, the Italian brand created by Massimo Tamburini back in the early '70s that he turned into a legend with his creations. Bimota was known for its technical excellence and supreme design finesse, but after Massimo was forced to quit his creation, the firm went from bankruptcy to bankruptcy in the hands of totally incapable managers and entrepreneurs before finally shuttering its main facility in Rimini sometime in 2017.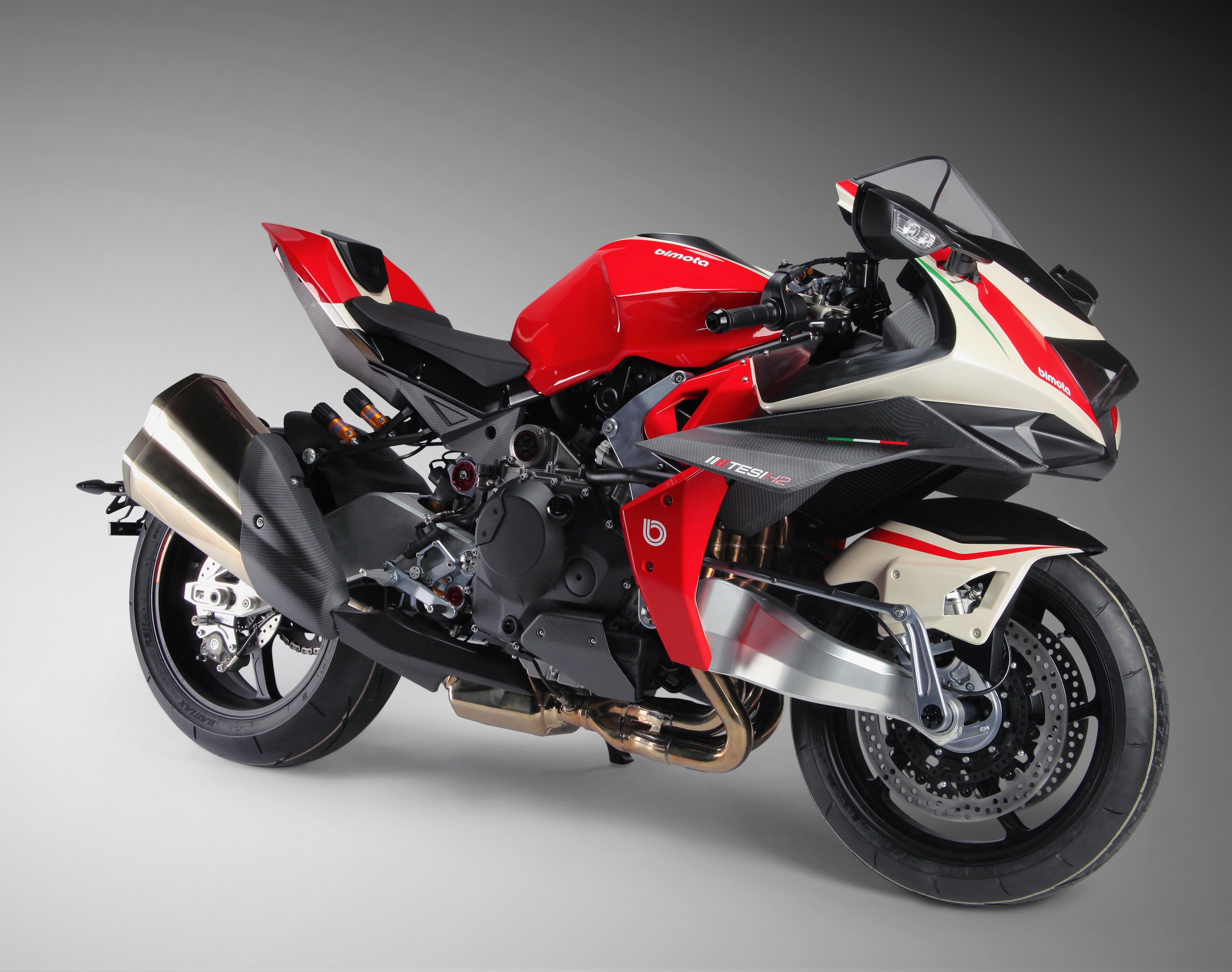 The most powerful Bimota Tesi to date is now in production. We expect the first units to hit showrooms sometime in October. (Bimota/)
Finally, Kawasaki—a real motorcycle company, and an immensely powerful one at that—came along and scooped up what was left of Bimota the brand, investing all that was needed to build a new factory and hire a team of top engineers and technicians led by Pierluigi Marconi, who himself was first hired by Tamburini years ago. In those early days, under the guidance of the Maestro, Marconi had created the most exclusive and iconic Bimota model ever, the Tesi. The Tesi lived a bumpy life, but Pierluigi kept refining it, and when Kawasaki came knocking, its top management decided it wanted a new generation of the bike to be the first model to enter production and celebrate the historical resurrection of Bimota.
Kawasaki has invested time and resources to rebuild the once-legendary brand and launch a next-gen Tesi. (Bimota/)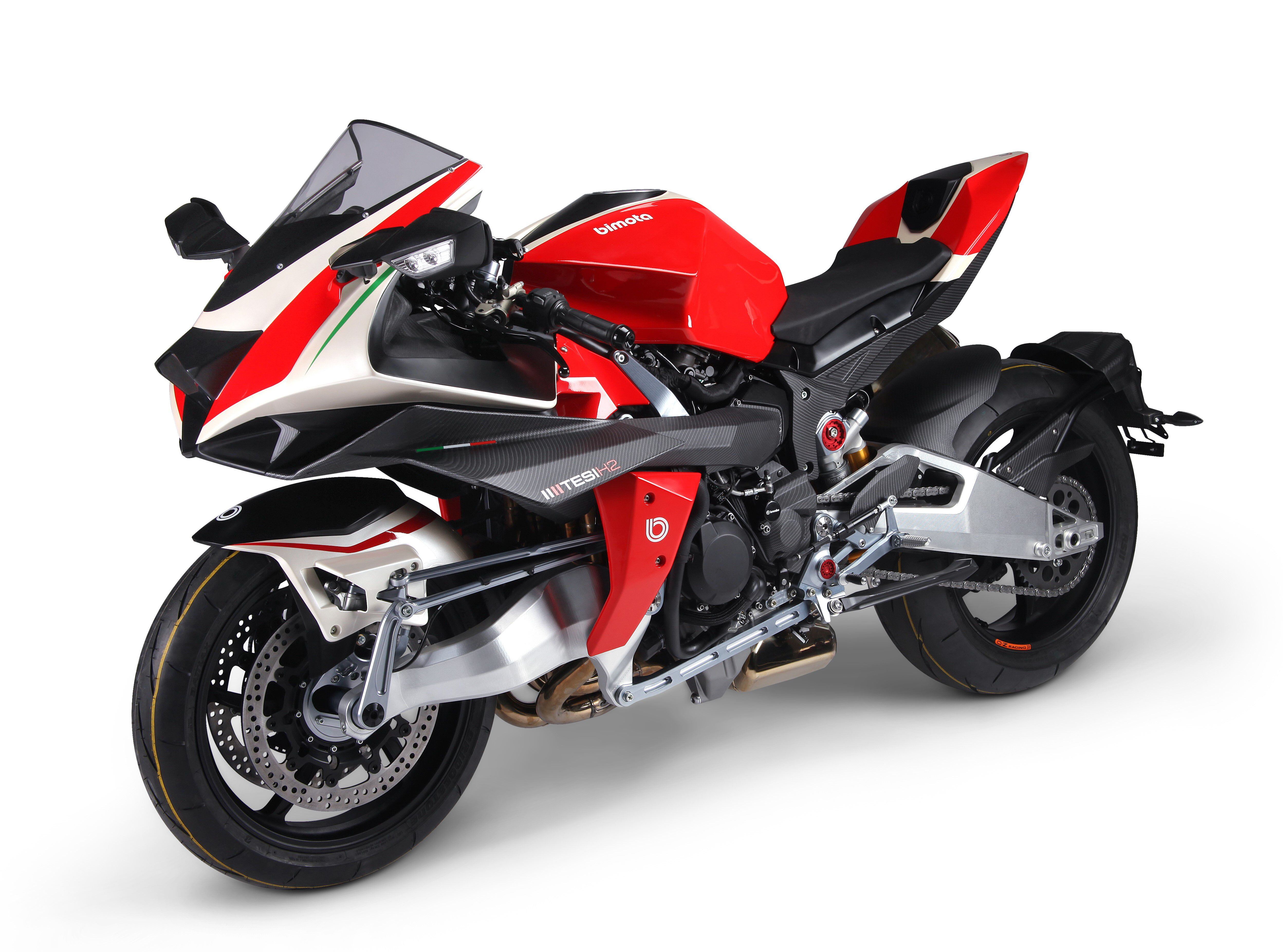 The refined hub-center steering system combines aluminum billet components with precisely balanced geometry. (Bimota/)
The Tesi H2 was unveiled at EICMA 2019 and it was a blast. Pierluigi Marconi had worked with his head down through the worst of the pandemic to button up the new factory all while validating the new Tesi H2 and setting up production, a massive effort that Kawasaki supported wholeheartedly. The end result is the fastest, most powerful, and most sophisticated Tesi to enter production; deliveries are expected to start by early October. Kawasaki supplies its mighty Z H2 supercharged 998cc four in the new Tesi, and Pierluigi has duly harnessed it within the most refined hub-steering chassis ever. In fact, the Tesi H2 now features a very accurately balanced steering geometry that extracts the best possible benefits from the unique front end structure by combining a very agile 21.3-degree steering rake with an extremely stable 117mm (4.6 inches) trail. All the front suspension and steering components are machined from top-quality aluminum billet to ensure total reliability while positively handling the claimed 231 hp and 104 pound-feet of peak torque generated by this special edition of the Kawasaki Z H2 unit (officially, the numbers are listed as 228 bhp at 11,500 rpm).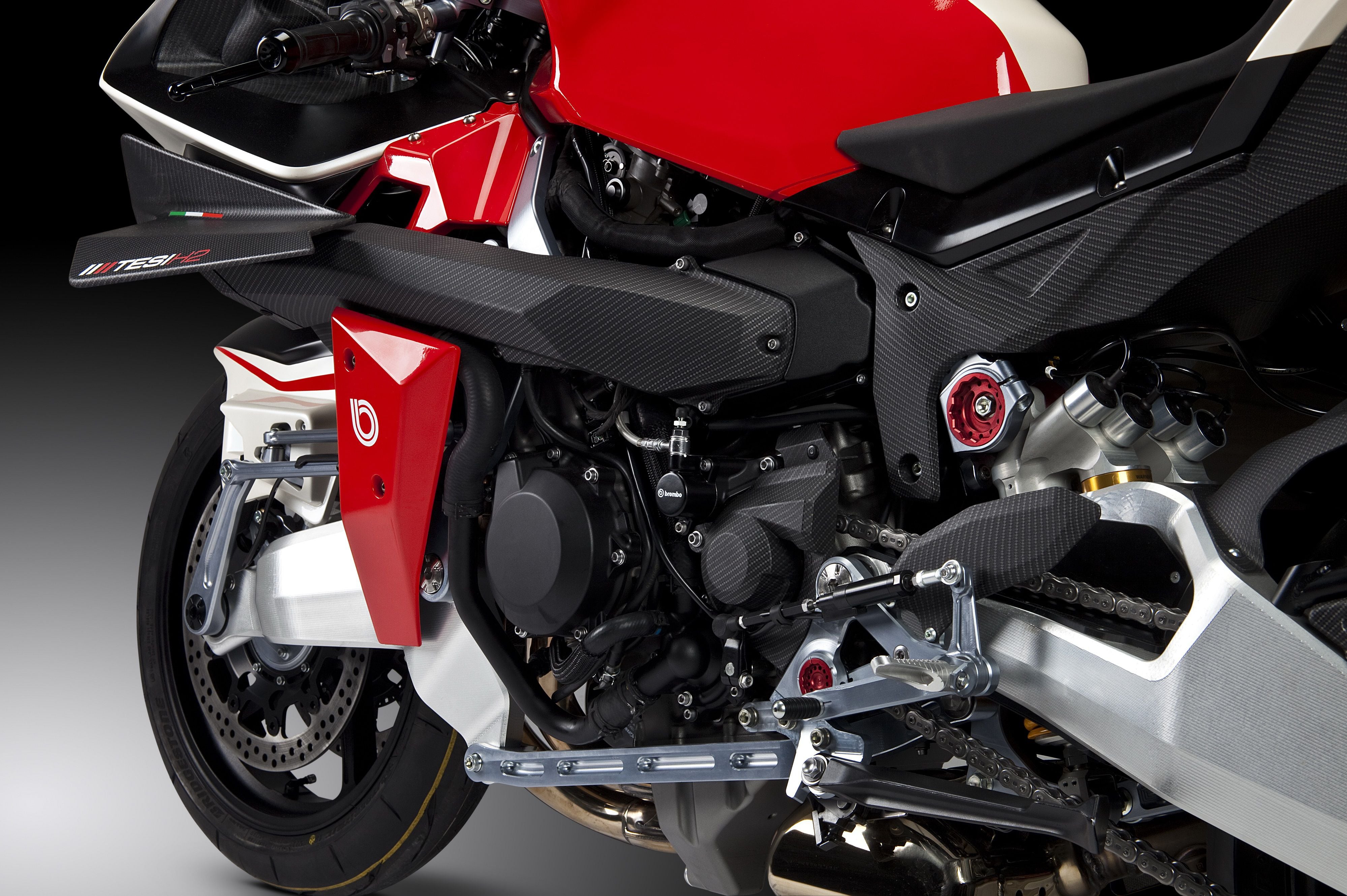 Kawasaki's 998cc Z H2 supercharged engine takes center stage in the new Tesi, and from what we know, it's mechanically unchanged. (Bimota/)
That power is said to increase to 242 hp when the airbox is in full self-supercharging mode at maximum speed. Two duly contoured plates machined from solid high-tensile aluminum billet are what it takes to solidly harness the engine and locate the front and rear swingarm pivots. The chassis spans a 56.9-inch wheelbase that ensures a very balanced weight distribution. Dry weight has been kept at an agile 456 pounds and seat height is a slightly tall 33 inches, while the Tesi H2 rolls on 120/70-17 front and 200/55-17 radials. Wheel travel is kept at a moderate 100mm (3.9 inches) in front and 130mm in the rear, and the front end geometry ensures a natural anti-dive effect. This produces substantial advantages under heavy braking with very limited weight transfer for maximum stability while utilizing the supreme deceleration generated by massive twin Brembo 330mm rotors and four-piston Monoblock calipers that make up the front brake system.
Kawasaki's top-shelf electronics suite is said to be making its way to the Tesi as well. We expect that to include the five-axis Bosch IMU with launch/traction control and various ride/power modes. (Bimota/)
RELATED: Bimota Tesi And Supercharged Kawasaki Are A Rad Combination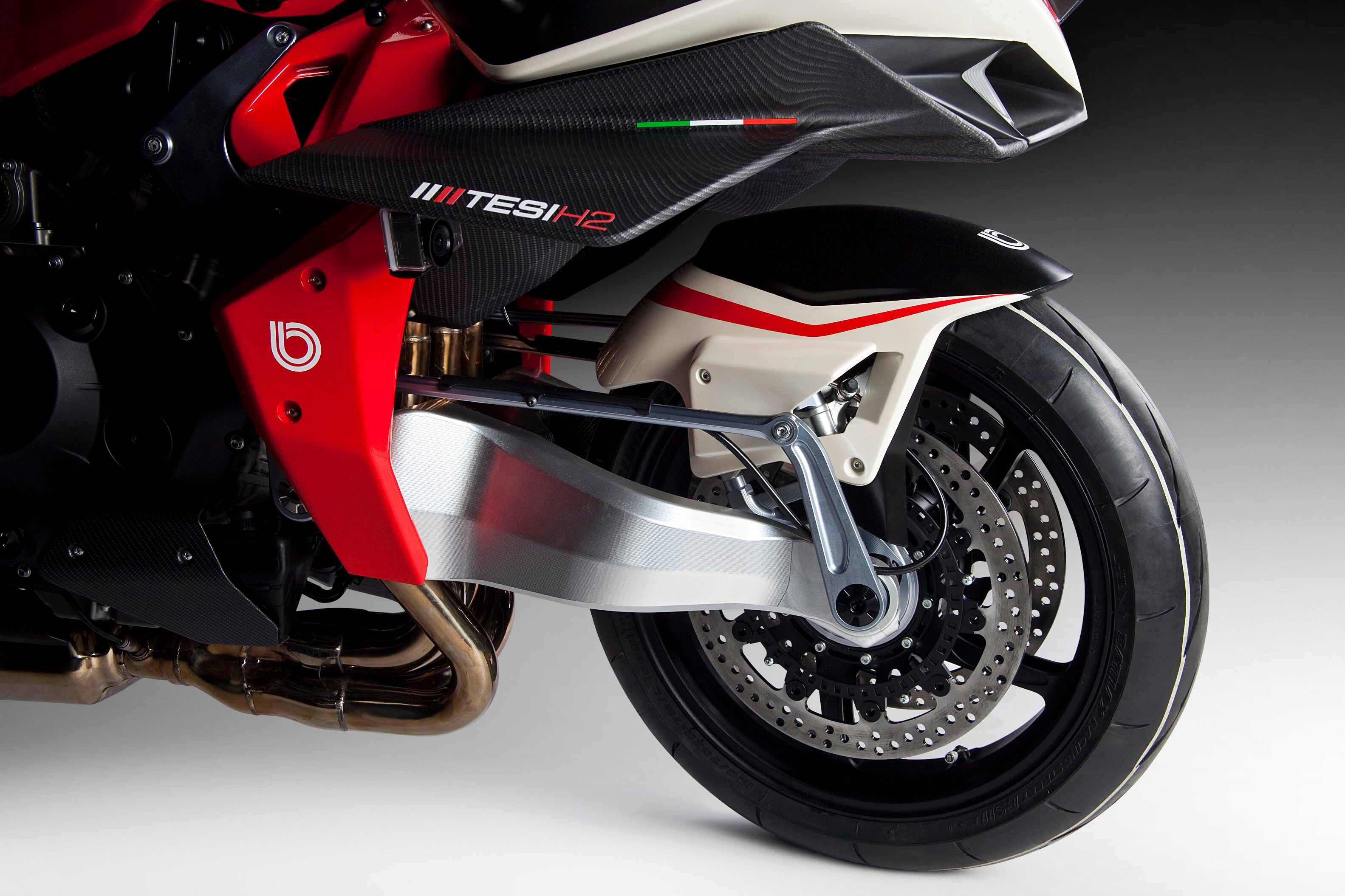 The hub-center steering system and front swingarm suspension. Carbon fiber and aluminum materials throughout help keep weight down while a robust Brembo system hauls down the goods. (Bimota/)
Sign up here to receive our newsletters. Get the latest in motorcycle reviews, tests, and industry news, subscribe here for our YouTube channel.
The Tesi's unique front end view. Although it sources the H2 engine, the Tesi will likely be quicker than the H2 due to its weight advantage. (Bimota/)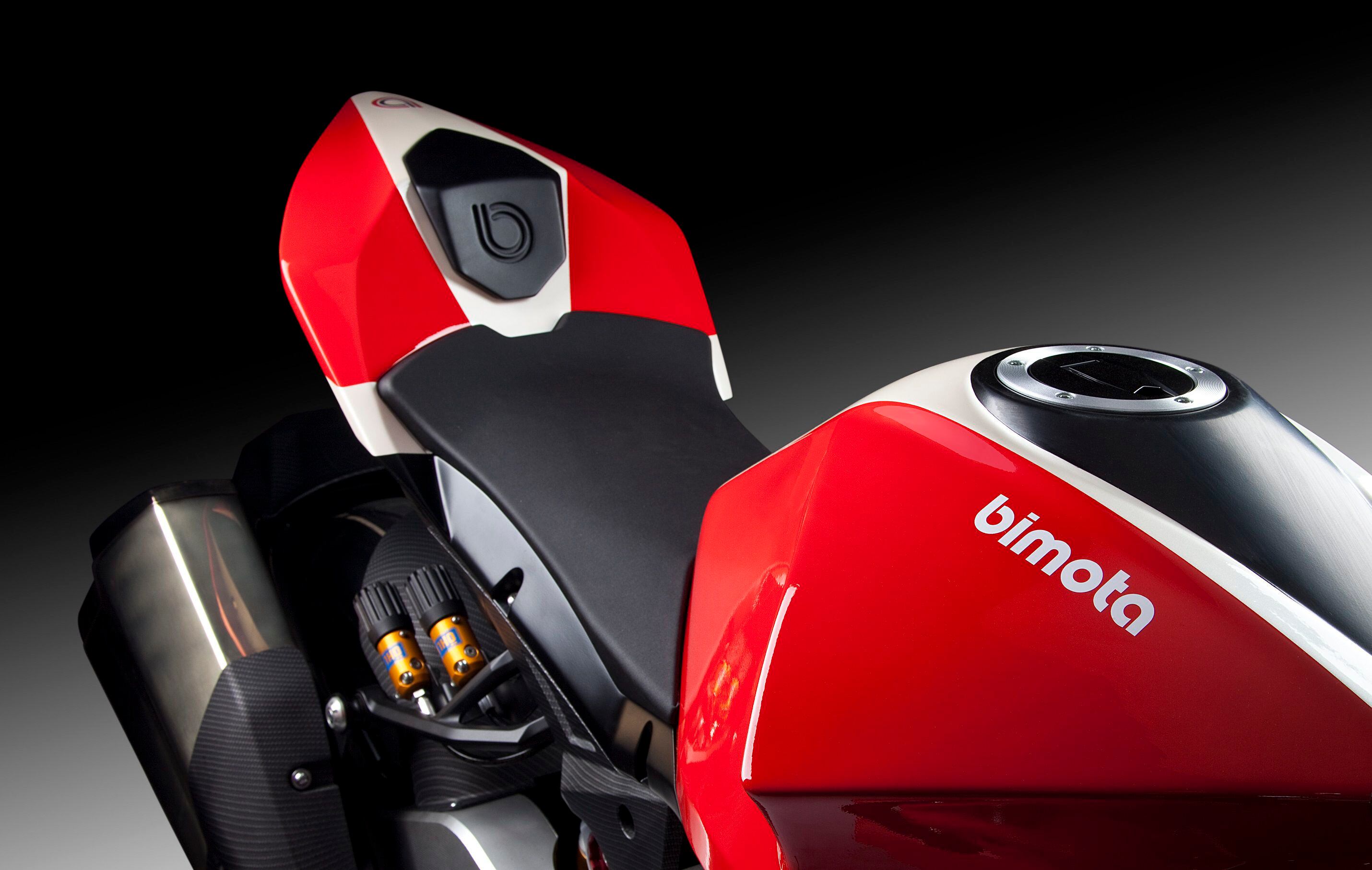 Refined design all the way up to a flat, tallish 33-inch saddle. (Bimota/)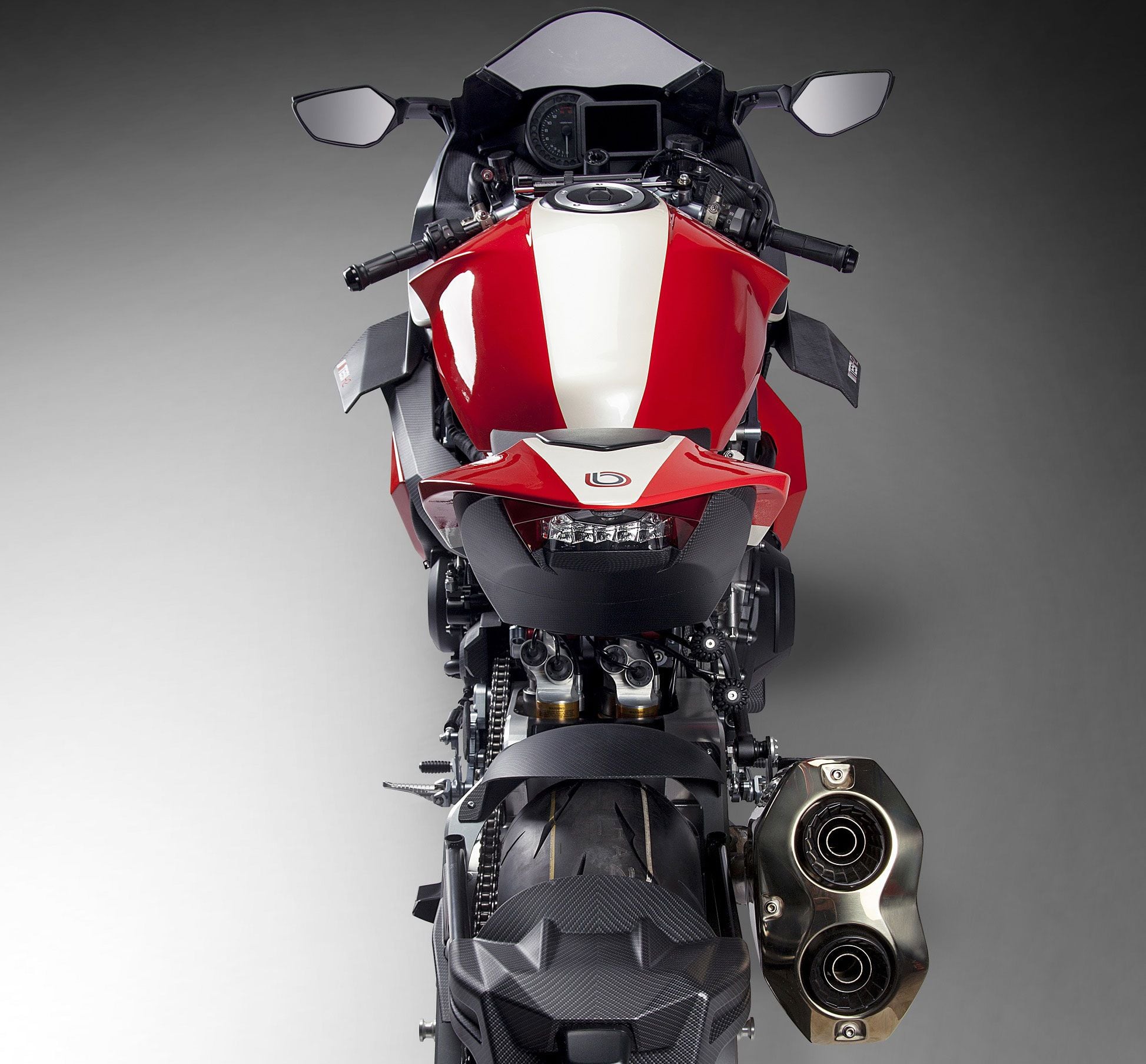 The Bimota Tesi H2 from the back. (Bimota/)
Kawasaki transferred all the components of its top-class electronics suite to Bimota, while Bosch supplied its impeccable six-axis inertial platform. All body components are made from carbon fiber for lightness and maximum rigidity. The first batch of Tesi H2 models to be manufactured will total 250 numbered units, that in Europe are priced at 64,000 euros (approximately $75,800); frankly, it's an inviting price for the most exclusive bike available today, one that combines sublime Japanese power and unique Italian creativity. There is one con for now however: The final graphic package appears less than refined. In my view, the single-color red prototype Tesi H2 looked much cleaner.