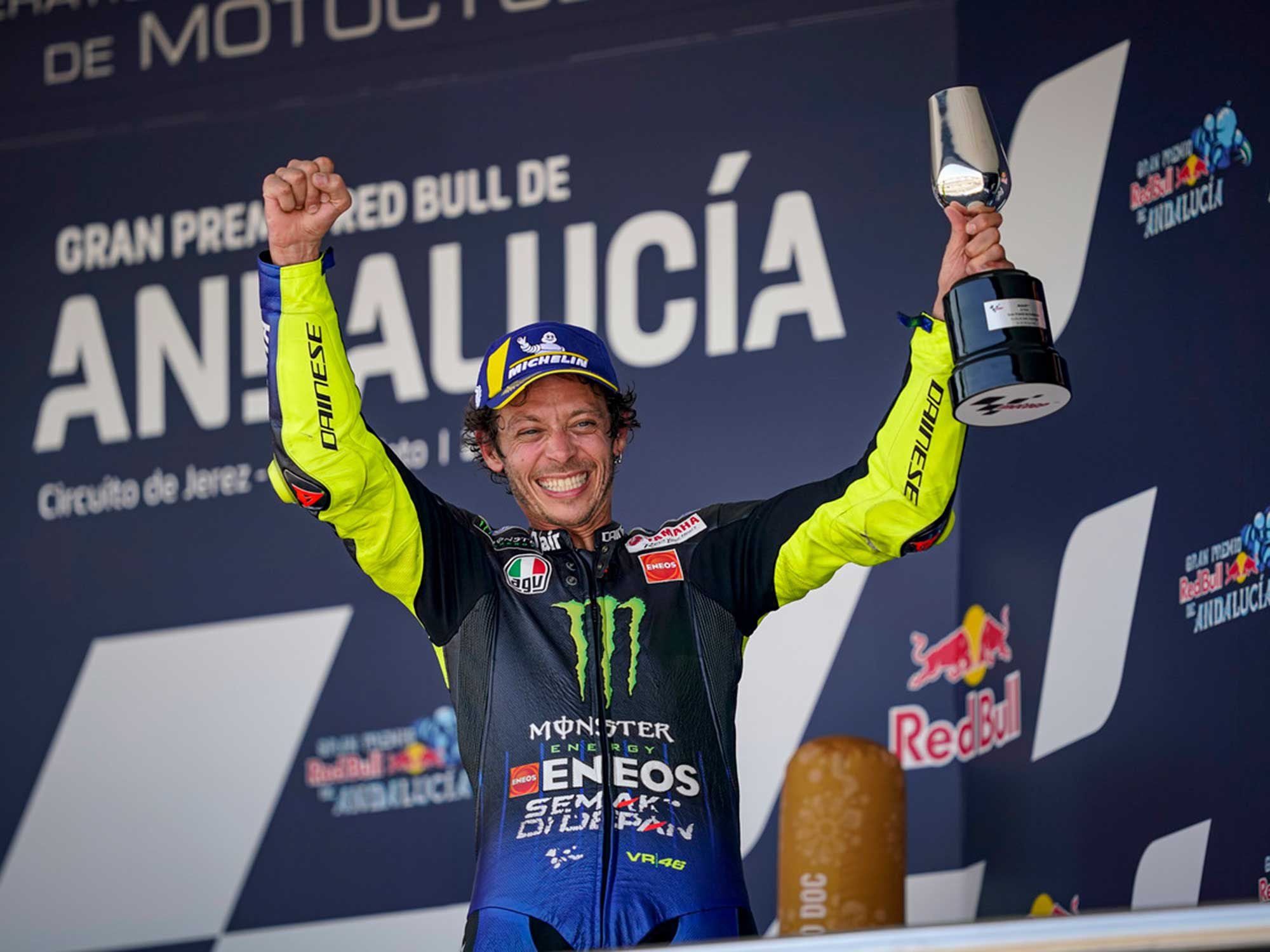 Valentino Rossi's third place finish at the Andalusia GP was his first podum in more than a year. (Yamaha MotoGP/)
Numbers are numbers. For an engineer, they are like the Bible. And for the Doctor? Numbers have always been in Valentino Rossi's favor. He has won nine world titles, and he can proudly say he wrote much of Yamaha's modern-day history in MotoGP. Consider: Rossi was the architect of Yamaha's resurrection back in 2004, winning four world titles in MotoGP with it (2004, 2005, 2008, and 2009), along with 56 race wins and 142 podium finishes (out of 199).
Can you imagine his feeling when the numbers began to go against him? Last year Rossi stepped on the podium only twice (in Argentina and Texas), while his teammate, 25-year-old Maverick Viñales, scored two wins and a second place, and 21-year-old Fabio Quartararo scored five podiums in 2019 and two victories in a row this year.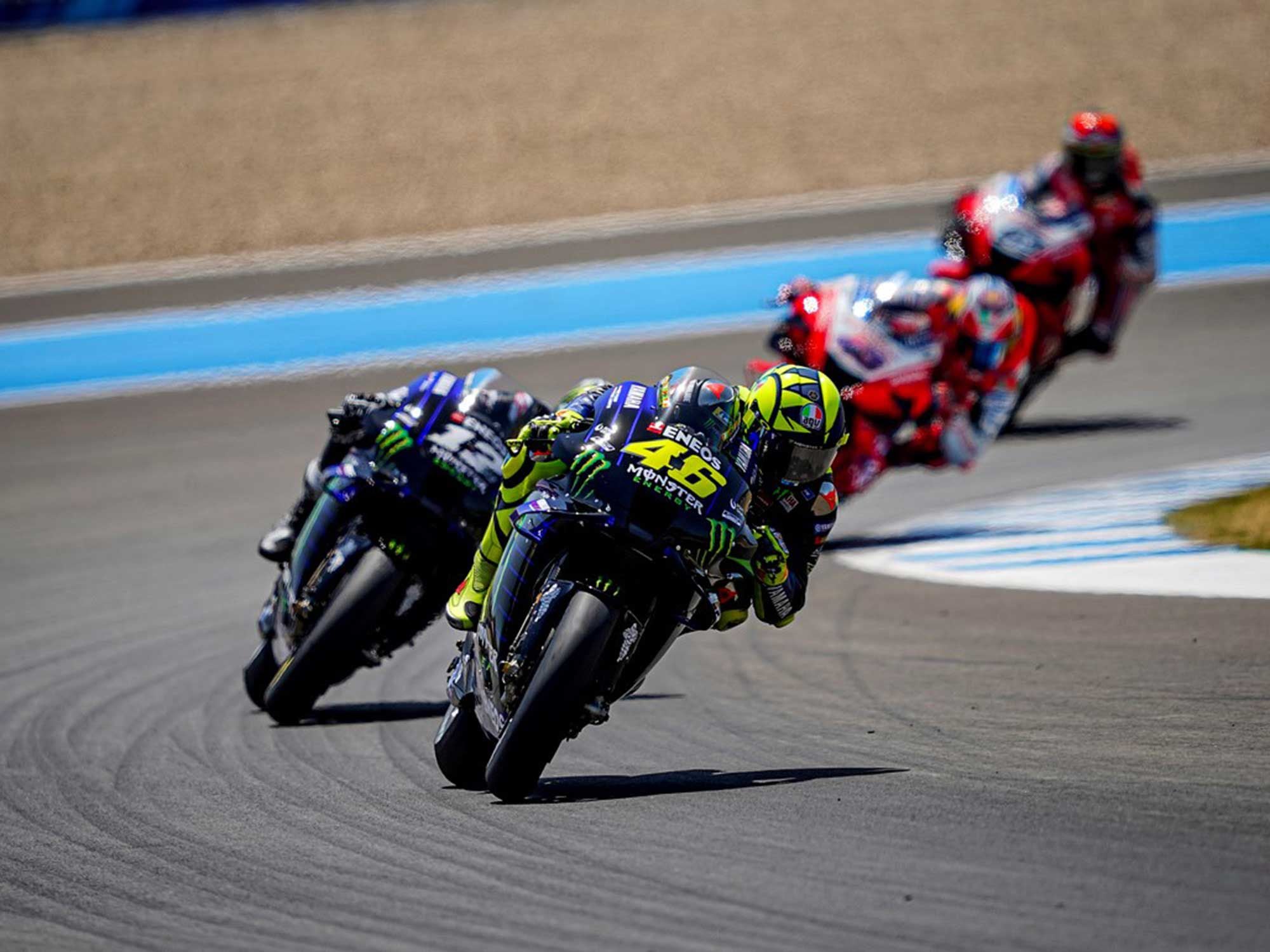 Rossi was frustrated with his bike's setup most of last season, with the troubles continuing into 2020. (Yamaha MotoGP/)
When Valentino asked for different settings to address the excessive degradation of his bike's Michelin rear tire, Yamaha told him, "Viñales and Quartararo are faster, learn from them!" The Doctor had to overcome Yamaha's "politics" to make setup changes for the Andalusian Grand Prix, and what he asked for was a sort of return to the past, despite the fact that the bike he rides today and its tires are different. The swingarm pivot was modified with the pivot fixed at its lowest point, for a solution that aims at finding more grip. The work, that also involved the suspension and the electronics, was defined as "radical," by Yamaha Racing boss Lin Jarvis. The end result? Rossi returned to the MotoGP podium for the first time in 17 races. From Sunday, the numbers speak again in his favor.
What was the key to this turnaround?
Valentino Rossi: Yamaha struggles more than other manufacturers with the degradation of the rear tire. At the end of 2018, they changed the bike's settings to better adapt to the tires. At the beginning it looked like this new balance was working better, but then we started to have many problems. I couldn't ride it well, while the bike was working well for other Yamaha riders.
What was Yamaha's reaction to your requests?
"You need to learn from Viñales and Quartararo," they told me. I can understand [that], in a way because they are faster. I have always had a good relationship with Yamaha and I have the brand in my heart, but in a way, it was not [an] intelligent thing to say because I'm riding with them this year and also the next one.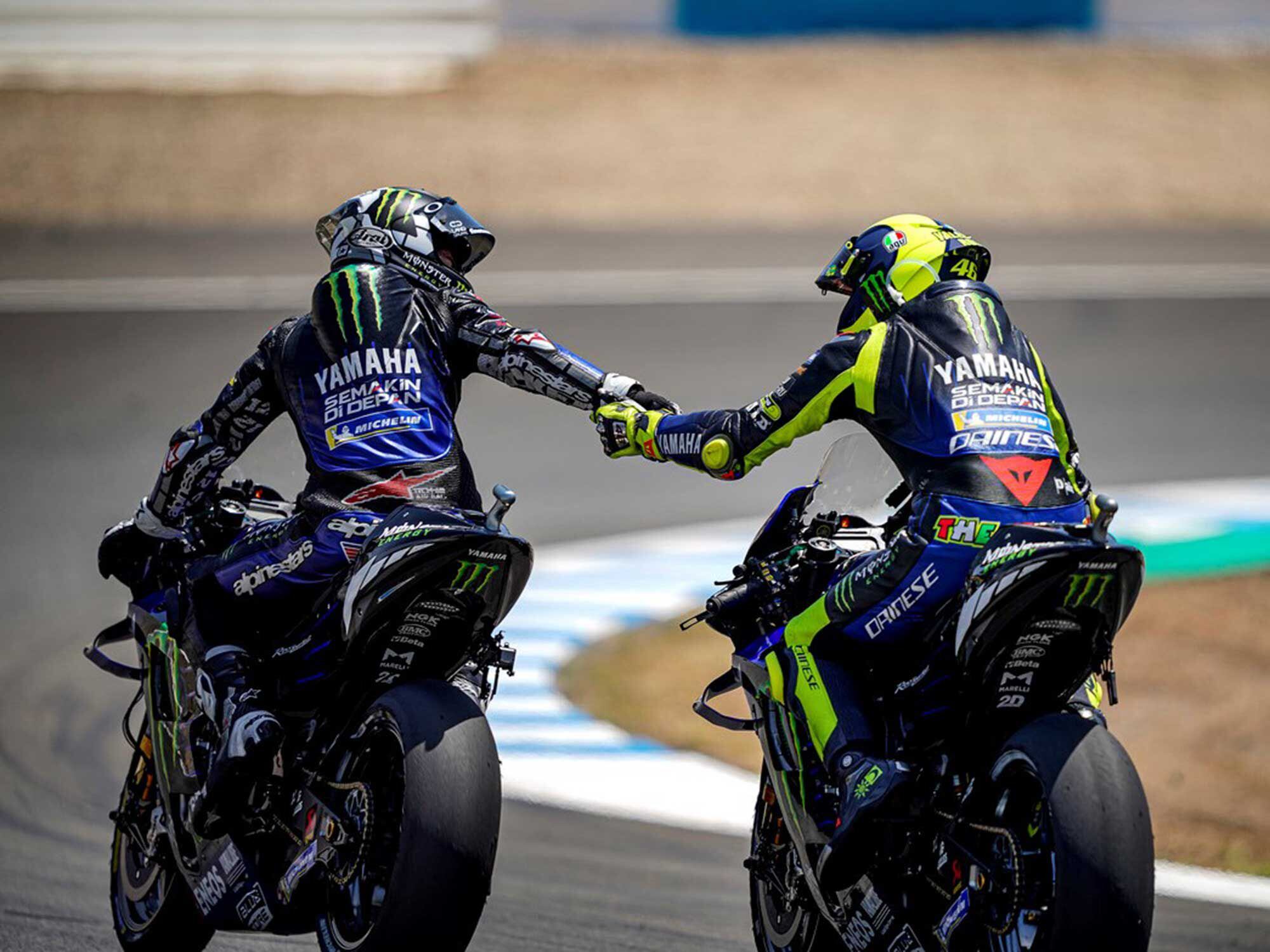 Rossi's Yamaha teammate Maverick Viñales started the season strong. (Yamaha MotoGP/)
And this is after all the history you have with Yamaha in MotoGP?
It was like this. I think at some races last year, like Valencia, Motegi, and Aragon—also the first round at Jerez this year—it was too bad to be real. I may be old, but I said to myself, "Not like this." It was so frustrating. I returned to the garage, looked into the eyes of my mechanics, and…we didn't have words.
Did you think about giving up?
We said, "Maybe it's time to stay at home." But because I had already made the decision to race next year, I was also a little bit worried as…I didn't have fun when I rode the bike.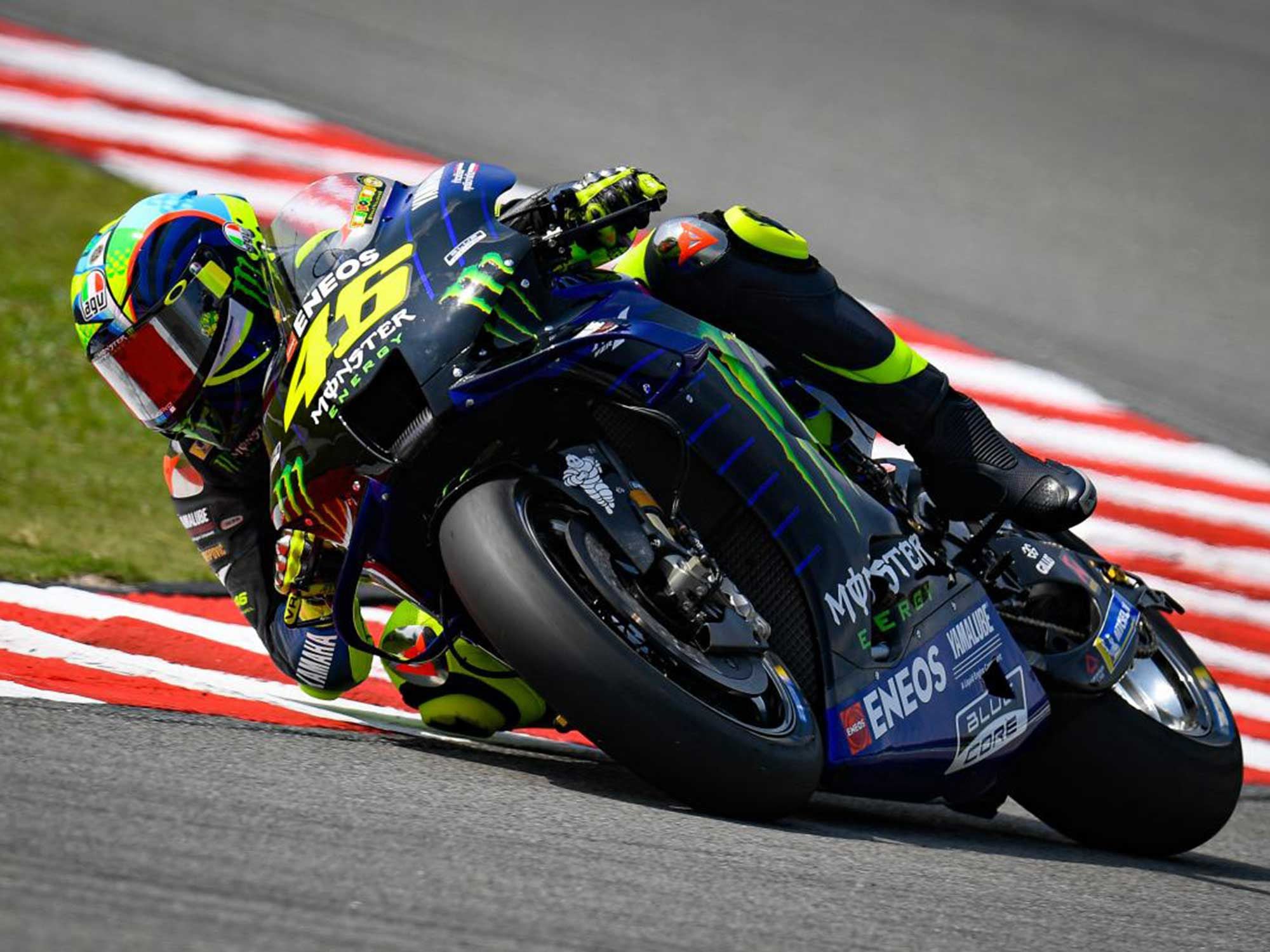 Rossi requested chassis, suspension, and electronics changes to better address rear tire degradation. (Yamaha MotoGP/)
How did you manage to convince the Japanese to make changes to the bike?
David Munoz (his new chief mechanic that came directly from the Sky VR26 Team in Moto2) and I [kept] insisting and insisting with the Japanese engineers so that finally on Friday morning we [were able] to make the radical setting changes.
Couldn't you make these changes before?
After so many years racing (this is Vale's 25th GP season), my technical debriefs are very precise, and I can give some good indications. We were looking for a different technical direction, and I know that politically it is always a bit difficult to make certain changes: from the outside it seems easy, but it is not always so. I need my team, and Yamaha to support me, to have them believe in me, so that I can go fast: [but] I need different things than other Yamaha riders. I am also taller and heavier (181 centimeters, or 5-foot-11, versus 171, or 5-foot-7, for Viñales). I tried to adapt to the new style, but [I also need] the bike to fit me.
You won on 500cc two-strokes, then 990cc, 800cc and 1,000cc four-strokes, using Bridgestone and Michelin tires, but Michelin boss Piero Taramasso said that your issues with tires may be more about your riding style.
In the last few years, the riding style [has] changed very much in MotoGP. Oftentimes you need to do the right thing with the tires more than riding well. I also tried to adapt as much as possible to the modern style of MotoGP with these tires, but we also needed to adapt the bike to me. I have a lot of experience, but sometimes that is a disadvantage because you also need to have an open mind.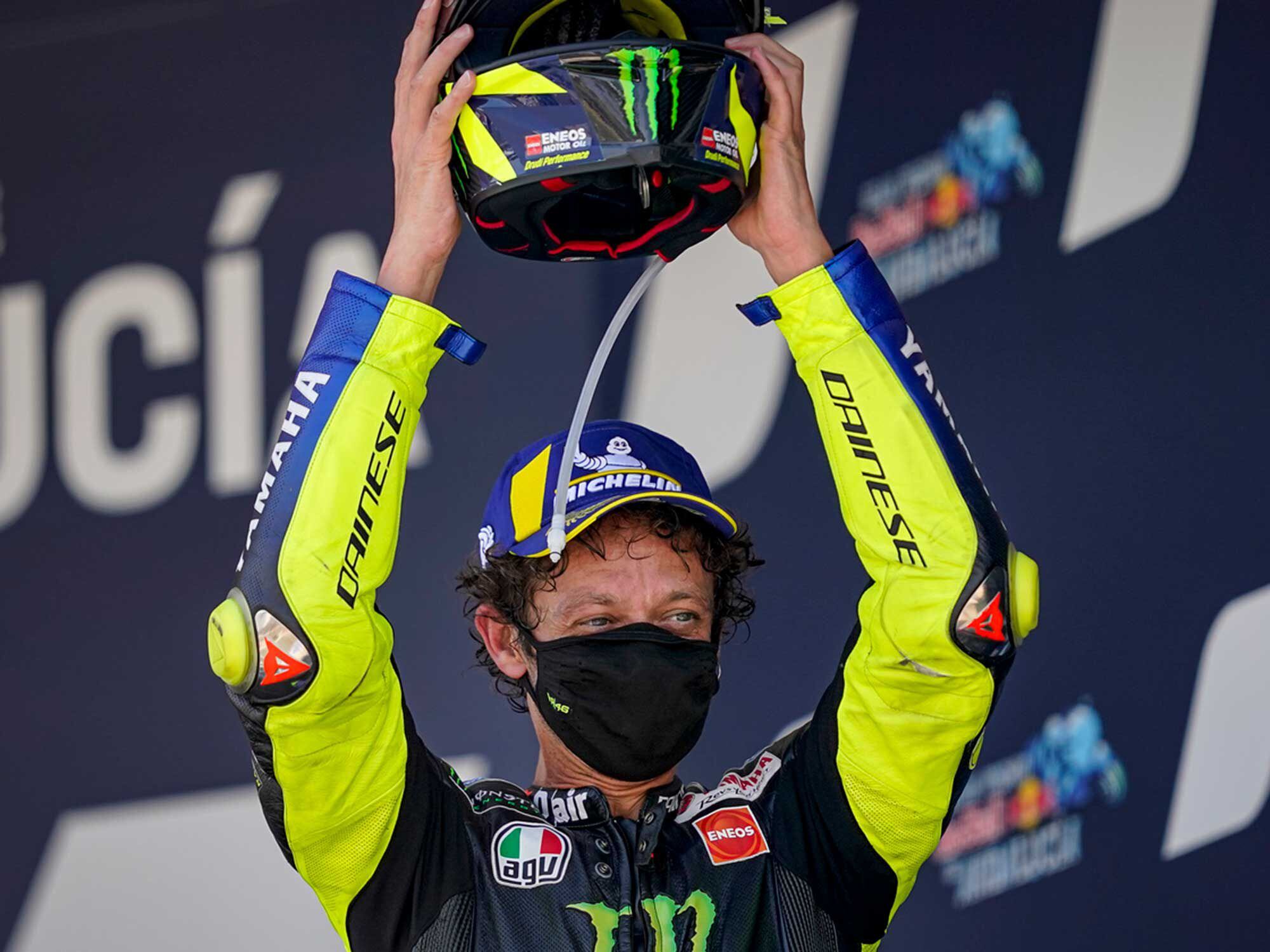 The changes resulted in his first MotoGP podium in 17 races. (Yamaha MotoGP/)
This podium had to feel special.
This podium is very special—we took a new direction and this is only the start. The feeling was good.
You may have gotten older, but you haven't lost your humor. Your celebration in front of an empty grandstand was unique.
I won seven times on this track, the last [time] was in 2016. But Jerez is kind of special. After the checkered flag I stopped by the turn where I celebrated the victory in 1999. Do you remember the celebration with the toilet? I wanted to give a hug to all the fans who were watching from home.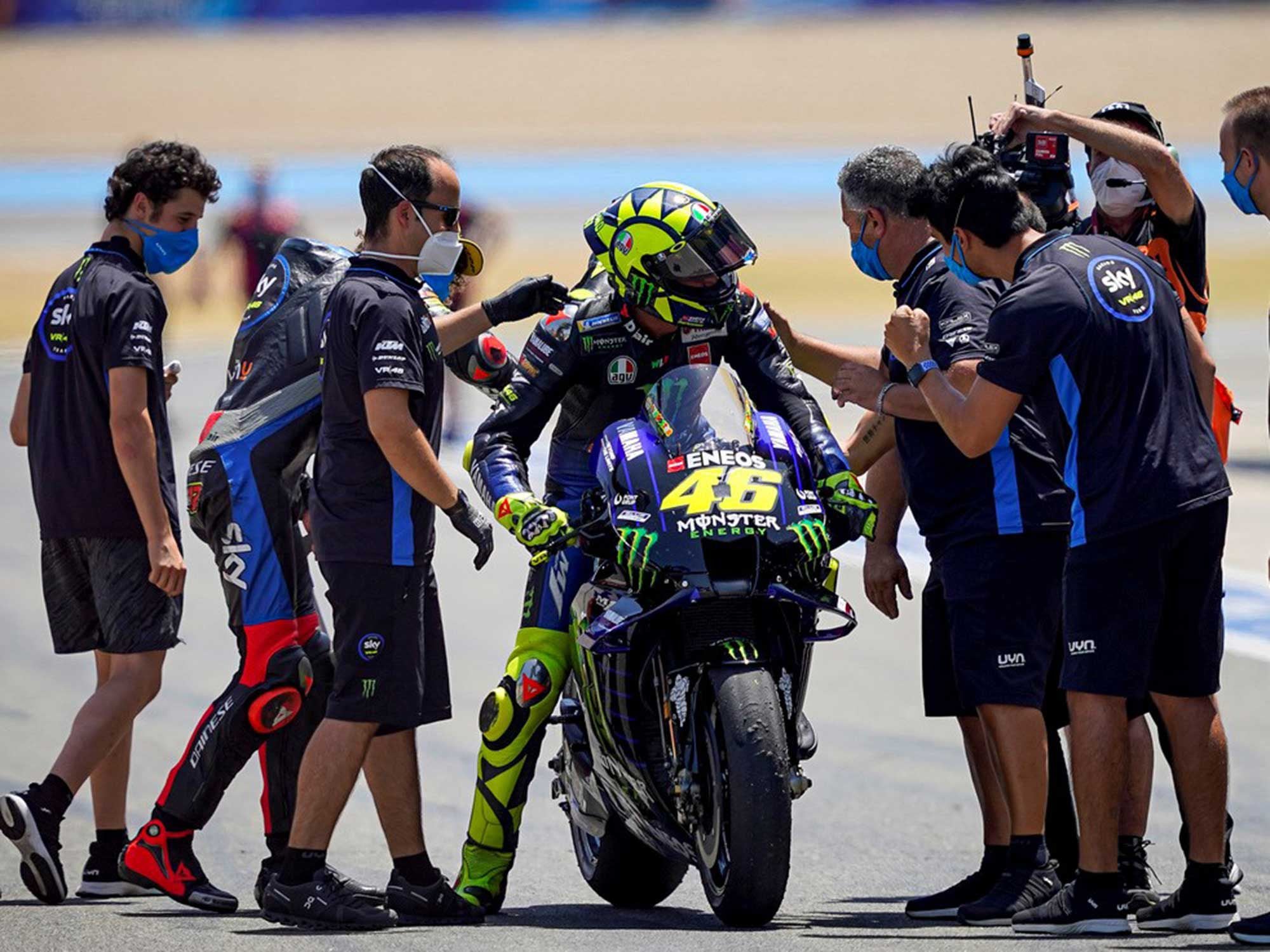 Rossi credits his Sky Racing Team VR46 Moto2 and Moto3 racers for keeping him young at practices. They also had a successful day on the Jerez track. (Yamaha MotoGP/)
Sunday was a special day for the VR46 team (Moto2 and Moto3) as well.
Yes, I'm so happy for my guys. Training with them keeps me young. We prepared together so well, that when Yamaha finally listened and made the changes for my bike, we were ready to make the difference.
This is Valentino, the eternal Peter Pan.
An interview with Valentino Rossi about his return to the podium at Circuito de Jerez, the politics at Yamaha, and his chances for the 2020 season.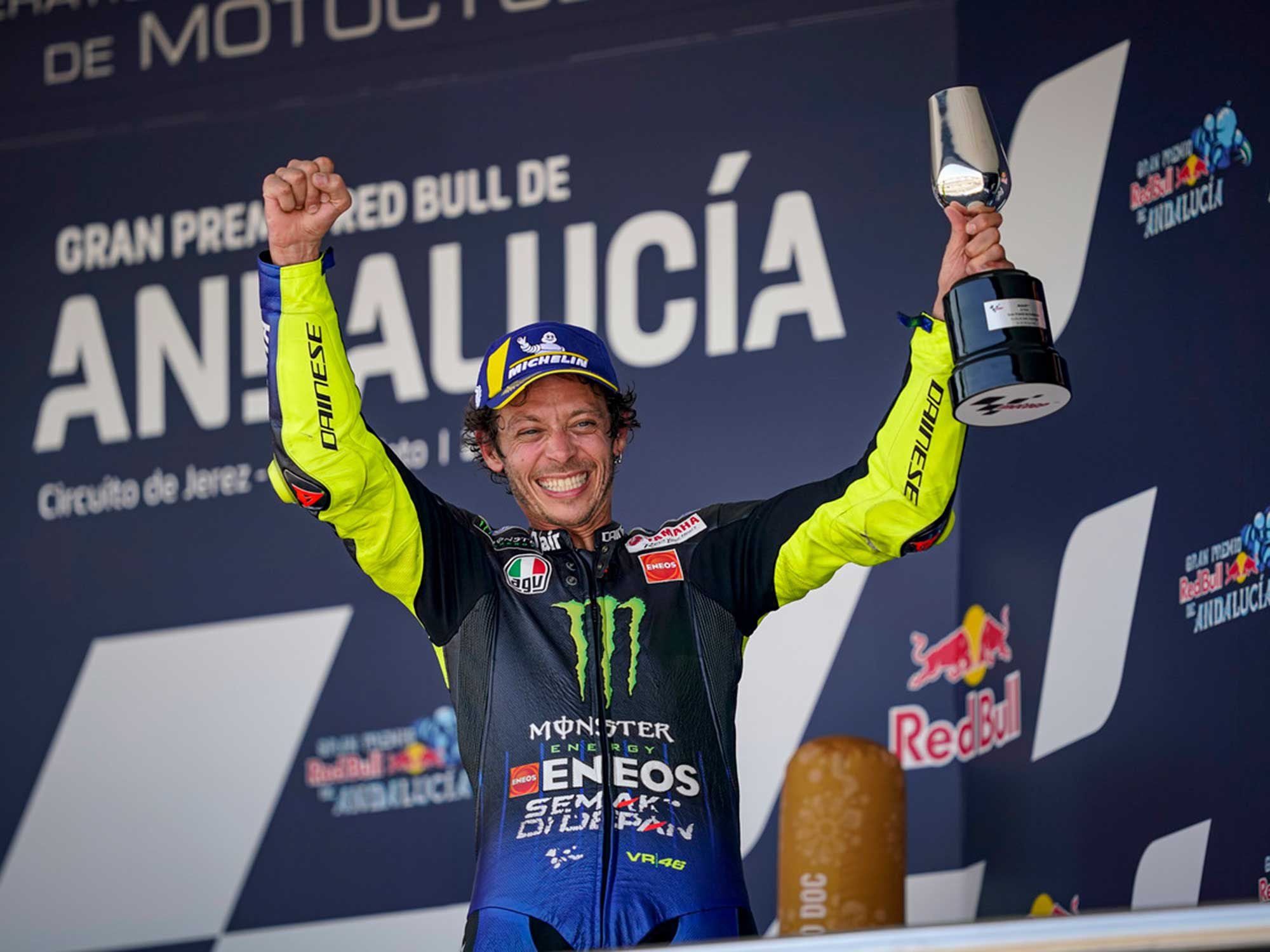 Read More