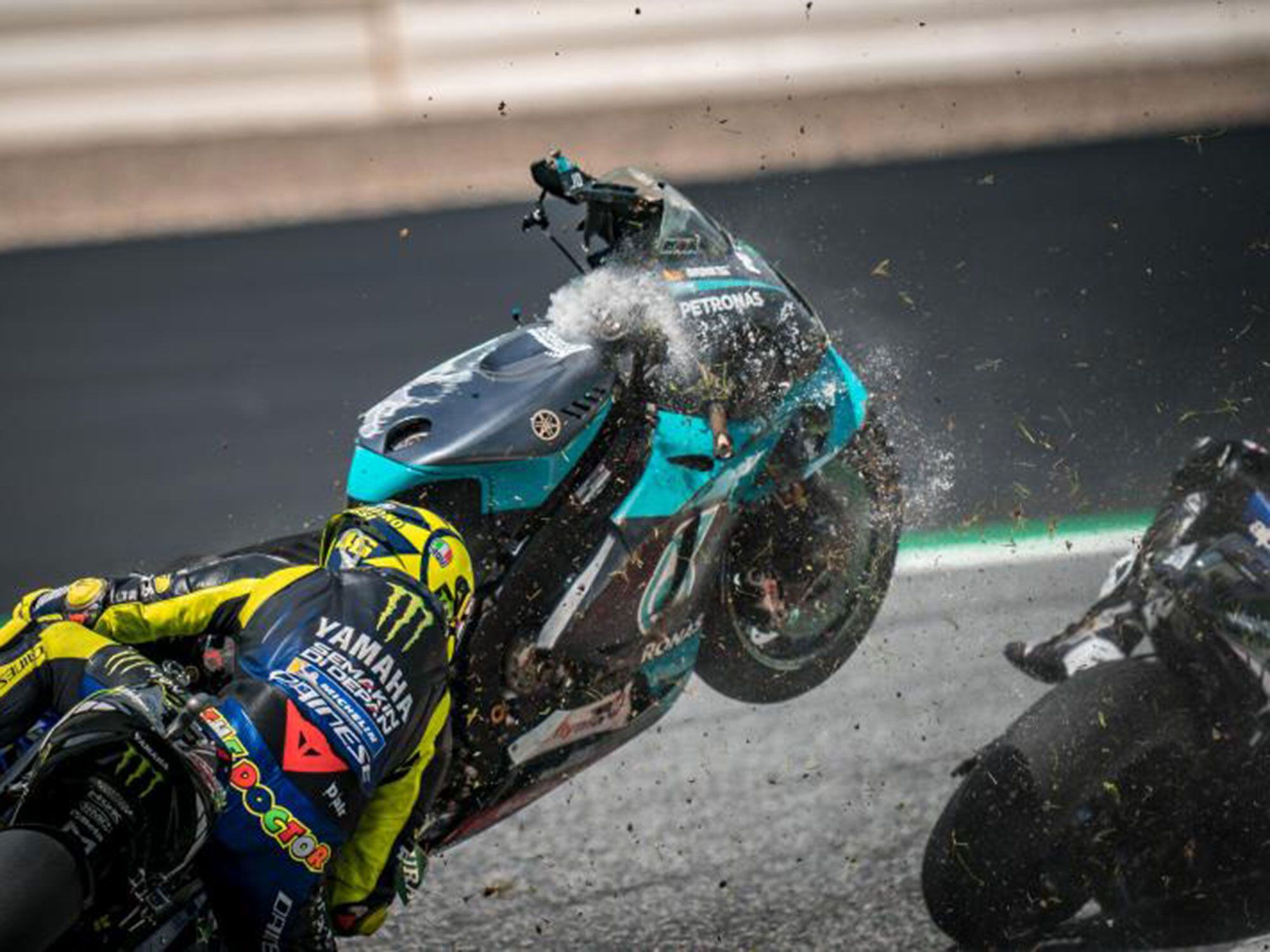 Valentino Rossi narrowly escaped being hit by Franco Morbidelli's Yamaha. The Doctor admitted returning to the track for the restart was difficult. (MotoGP /)
August 16, 2020: The day when Valentino Rossi was reborn. A rider knows what it means to be alive after a wayward motorbike misses his head by less than a foot. The first tweet commenting on the awful incident that saw Valentino Rossi and Maverick Viñales escaping a brutal bike collision was by Dani Pedrosa: "Zarco always in the middle of controversial moments. Happy for @mvkoficial12 and @ValeYellow46 reborn!"
Zarco always in the middle of controversial moments. Happy for @mvkoficial12 and @ValeYellow46 reborn !

— Dani Pedrosa (@26_DaniPedrosa) August 16, 2020
A thousandth of a second can contain an entire life; inside of an inch is the whole story of a man. What happened on Sunday in Austria to Valentino Rossi—or, even better, what didn't happen to him—was a watershed in his stellar life. The limit that these eternal Peter Pans consistently try to push a little bit forward was a sliding door: On one side you are still alive; choose the other side and you are no longer there. And the weird thing is that it's not for you to decide. "Mamma mia! This time the saint of the motorcyclists did a great job," said 41-year-old Valentino to his mechanics back at the garage. He had his head in his hands, and he was visibly shaken up after somehow cheating death, in his eyes the rewinding of the film of his entire life in a fraction of a second. This was the very first time that I have really seen the Doctor looking his age.
The facts are known: Austrian GP, lap 9, turn 3. The riders arrive from turn 2, the most dangerous point of the whole circuit for its violent braking (from 314 kph to 50 kph). Due to the layout of the track, in case of a crash, the trajectory of the fallen bike necessarily crosses the path of the other riders on the hairpin of turn 3 some meters ahead. As a result of the collision between an extremely aggressive Johann Zarco and an unlucky Franco Morbidelli, the Ducati of the Frenchman vaulted in the air over Viñales and Rossi, while the Petronas Yamaha slid straight into the path of VR46, flying by approximately 11 inches away from his helmet. A miracle.
Related Video: The Yamaha MT-07 Is As Good As Everyone Says It Is
Sign up here to receive our newsletters. Get the latest in motorcycle reviews, tests, and industry news, subscribe here for our YouTube channel.
"I saw a dark shadow above me. Suddenly. I thought it was the helicopter that is filming the race, because sometimes they fly a bit too low and they are kind of scary," confessed the Doctor. Instead, it was Morbidelli's M1—a crazy 350-pound cannonball moving at an estimated 150 to 180 mph. "I saw Zarco's bike falling apart in front of me. It was scary, I have never experienced such a thing in 25 years of world racing. It was the biggest risk ever on a circuit that is too dangerous in several points. Watching the images on TV was even more terrifying."
How close was Johan Zarco's Ducati to Maverick Viñales? Close enough that the seasoned professional let go of the handlebars—a clear indication he thought a contact was imminent. (MotoGP/)
To make the situation even more dramatic, the race restarted in 20 minutes. Again a sliding door between going home unharmed or to return racing. Valentino was about to say it's enough.
"It was a very difficult moment to restart for the second race and try to resume all the concentration. In the end, I couldn't choose. I didn't want to say 'bye-bye' to everyone and go home. But it was not easy."
That Sunday in the middle of August had already started badly. "I was worried by the scary incident in Moto2 between [Hafizh] Syahrin and [Enea] Bastianini. Taking the start of the MotoGP race was a way to chase that thought away. Then the collision in MotoGP. It was a potentially dangerous situation. Nowadays, everyone is riding very aggressively, starting from the small classes. I can understand it because the stakes are high, but it's important not to exaggerate. We don't have to forget that this sport is dangerous, even more so on a track like Spielberg, where you reach 300 kph (186 mph) on the long straight and then you brake to 50 kph (31 mph). Respect is the word. It's important that every rider respects the others.
"Zarco broke too close to Morbidelli to avoid being overtaken. With the slipstream at such a high speed, Franco couldn't do anything. Seeing the dynamic of the incident on TV, for me it was intentional.
"We were lucky. None was hurt (a later check revealed a broken scaphoid for Zarco, who underwent surgery in Italy on Tuesday). It was a lesson to learn, but something has to be done for the future!"
"I went to look for Zarco because I wanted to speak with him face to face. He said he didn't do it intentionally, but still… . I understand being aggressive, but his maneuver at 300 kph was a potential disaster," Rossi repeats, shaking his head.
The first person Rossi contacted was his girlfriend, Francesca. "She was watching the race on TV, and you can imagine, she was destroyed. I haven't spoken with my mom, Stefania, and Graziano, my dad, yet. I will do it later, starting with my mom."
But how can a rider overcome these scary moments? "It was a difficult Sunday. Firstly, the Moto2 incident, then ours, and finally we had to restart closing all the thoughts in a closet. How will I face the next day? I will spend some time with my brother Luca (the new Moto2 leader), Celestino [Vietti], and the guys of the Academy. We will speak about what we want to improve for the next race (on Sunday the MotoGP repeats in Austria). This will help me to overcome this moment."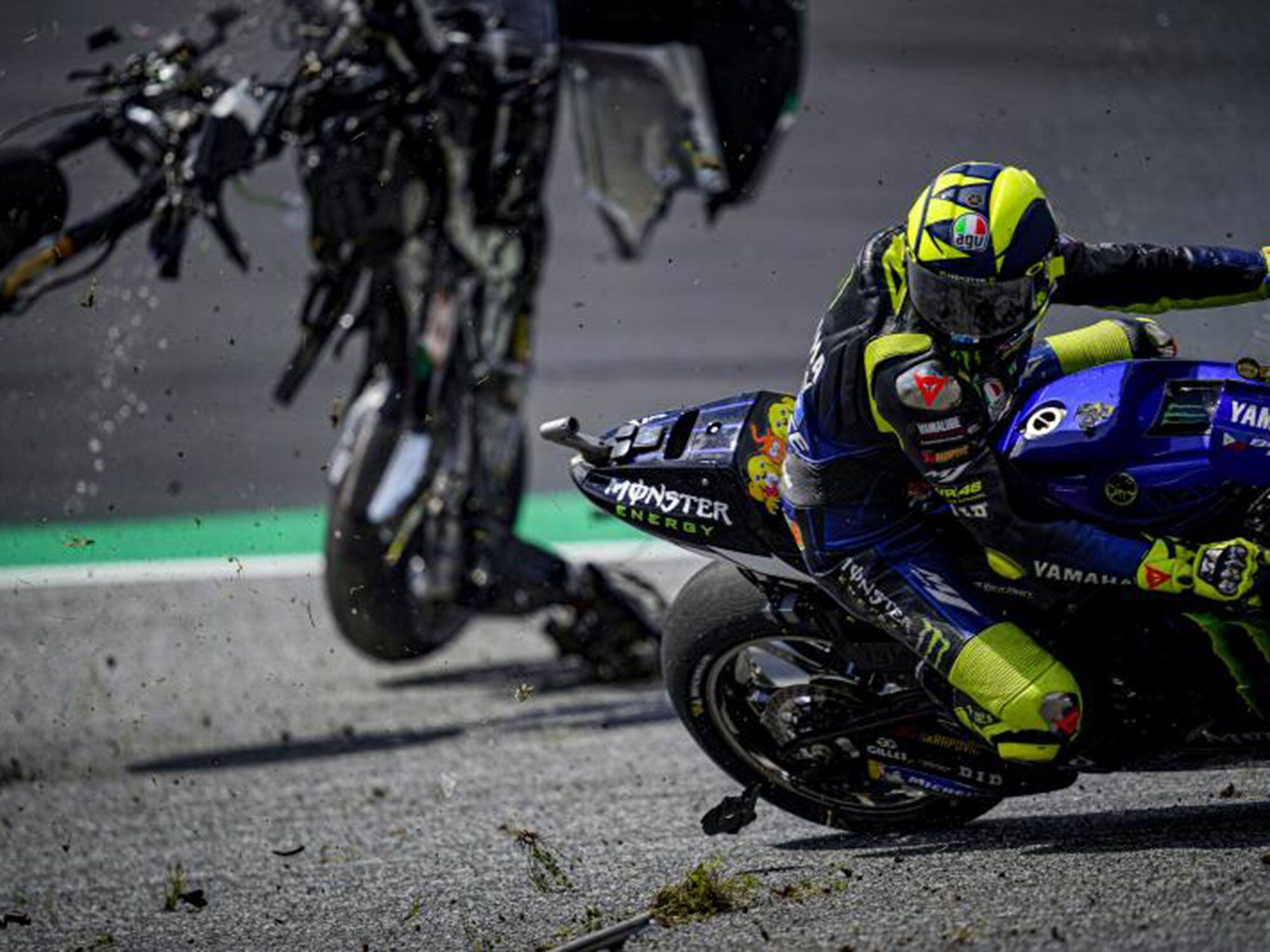 Rossi navigating the carnage during the Zarco/Morbidelli crash. (MotoGP/)
Finishing fifth in the race after such a nightmare counted as a victory. Moreover, Valentino's was the first Yamaha to the checkered flag. A friend asked him: What do you think if, after such a race, the Yamaha boss will call you back in the factory team for next year?
"I don't know if this could be possible," he laughed. "I'm so sorry to leave the factory squad, but don't worry, we are trying to build a strong team also in Petronas. Then, who knows—maybe if I win on Sunday!"
A diehard optimist. Always looking forward—the strength of the eternal VR46, always the Peter Pan.